Come Join in on the Halloween Block Party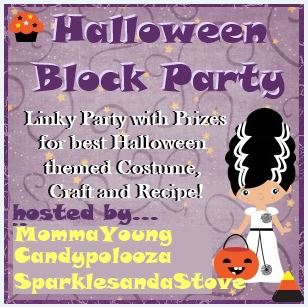 I know, I know the kids aren't even back to school yet..but I am busting at the seams to share this with you all!! Myself, MommaYoungatHome and SparklesandaStove are hosting an awesome Halloween Block Party to get you ready for Halloween! 
Honestly I have been thinking about costumes for the boys for months now. I'll be doing some awesome crafts for MyMilitarySavings and for my blog and those crafts will also include costume ideas!! Oh I get giddy with excitement just thinking about it! 
Click Here to learn about the fun, how you can join in, and how you can win too! 

Come back and check up on the link to see the new developments with what to expect.
So start getting those creative juices flowing!
We will be looking for the best Halloween inspired Recipe, Costume and Craft!