Disclosure: This post is a part of the Holiday Giveaways for you, all prize fulfillments will be completed by independent business owner. All opinions mentioned are by the consultant.
Hi everyone! My name is Tiffany and I live outside of Tampa, FL with my husband and dog.
I've only known about Jamberry nail wraps for about 7 months… but I love them so much that I have amassed quite a collection, joined on as an independent consultant, and share this awesome product with everyone I meet. What I love about Jamberry wraps is that they are vinyl, not polish, so they don't chip or smudge! This means that they last up to 2 weeks on your fingers… and 6 weeks or longer on toes! Here are some other things I love about these awesome wraps:
They are also great for all ages and nail lengths… even for lifetime nail biters. Check out these pictures of my friend… she was FINALLY able to grow her nails to where they didn't hurt… and in only 2 and a half months. These are not stock photos – I actually know this girl ☺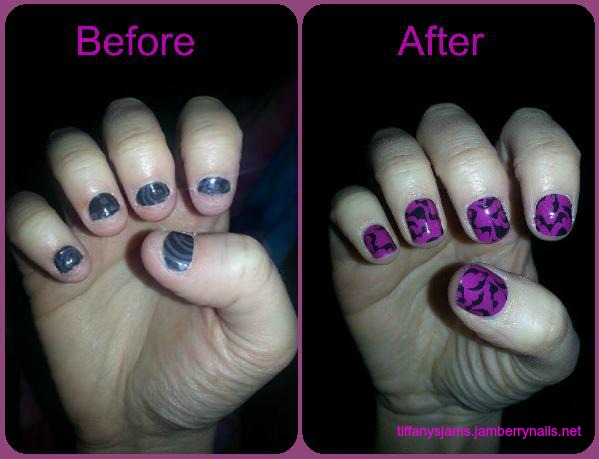 And all this for less than the price of a manicure! At $15 each… one sheet of Jamberry wraps will do 2 manicures and 2 pedicures… with wraps to spare! And they are ALWAYS on special for Buy 3 Get 1 free!
Check out the over 300 designs including licensed collegiate wraps at my Jamberry Nails website!
Grab a free Jamberry sample HERE
The lucky winner of this giveaway will win (1) Jamberry Nail Wrap in an exclusive Holiday print and (1) manicure kit, to give you the very best application.

My thanks go out to Candy for hosting this giveaway and for all of you for taking a moment to learn about this awesome product! Oh, and please "Like" me on facebook so you can stay up to date on new releases, specials, and future giveaways: https://www.facebook.com/TiffanyDSchilling *also an option on the rafflecopter!
*If the Rafflecopter is taking too long to load here's how you can manually enter:
Make sure to leave a comment and also another comment with your Twitter ID so I can confirm RT. 😉
Thanks for your patience everyone!!!
Good Luck everyone! and Happy Holidays!!
Tiffany