Halloween Block Party Submit Your Entry to Win
Halloween is so much fun! This year it's even more fun online! I've joined up with Anjanette from MommaYoungatHome and Kathy from SparklesandaStove for a fun and awesome Halloween Block Party!!  Link up your best Halloween activities and you could win some awesome prizes from our sponsors!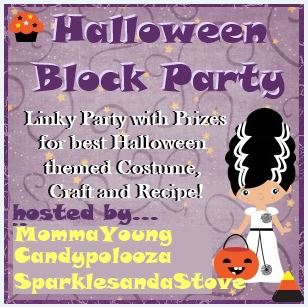 I am loving the cute Halloween crafts out there!  I also blog on MyMilitarySavings. I do a simple kid-friendly crafts each week. Here's a few of my crafts for the Halloween holiday so far!
Awesome Products from Online Trading Post
Please Follow on Facebook | Twitter | Pinterest
Sugar Free Halloween Candy
Please Follow on Facebook | Twitter | Pinterest
Arts, Crafts books
Please Follow on Facebook | Twitter
Each Winner will receive a NEW TWO-DISC DVD & CD RELEASE
Please Follow on Facebook | Twitter
(I'll keep adding companies/prizes as they are made available)
OK lets get this Contest under way….The Rules:
Please like MommaYoung, Candypolooza and SparklesandaStove on Facebook. Comment letting let us know you did so we can like you back! Same goes if you follow us somewhere else. We like to follow back.
Create your own "kid friendly" Halloween Themed recipe, craft and/or costume and post it on your blog.
Link the post (not your home page) here on our linky; make sure it is the right category (no other links).
You have TWO WEEKS to add your Entries on 10/14 VOTING will begin…
You are welcome to link up as many as three links per week per contest category. (that's three possible links a week)
Share and get those votes..
We are going to share the heck out of this contest and we will visit, comment, and pin your entries!!!
GOOD LUCK EVERYONE!! CAN'T WAIT TO SEE EVERYONE ELSE'S CREATIONS!!
#1….



#2



#3