The director of a film is a key person in the production of a film. If there's no director, how can an actor act out the scene? Thanks to Disney and Marvel Studios for inviting me on a secret set visit last year. We'll be chatting again with Peyton on Sunday but these are his thoughts from our visit on the final week of shooting in Atlanta. A Director's look: Interviewing Peyton Reed of Marvel Studios Ant-Man and The Wasp.
I love speaking with the actors but I have to admit the writers and directors are pretty extraordinary interviews as well. Those are the beautiful minds that put together and bring to life the script.
Ant-Man and the Wasp The Story continues..
Reed explains how he wants the characters viewed from this film on, "I wanted to be both bigger and get out in the world more, but also be even more intimate and delve into family stuff even more. That is the big strength of Ant Man, within the Marvel Cinematic Universe. I always liked that, Scott Lang is just a normal guy who's made bad decisions in his life, and he keeps trying to make the right decision. And he keeps having these setbacks."
So where do we pick up you ask? 
"Ant Man and Wasp are the protectors of this Pym technology, and then he's gone off and exposed it to, Tony Stark who is his worst nightmare. So, I liked the idea that that could give us a really clear jumping off point in terms of what that did to Scott and Hank's relationship, and also Scott and Hope's relationship. BeCause the movie's absolutely about Hope and Scott attacking, being heroes in very different ways. And then also the notion of… will they or won't they be successful as a duo. Which is a kind of different thing, in the MCU. I guess you have Captain America and Falcon as a partnership. But this is a very different partnership. We decided to call the movie Ant Man and Wasp because it's very much about both of them. And it's very important to represent both of their points of views equally in this movie. And that was really, really fun, because it's part search and rescue movie."
In comes: Ghost
Wondering who the new player in town is? If you are confused because you know Ghost from Ironman, you are very perceptive MCU fan. Ghost did in fact start out as an Iron Man villain as a man.  Reed shares how he decided to make Ghost a female, "I very much wanted a female antagonist and it gave us a chance to sort of play with that thematic of parents and their kids. I stop shy of calling her a villain, though she is the villain. An antagonist who you really see the root of what happened to this woman which was a girl, and how it's transformed the rest of her life and her own dilemma. She has a very strong point of view and I think the audience is really going to relate to her as well. It's a very complicated set of dynamics that I'm not at liberty to discuss in detail. But it was important to do something that wasn't just a sort of arch villain." We get to interview Hannah John-Kamen on Sunday, so I'll be sharing an exclusive interview with her later next week!!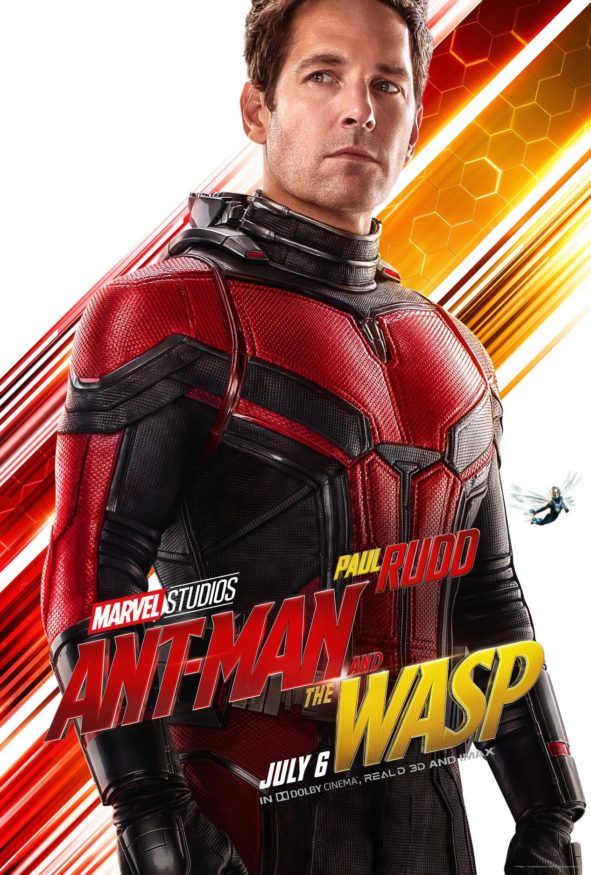 Dad aka Ant-Man
The cool thing about Ant-Man and why I think it's such a great family film is because Scott is a dad. Reed shared more  on how the daddy/daugther dynamic work in this film: "And and about his struggle. Part of Scott's thing is, he's on house arrest at the beginning of the movie. But part of it is really a work life balance issue. Because all these other people are full time heroes. But his goal was really just, I want to do this so I can be a part of my daughter's life.
But then what happens in Civil War kind of puts him back in a tough position again. And that's his big dilemma is just, again, wanting to be there as a dad, and Cassie having a slightly different point of view on things, once she kind of starts to become aware of what's going on with her dad."
MAKE SURE TO GET YOUR TICKETS NOW ON FANDANGO! ANT-MAN AND THE WASP FLIES INTO THEATERS JULY 6TH!