Disclosure: This is a sponsored post written by me on behalf of Wolf Brand Chili. 
Wolf Brand Chili Tex-Mex Enchiladas
*First I have to tell you if you are in the Dallas area and are planning on  attending the Texas State Fair today, make sure to go by the Magnolia Beer Garden for a sample!*
Being Texan chili is second nature to us. Yes, even to a Mexican-American, I'm still Texan and we definitely partake! It's pretty funny, because the hubs refuses chili dogs unless they are made with Wolf Brand Chili. And when we are stationed out of Texas we jump thru hoops to find our favorite chili or my mom will send us some! I know.. that's a little out there, but you like what you like you know!   I received a gift pack from Wolf Brand Chili that included a three cans of chili, (Original, Mild & Hot) a super cute Texas shaped bamboo cutting board, Wolf Brand Chili coasters, an amazing Texas flag apron, and a beautiful set of four soup bowls. Guess what?! You'll have a chance to win the same exact set!! Keep reading!
One of the recipes that I was excited to try the Cheesy Enchiladas from the Wolf Brand Chili website. My mom used to make a similar recipe of enchiladas! I made two sets of enchiladas. One non-spicy set for the boys and one full on with green chilies, tomatoes and I added onions and the "HOT" can Wolf Brand Chili. I've added the recipe I used for the non-spicy enchiladas; that is the recipe my mom uses on hers. For the spicy you just add the green chilies, tomatoes and onions with the Hot Wolf Brand Chili.
Wolf Brand Chili Tex-Mex Enchiladas
Recipe type:
Lunch or Dinner
Prep time:
Cook time:
Total time:
A variation of the Cheesy Enchiladas on the wolfbrandchili site.
Ingredients
Non-Stick Cooking Spray
2 cups shredded Cheddar and Monterey Jack cheese blend
1 can (19 oz each) Wolf Brand® Chili, divided
12 corn tortillas (6 inch), warmed
- See more at: http://www.wolfbrandchili.com/recipes/cheesy-enchiladas#sthash.BldjkTWV.dpuf
Instructions
Preheat oven to 375°F. Spray 11x7-inch glass baking dish with cooking spray; set aside.
Get cheese and chili ready in bowls set aside in an assembly line style.
Spoon 1 tablespoon of chili and 1 tablespoon of cheese onto each tortilla. Roll up and place seam-side down in baking dish.
Combine remaining chili with 1 tablespoon of water; smother over the top of enchiladas.
Sprinkle remaining cheese and cover with foil.
Bake 25 minutes or until enchiladas are hot and cheese is melted.
Remove foil and bake 10 minutes more to brown cheese.
Notes
I used a variation of the Wolf Brand Chili Cheesy Enchiladas recipe.This is how my mom makes enchiladas.
Check out a few pictures! You can also see an awesome Vine video if you follow me on Twitter! @Candypo

 Read the fabulous Fun Facts About Chili! I am loving how hearty and delicious the chili is now. There's nothing like a meaty and hearty bowl of chili on a cold Texas day! That's a Texas favorite when it gets cold. That's how we Texans love our chili! It's not just enchiladas in our house. As I mentioned before we make mean Chili dogs with Wolf Brand Chili!! Makes my mouth water! LOL and who can not enjoy a delicious Frito pie while watching Friday night lights -Texas High School Football baby!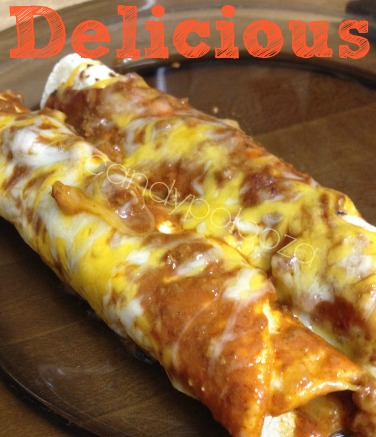 What do you know about Wolf Brand Chili? Here's some awesome facts: Wolf Brand Chili puts a true taste of Texas in every can. A Texas ranch cook and Lyman T. Davis developed the original Wolf Brand Chili recipe in 1895, and for over 100 years the Wolf Brand's unique blend of seasonings and good hearty beef has delivered authentic chili taste. Wolf Brand Chili has always been great, and now it's thicker and heartier, just the way Texans like it.
Wolf Brand Chili Giveaway
One lucky winner will get a Texas themed prize pack valued at $100 that includes:
Three varieties of Wolf Brand Chili (Wolf Brand Chili No Beans, Wolf Brand Chili Mild No Beans, and Wolf Brand Chili Hot No Beans)
Bamboo Texas cutting board
Texas apron
Soup bowls
Coasters featuring the Wolf Brand Chili logo
Wolf Brand Chili is now thicker and heartier than ever, just the way that Texans like it! The new, thicker and heartier recipe can also be found every day on the shelves of your local grocery store.
This is a sponsored post written by me on behalf of Wolf Brand Chili.
For more information, visit http://www.wolfbrandchili.com orhttps://www.facebook.com/Wolf.Chili