Disclosure: I received access to this movie for the sole purpose of a review. All opinions are my own.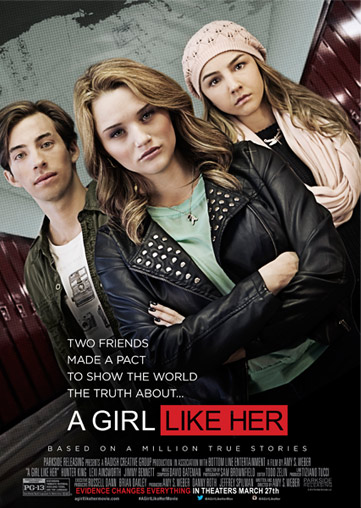 "Written and directed by Amy S. Weber, A GIRL LIKE HER is an unscripted, poignant feature film that takes a realistic, inside look at bullying through the eyes of both the bully and the victim. As the film explores the connection and relationship between two individuals, it shines an unbiased light on the teen bullying epidemic and society's role in breaking the cycle."
My thoughts on A Girl Like Her:
This movie is definitely one to get the conversation started and/or picked back up. As a mom it breaks my heart that kids do this to each other. As a former girl in school I know that it's hard. I've seen it happening in school and yeah it's happened to me too. It's a reality that it happens and when it happens in a certain form it turns into something completely different and it becomes dangerous. I don't even like the word bully. Because sometimes people can go overboard with it. When it comes to this particular movie, I think you'll agree that the viciousness of the harassment and bullying has completely escalates from what I knew when I was in school. I graduated in 1998.
I think Brian said it best in the film, "People who hurt, are hurt themselves."   and they need help. 
Do I recommend the film? Absolutely. I will probably watch this movie with my son when he gets a little older. And I think we need to do more advocating and talk about suicide prevention. Because when its done, it's done. We don't come back from suicide. It's seen as an easy out and end to a situation that can be ended much differently and everyone survives. Wow. I just can't. I don't want to tell you more about what happens in the movie because I think you should watch it for yourself.
OPENS FRIDAY MARCH 27th EVERYWHERE
| | |
| --- | --- |
| New York | Detroit |
| Los Angeles | Seattle |
| Chicago | Miami / Ft. Lauderdale |
| Boston | Denver |
| Philadelphia | Portland |
| Dallas | San Diego |
| San Francisco | Phoenix |
| Oakland / San Jose | Sacramento |
| Atlanta | Washington DC |
| Houston | Folsom |
"Sophomore year has been a nightmare for Jessica Burns. Relentlessly harassed by her former friend Avery Keller, Jessica doesn't know what she did to deserve the abuse from one of South Brookdale High's most popular and beautiful students. But when a shocking event changes both of their lives, a documentary film crew, a hidden digital camera, and the attention of a reeling community begin to expose the powerful truth."
Watch the Trailer here: