Disclosure:
I received book for review. No other compensation was received. All opinions stated are my own.
Books You Need in Your Kids Baskets
Do you have your child's Easter basket ready for Sunday? You've got a couple days to pick up these books for it!  We are a family of readers and when this opportunity was offered I jumped at the chance to review these two books. As you know I have two boys ages 18 months and 6 years old; the boys have children Bibles that we read to them each night. Just as there are different versions of the Bible, I knew each book would be a little different so this was very exciting.
My First Bible Stories Book Review
I just love this book. The illustrations and even the way the author tells each story of the bible is very cute and perfect for my toddler. The illustrations are vibrant and beautiful so that they keep his attention and he really loves seeing all of the shapes. Our son is learning so much right now and he sees the animals and makes noises as to mimic which one it is. With this Bible Ezra will learn from The Old Testament with stories of Noah and the Ark- one of my favorites to share with my kids and Daniel and the lions den.
If you are interested in learning more about this book and or purchasing it, click here!
The Comic Book Bible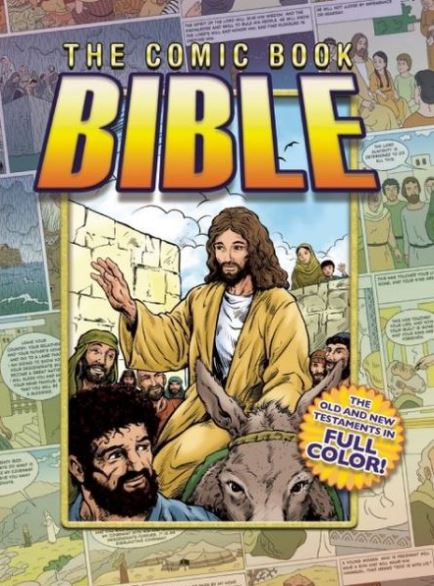 Our oldest has grown out of the children type books (atleast that's what he wants us to believe) and is really getting into comic books. He too enjoys the Bible stories and this book is the one he reaches for. He brings the book to us when he has trouble with a word and is always say, "Mom this is really cool Bible!" I love hearing that!
If you are interested in learning more about this book and or purchasing it, click here!
This Lenten season we weren't as active as we usually are unfortunately. -Hey I'm human! Having these books in our home has definitely kept the spirit in our home and helps us remember the trials our Lord went thru for us and be able to share it with our children.
Many Thanks to
Check them out on Facebook and Twitter