Disclosure: This post is a part of the Holiday Giveaways for you, all prize fulfillments will be completed by independent business owner. All opinions mentioned are by the consultant.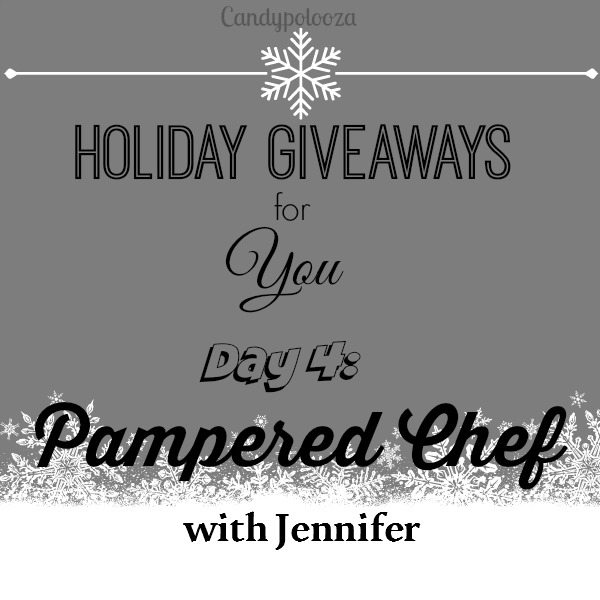 I was asked to join in on the Holiday Giveaway Just For You hosted by Candypo.com. She asked if I could share Pampered Chef with everyone. What did I tell her? I told her that this goes right along with a post I started working on and that I would do one better and host Pampered Chef and Jewelry In Candles.
So lets start with Pampered Chef. I am not going to go into tooooo much detail, but just give you a general idea.
Have you heard about Pampered Chef?
Pampered Chef is more then KITCHEN GADGETS! We have everything from Spices, Cookware (pots and pans), Cookbooks and the one things I love the most Stoneware. A lot of the items you buy have multi-functions. Like the Rockcrock can be used on the stove, in the oven, microwave and you can also put it in the freezer.
Pampered Chef offers some great things as a Consultant you can earn MONEY, meet new friends and have LOTS OF FUN doing it.
You can join for a lot of reason-
Some join just to get out of the house and make friends

Some join to make this their Job

Some join just to get the kit

Some join just to pay off a few bills
As you can see this list could go on forever. During the month of December 2014 Pampered Chef is offering half off kits. How great is that? Whats the catch you just need to work a couple of shows. You can earn the kit at half off plus earn enough money to pay off your Christmas this year.
Pampered Chef also offers a great program for those who just want to earn Pampered Chef items for FREE. If you host a show this month- Face to Face, online, or catalog party you have the chance to earn your FREE items plus an extra Half off item.
If you would like information on hosting a party or even joining please contact me via my Pampered Chef Website or leave a comment telling me you'd like more info.
Don't forget to enter to WIN $10 towards your next Pampered Chef purchase.