Family is seen as blood relations, your mother, father or siblings. When you are a Military family, you realize the term family can mean so much more and can include many different people. People that don't share your DNA in any way. Since being in San Angelo, we've found that family in my friend Monique. Last night we attended the 27th annual San Angelo Symphony July 3rd Pops Concert with her and her family, our Independence Day family. It was a beautiful evening, the wind was blowing as it normally does in West Texas. Made for a perfect evening of music and fun!
The Community band started the show then the San Angelo Symphony played. I love being in a Military town, because they include the base in these kind of festivities. I think it's so special. The colors were brought in by personnel from GoodFellow AFB. All 50 states were represented. I sound like I don't get out much but I'd never seen anything like it.
Some of the songs played along with the patriotic fare were a great blend of the movie Frozen and Indiana Jones, Raiders of the Lost Ark.  Let it go anyone? LOL
He loved it!

The boys had a great time listening to the music and hanging out.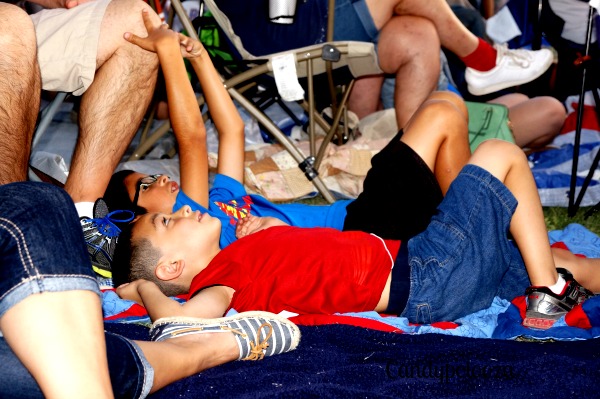 During the show they played each of the branches songs and asked that each person who currently serves or served in the past to stand when their branch song was played. This gentleman stood as the Marine Corp song was played. Yes, I teared up a bit. This girl is a crier!
I'm so grateful to have friends like Monique that have opened up their hearts and made us a part of their family. They will forever be in my heart.
We had an amazing time and then came the fireworks to close out the concert and evening!

I hope you are yours have an amazing Independence Day and let's not forget the ones who continue to conserve our freedoms! 
God Bless the United States of America! 
How are your celebrating America's Birthday?