I absolutely love kitchen gadgets. Ok, I confess I love gadgets period, for all different types of purposes. Should I call myself a "gadget girl"? I guess I will. Most of the time I love to browse stores for fun gadgets, one of my favorite stores to browse is Ikea! But when you don't have an IKEA close by and Walmart is just okay, you click over to Amazon for all your gadget needs. I'm sharing my favorite kitchen gadgets I've purchased from Amazon with you today. Just so you are aware, the links are affiliate links and if you choose to purchase from my links, I will make a very small percentage from your purchase. I thank you in advance. Make sure to leave me a comment telling me what your favorite gadget is!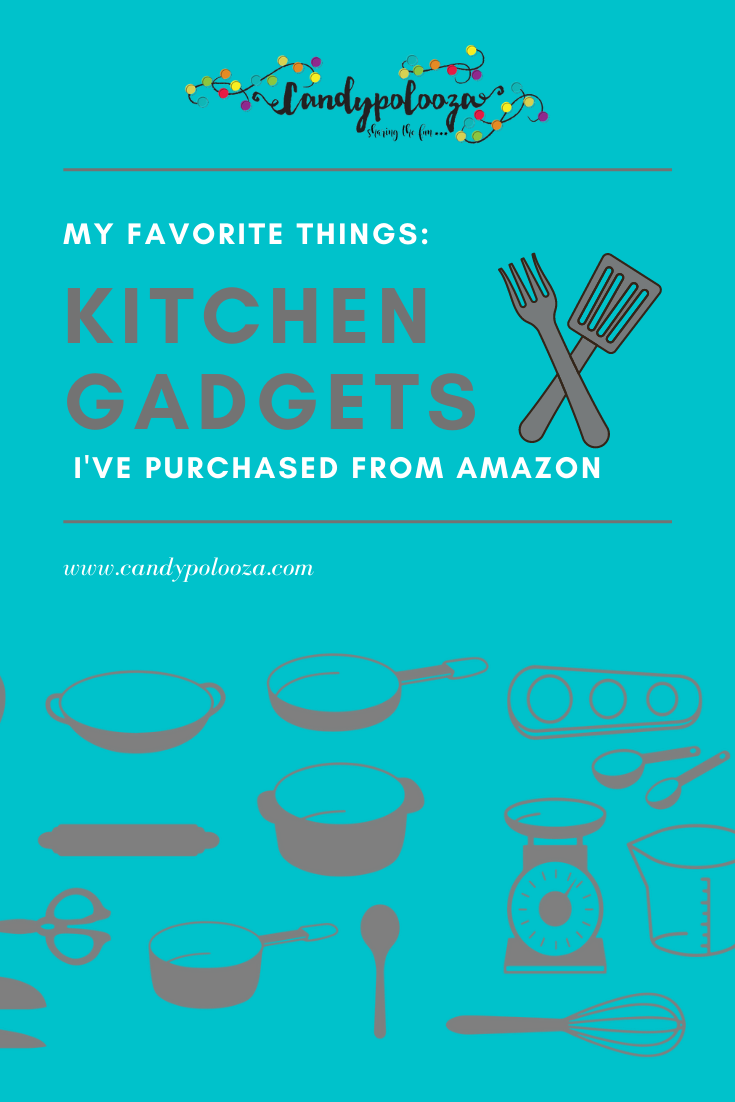 Ok, let's get started.
Flatware Utensil Tray
Yes! Replace that plastic utensil tray and get a metal mesh tray instead. It's much cleaner than a plastic one and it looks really fancy too. I got one after one of my husband's cousins mentioned to me that she could organize her utensils and if there was ever crumbs or something in there she could shake it out versus having to see the grime in a plastic one. I had never thought about that, I would just replace them- we've had a metal mesh one for years now. Get you one!
Salad Spinner 
Ok so this might be a bit frivolous but it's so much fun to see it work it's magic too. The best part is that the kids can help with this too. I will wash cilantro in this too. Give it a good spin and get all of that dirt off. Wet salad or greens for that matter is so annoying, this specific spinner is bomb dot com.
Anti-Fatigue Kitchen Mat
This might also seen like a frivolous purchase, but consider the time you spend in your kitchen my friend. I cook a lot and this is one of my most recent purchases, and I'm so impressed with them. I'm ordering my parents a set for Christmas, hell I might get my sisters one too. Standing for long periods of time can take a toll on our bodies, take care of it with these rugs. Amazon has some great options too.
Toaster Oven
I LOVE this appliance. I know it's not exactly a gadget, but it makes my life easy and that's what a gadget does, make stuff easy! So yes, I'm including my favorite toaster oven in this post. Recently I was telling my friend Joyce (MommyTalkShow) about it and she was impressed as well.
Wire Sponge Caddy
We've got a lot of different type of dishes and pans so we need different types of scrubbies. It's annoying to have them on the counter with the hand soap and dish soap so this caddy has been super convenient to have. The nice thing is that because it's wired and sits inside the sink, the water runs though it and not all over my counter. Winning!
Lazy Susan
This was actually a gift from my late brother in law Rudy. That same lazy Susan has been with us for 21 years. She stays on our dinner table and now we have one in our kitchen cabinet. It's a two tiered lazy Susan and I've purchased smaller ones to keep our spices and other things organized. A total game changer!

or these too

or these pieces to fit inside of the larger Susan

Cereal & Dry Food Containers
My mom had a Tupperware set, but these are cheaper and they have labels too. I love being able to see everything and have it labeled, it's truly a big help.
Egg Slicer
I don't use it all the time, but when I- I LOVE having this egg slicer. Tuna salad and potato salad is easy and delicious with boiled eggs. This slicer is easy to use and easy to clean too.
Well what do you think? Which one of these products do you have?! Tell me what your favorite kitchen gadget is in the comments! 
Cheers! 
Candy