I attended a press event for Disney. All expenses paid, however all statements are my own.
The series premiere of The Muppets on 9/22 was truly a day that changed prime time television. The Muppets were back! I for one was very excited! My friends from childhood were back! Not to mention my favorites were on the show too! Pepe the King Prawn has always held a special place in my heart. The hubs knows this, but no one else until now! LOL You can imagine my delight when I realized we would get a set visit to The Muppets & interview wait for it..Executive Producers Randall Einhorn (and director) & Bill Barretta (he's the voice of Pepe!!!! and a few other muppets). and we also got to view tonight's episode "Going, Going, Gonzo." It was completely surreal ya'll!
If you follow the show, you know that the premise behind the show is that Miss Piggy has come back to television as a late night talk show host. Now that she and Kermit are no longer an item, their break-up (ok, not too much maybe a little) hasn't gotten in the way of their professional relationship. But you see the struggle play out, it's so dang funny. Let's just say Kermit has the patience of an angel. haha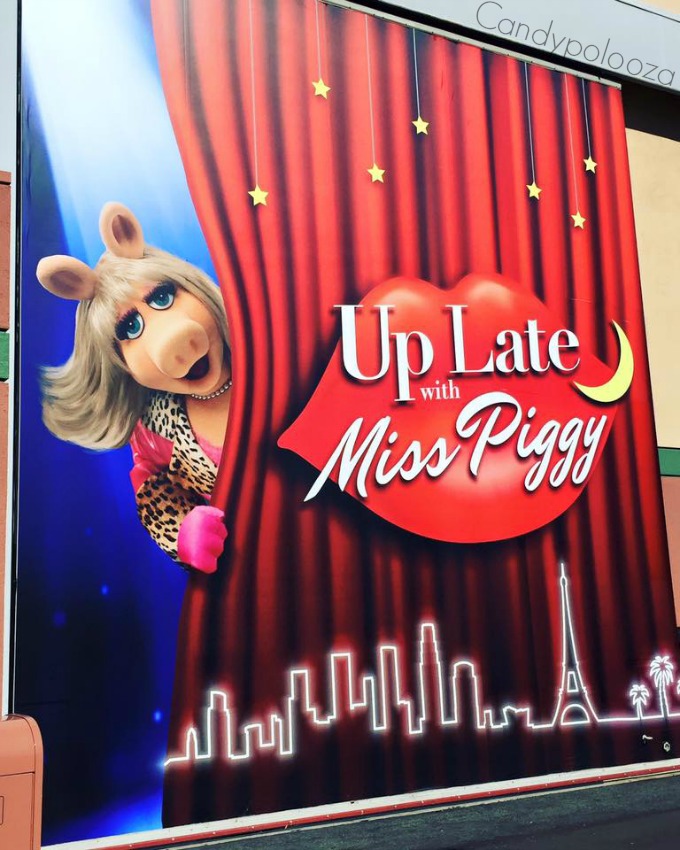 Tonight's episode called "Going, Going Gonzo," here's what you can expect: "After a show-stopping duet with Miss Piggy on "Up Late with Miss Piggy," Joseph Gordon-Levitt joins Scooter, Pepe and the gang for poker night; The Great Gonzo gears up to perform his dream stunt; and Dave Grohl challenges Animal to a drum-off." This episode was so much fun! I can't wait for you all to watch tonight. Full of laughs but as always a nice message too.
 It was incredible to be on set. I've never been to a late night television show so this was a real treat! Oh and not sure if you knew this already but another season has been ordered by ABC! The Muppets are staying with us!! It's always such a shame when a show you enjoy get cancelled. Happy to say that's not the case with The Muppets!
"Going, Going, Gonzo"– After a show-stopping duet with Miss Piggy on "Up Late with Miss Piggy," Joseph Gordon-Levitt joins Scooter, Pepe and the gang for poker night; The Great Gonzo gears up to perform his dream stunt; and Dave Grohl challenges Animal to a drum-off, on "The Muppets," TONIGHT! (8:00-8:30 p.m., ET) on the ABC Television Network.
During the set visit we spoke with Executive Producers Randall Einhorn (and director) & Bill Barretta Director and puppet voice. They gave us the inside scoop on The Muppets.
Bill Baretta explains the mechanics of using the Muppet Character puppets:
"Well there's different types of puppets. Kermit for example, is a puppet that you can almost see the knuckles of Steve Whitmire's hand when they create those facial manipulations. He's a very malleable Puppet, has arm rods that go into his wrists so he's what we call a Rod Puppet. A character like Fuzzy, is usually operated by two people.  It's one person that's doing the head and the behavior and the body of the character. For example, I'm right handed so if I were operating Fozzie, (I don't do that Character but if I did this is how) here's the head and I would also most likely do his left hand. (The following is him giving us visual of how a puppet collaboration would work.) Now if I needed my Perrier, well see this hand is doing a little too much at the moment.  Uh, but if this were my right hand, someone else would be doing it as Randall, as I would need my Perrier.  I just grab my Perrier and he would grab that and then this hand might open the bottle and then so it's a whole — whole collaboration between Puppeteers and — and you know, different Characters operate in different ways.  There are basically, I mean for the majority of the Characters, I don't want to leave Peter Lintz who's a guy who's been around the Muppets and — and being doing this for years and created Walter who is in one of the Movies. Aside from Peter, most of the Characters are performed by 6 people.   There's also kind of peripheral Characters that are becoming more involved but the ones who do the core kind of Muppets, there's 6 guys and so if for example, I'm doing this scene where, Pet Bey and Swedish Chef are in the same scene, I'll need to have one like Peter Lintz who's very familiar with the Characters, understands the rhythms and the timing of these Characters. They'll perform the Character, one that maybe isn't driving the scene so much.  And then I'll go in and I'll do the ADR or the — the dialogue later, with the voice of the Character. Or we often have to just turn it around and do the other half. Which is a time consuming, which is again something that Randall takes into consideration, when we need to stop. Let's say Miss Piggy and Fozzie are in the same scene.  Both of those Characters are formed by the same Puppeteer, so to really get great performances from both that feel authentic and true to those Characters, Randall needs to take into consideration the time and how to shoot this so that Eric can start with Miss Piggy while we have somebody standing in for Foz.  And then we come around like you said, and we shoot the other side and have Eric get out of Miss Piggy and go into Fozzie. It's a bit of a dance scene to make that happen." That's so cool right?! I had no idea!
Einhorn was asked about being an Executive Producer on the show and his techniques. "For a Director's standpoint, we prep — prep an episode for 5 days, and then we shoot for 6 days. We're trying to do like four 10 hour days and two twelve hour days or two 14 hour days depending on if we go on location. A lot of that is just because of the time it takes in order for us to do the simplest thing, we need monitors and monitors and monitors, and floor removed."
Baretta added: "Oh that's something we, you know, didn't mention, is that we use, television monitors so that we can see what the camera sees.  That's the only way that we've able to see the Characters is to see what the camera sees. The monitors are placed in very specific places, depending on what the action is in the scene and what we're doing. That's a whole other level of logistics and where we are and how we find the space to do this."
Einhorn then added, "I would say that like for me, in directing any TV Show, be it a Comedy or be it a Drama, it takes 15 minutes at least to rehearse a scene and talk about it and block it.  It takes 45 minutes to light that scene and do camera rehearsals for that scene.  So if I have a scene like last week, this episode had like 28 scenes which means 28 hours in normal conditions of not shooting, like Fargo, I think I had 56 scenes which is 56 hours of not shooting. This takes double, takes 2 hours to get your first shot off with — with, in a proper scene.  So we have 28 scenes.  That's 56 hours of not shooting.  That's just to getting to the place where you're shooting which, you know, in five 12 hour days, is 60 hours, doesn't leave a lot so we got to move." What a process right?!
Barretta further explains the process: "Part of our rehearsal, in a normal situation, the rehearsal time is the rehearsal time.  The Actors are there, the cameras that you're rehearsing.  With us, part of our, a good bit of our rehearsal is while we're shooting because we're — we're kind of learning for the first time exactly where these Characters are in the frame, what they need to do, how they need to pick something up.  You know, we're constantly rehearsing because it's — it's these dopey little Puppets that are in the way."
Einhorn also said, "It's the simplest thing, like eye line, like am I looking at you or they don't know until you see it on the monitor and they're looking at the opposite, which is really weird so I can't even wrap my head around it but everything's reversed for them and it's amazing that they'll do it." I'm sure you'll agree with me when I say, I think they do an amazing job!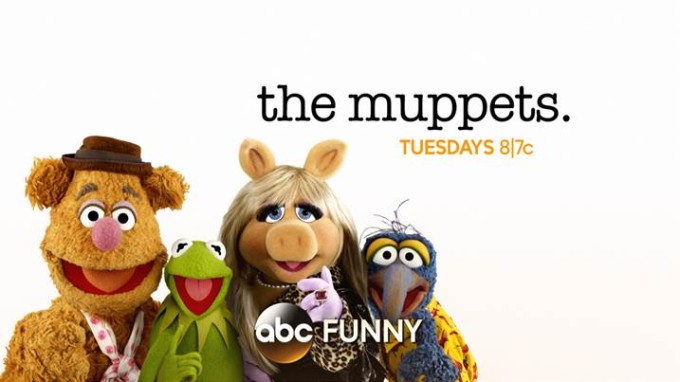 Einhorn began his career as "The Documentarian" on "The Office," becoming the most prolific director of the show during its Emmy-award winning seasons.  His selective episodic work includes shows such as "Parks & Recreations," "Modern Family," and "Shameless." He also served as Producing/Director on iconic shows "It's Always Sunny in Philadelphia," Showtime's "Nurse Jakcie," "The Red Road," and "Wilfred." It was Randall's performance directing the critically-acclaimed pilot for "Wilfred" which first earned him a role as the Executive Producer of the series and a production over-all deal with FX.  His critically acclaimed work directing "Fargo" last season earned him an invitation back to direct the first episode of season two. Einhorn currently serves as an executive producer and director on "The Muppets," a new primetime series on ABC.
Bill Barretta began performing with The Jim Henson Company in 1991 and shortly rose to become one of the core Muppet performers. Originally from Yardley, PA, Barretta was trained at The Neighborhood Playhouse in New York City under the late, great Sanford Meisner and has appeared in feature films "Murder in the First,""Born to Be Wild," "Jack and the Beanstalk: The Real Story," (which he co-wrote and received a Saturn Award) and "Nightmares and Dreamscapes."
Barretta began his career with The Jim Henson Company as a suit performer, landing the lead character, 'Earl Sinclair' on the ABC hit television series "Dinosaurs." From there, he transitioned to supporting and featured puppeteer roles in "Muppet Classic Theater," "Mr. Willowby's Christmas Tree" and "The Animal Show." He made his film debut as a principal performer playing Clueless Morgan in "Muppet Treasure Island." He later developed several new characters on the ABC series "Muppets Tonight," including Pepé the King Prawn, Johnny Fiama and Bobo the Bear to name a few. Barretta also inherited several of Jim Henson's characters, including Rowlf the Dog, The Swedish Chef and Dr. Teeth. In addition, Barretta has served as a producer for several Muppet projects, including "It's a Very Merry Muppet Christmas Movie," "The Muppets' Wizard of Oz," "A Muppets Christmas: Letters to Santa," "The Muppets and Muppets Most Wanted." Over the last 23 years, Barretta has directed, produced and written for various Muppet projects including commercials for Lipton and Toyota as well as original online content. Currently, he serves as an Executive Producer on "The Muppets," a new primetime series on ABC premiering this fall.Lastly, Barretta has been a puppeteer captain on all of the Muppets films and television specials since 1998…Oh, and he's a nice Italian boy.
 "The Muppets" is co-created and executive-produced by Bill Prady ("The Big Bang Theory") and Bob Kushell ("3rd Rock From the Sun"). Kristin Newman ("Galavant"), Randall Einhorn ("The Office"), Bill Barretta ("Muppets Most Wanted"), Debbie McClellan (The Muppets Studio) and Kyle Laughlin (The Muppets Studio) are also executive producers. "The Muppets" is produced by ABC Studios and The Muppets Studio.