I am super excited to be a part of the Madrinas del Baño bloggers campaign! Madrina, what's a Madrina you ask? It's Spanish for Godmother!  Ezra and I te damos la bienvenida a nuestra aventura con el baño.  Ezra and I are super excited as this will be our first trial and introduction to the potty and potty training.
Have you started potty training your toddler? I just introduced the potty to Ezra last week. Needless to say he was not impressed. Being a part of the Madrinas del Baño campaign I am super excited to get the opportunity to work with Pull-Ups Every Flush and help mijo become more comfortable with potty training. Check out all of the fun happening PullUps.com.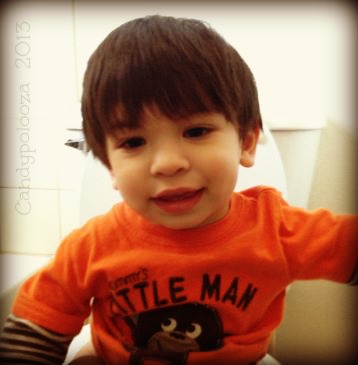 As a second time potty trainer I have to remind myself some key components that I had forgotten. (It's been over 3 years that Aramis potty trained) and I love the Pull-Ups Every Flush key messages.
Here are a few key messages that really resonated with me:
Pull-Ups is motivating Moms to stick with Potty Training. –Don't give up, if you do your child will too!
Every try deserves a little celebration. –After he sat for a bit we got all excited and clapped that he sat on the potty for the 1st time.
Use Resources: Download helpful tools and resources such as the Pull-Ups Big Kid App which helps parents with potty training *We are a family connected so I am really looking forward to have Ezra use the app on my smart phone. 
Check out the Pull-Ups Facebook and your toddler's picture could be featured as the First Flush Moments of the week!
Check out the video below that shows the fun we can have as we embark on another important milestone in our children's lives. Potty Time!
 Vamos a celebrar cada ves que mijo usa el bano para que se anime a seguir usandolo. Gotta celebrate #EveryFlush so that he will stay excited about using the potty!
 We will be posting about our potty training adventures for the next couple of months.
Share with us what has worked for you during your potty training adventures with your kids below in the comments.
Disclosure:
This is part of a compensated campaign with Latina Mom Bloggers and Pull-Ups. However, all opinions
expressed are my own.