The Secret Life of Pets 2 is now showing everywhere. I've got a review for you today and some fun crafts you'll be making after watching the film this weekend. Many thanks to Universal Pictures and H+M Communications for our goodies and movie money to see the film. We had planned on a double feature today with the boys but didn't get to, so it's all things The Secret Life of Pets 2! First up, the crafting fun!
THE CRAFT IDEAS
Grab some paper plates, paints and popsicle stick to make some adorable masks! The images below make for great inspiration! What do you think? I see Duke, Max and their friends.
The boys got busy making Snowball masks, but went with his alter-ego Captain Snowball! Turned out cute right? Using paper plates and acrylic paints Ezra got to painting from a picture of Kevin Hart's cute character. After we let it dry, we added the popsicle stick and cut out eye holes. The eyes are definitely too small, but when it comes to kids and crafting, you just have to let them have their own vision in my opinion.
Aramis was a little more artistic in his approach as he actually drew it out then painted. He didn't cut it and add ears, because you know- teenagers. But I loved his attempt and the time he spent with his brother on the craft.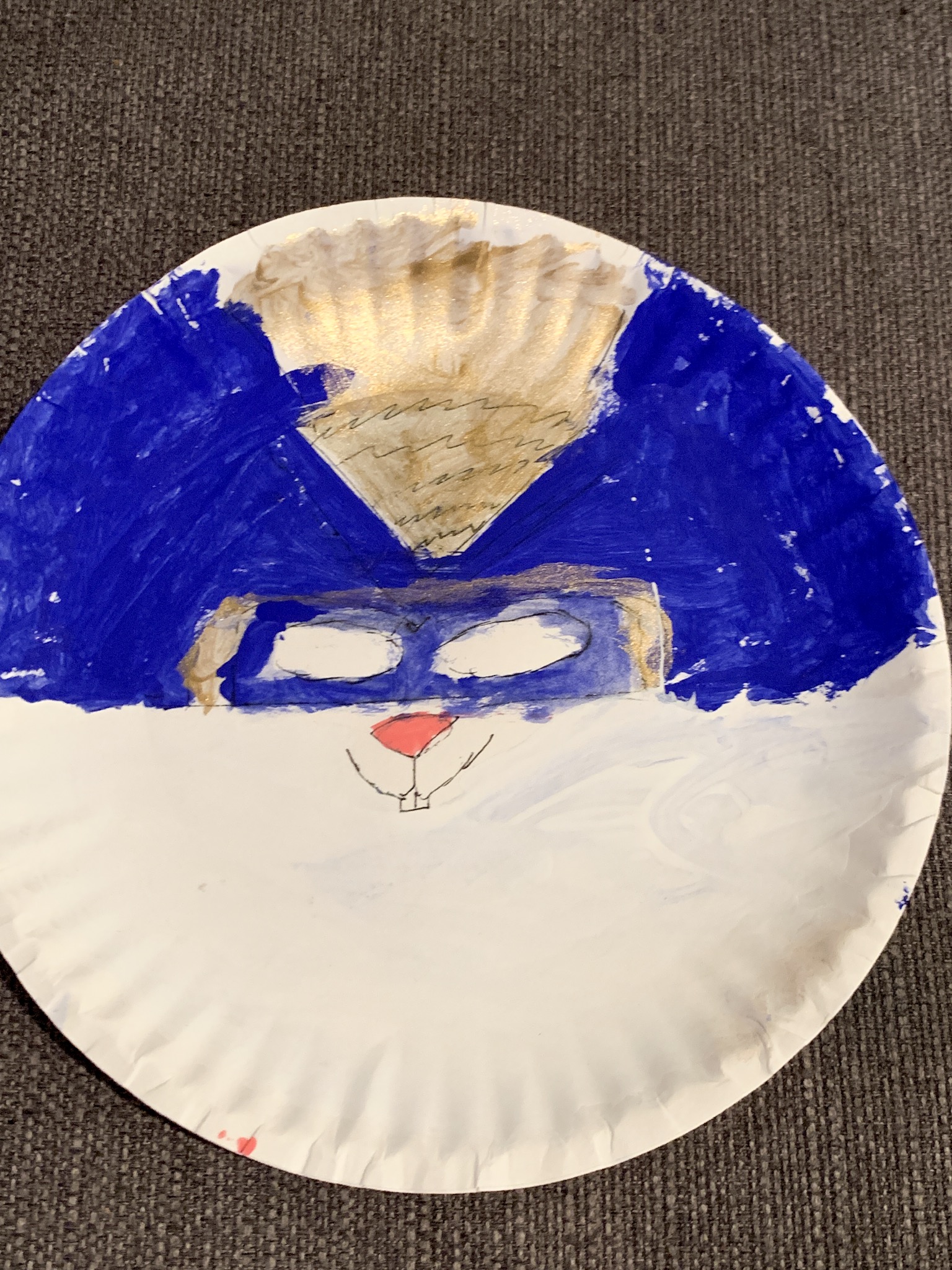 I also started to make Duke with some yarn and I'll share him on my Instagram stories when I finish him up. It was wondering crafting with the kids last night. I didn't' realize how much I missed it! And dang it my kids are super artistic. 😉
THOUGHTS ON THE FILM
You remember Max, Gidget, Chloe, and Duke right? Well, they are back and up to some amazing adventures with a new friend named Daisy, voiced by Tiffany Haddish. Truth be told, you will notice that there are three actual storylines in the film. They all come together for a great ending.
Let's start with Max. Max is now voiced by the hilarious Patton Oswalt, if you recall he was previously voiced by Louis C.K. The transition was seamless, I loved Max in the film his story is super sweet and I loved it. I might have even cried a little bit. You know me, I'm a crier. As a mom, you'll totally feel it. Later on in the story, he'll meet Rooster (Harrison Ford) and he'll have another important moment. We see a super cute side of Gidget. Her story includes the cute trailer with Chloe and getting cat training. She has a great adventure. Chloe is back and with more attitude and sass. She fills the film with her signature tude with some really funny scenes. Snowball or Captain Snowball has an adventure of his own with his new friend Daisy. Knowing the close friendship that Kevin Hart and Tiffany Haddish share, it was really cute to see it play out in an animated version.
There are a few scary scenes that might frighten children ages 5 and under, during the film when they visit a circus and wolves are involved and a train chase that again include the wolves and the villain of the film Sergei (Nick Kroll).
Overall the film comes together at the end to what matters most. Everyone overcomes, new friends are made and it's a happy story. A solid four stars for The Secret Life of Pets 2, from Candypolooza. It would have been a full five if there weren't so many stories to follow. I felt that the writers didn't have enough of a story to carry the movie without having so many stories. And there were some characters that we just didn't get enough of. Such is life with sequels, right? It's still a great film, that we will probably purchase when it goes to DVD. The Secret Life of Pets 2 is a cute film.
ABOUT THE FILM
Terrier Max (Patton Oswalt) is coping with some major life changes. His owner (Ellie Kemper) is now married and has a toddler, Liam. Max is so worried about protecting the boy that he develops a nervous tic. On a family trip to a farm, Max and mutt Duke (Eric Stonestreet) encounter canine-intolerant cows, hostile foxes and a terrifying turkey, all of which only elevates Max's anxiety. Luckily, Max gets some guidance from veteran farm dog Rooster (Harrison Ford, making his animated-film debut), who pushes Max to ditch his neuroses, find his inner alpha, and give Liam a little more freedom.
Meanwhile, while her owner is away, plucky Pomeranian Gidget (Jenny Slate) tries to rescue Max's favorite toy from a cat-packed apartment with a little help from her feline friend, Chloe (Lake Bell), who has discovered the joys of catnip.
And crazy-but-cute bunny Snowball (Kevin Hart) gets delusions of grandeur that he's an actual superhero after his owner Molly starts dressing him in superhero pajamas. But when Daisy (Tiffany Haddish), a fearless Shih Tzu, shows up to ask for Snowball's help on a dangerous mission, he'll have to summon the courage to become the hero he's only been pretending to be.
Can Max, Snowball, Gidget and the rest of the gang find the inner courage to face their biggest fears?
The Secret Life of Pets 2 is produced by Illumination founder and CEO Chris Meledandri and his longtime collaborator Janet Healy, the visionary team behind Dr. Seuss' The Grinch and the Despicable Me and Minionsfranchise, and is written by returning Pets screenwriter Brian Lynch. The film is directed by returning filmmaker Chris Renaud, who also directed Illumination's Despicable Me series and Dr. Seuss' The Lorax.
Genre: Comedy
Cast: Lake Bell, Hannibal Buress, Dana Carvey, Harrison Ford, Tiffany Haddish, Kevin Hart, Pete Holmes, Garth Jennings, Ellie Kemper, Nick Kroll, Bobby Moynihan, Patton Oswald, Jenny Slate, Eric Stonestreet
Director: Chris Renaud
Co-Director: Jonathan Del Val
Writer: Brian Lynch
Producers: Chris Meledandri, Janet Healy
Watch the music video for the film! Music from Ozuna!
I can't wait to hear what you think about the film!
Cheers,
Candy