Disclosure: This is a compensated campaign in collaboration with Pine-Sol and Latina Bloggers Connect.
Working in a Mans World
The title itself sounds so menacing right? Are you wondering what time of job it was that I was did? I used to work as a Minerals Coordinator for the Oil and Gas department of company back home. My title sounded odd… but many times my boss would tell me that my job title was wrong and that I should be the Contract Administrator. Of course the pay was way less too.. Go figure right? Folks would joke and say that as the Minerals Coordinator, I was actually in my cubicle playing with rocks.. if only.
If you know anything about the Oil & Gas industry, you know it's a mans world. I will say that I did meet a few ladies that wheeled and dealed, but mostly it was men. There's a position within that field called a Landman.. yep. Talk about sexist.. Anyways!  In the department it was myself and another woman worked within a group of men, she was the secretary. Although my job was mostly clerical and administrative I did have to speak with a lot of the companies we dealt with for the contracts and most if not all were males. Some gave me a hard time, especially when I first started- I had no idea what I was doing. And I was also badgered a bit at the office. It was never sexual or physical harassment it was that I didn't know much about the industry. That was obviously a given, but I was driven to learn more about it and I had a different kind of expertise that none of them did. I knew technology. I had come from working in the company Help Desk so I was very tech savy. Can't say that too much now, but that's another post! LOL It was difficult at times working in a mans world and over bearing bosses didn't make it easy. I did my job and I did it well, that I was proud of and they realized how I was able to stream line certain procedures to cut down on time and keep the files organized as well.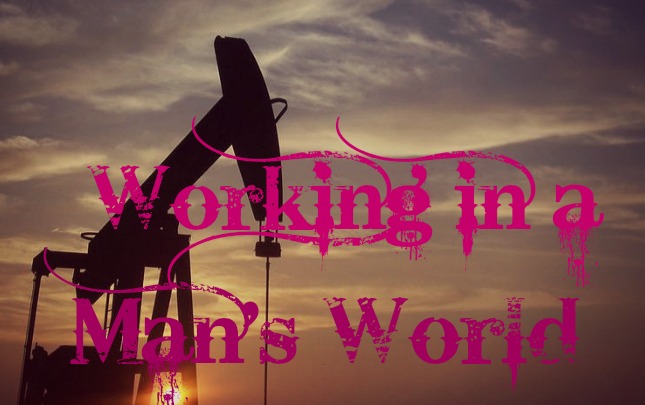 I found my position of worth within the department of non-technical and unorganized men and did very well. I was able to #RiseAboveIt and truly became an asset.  And I also learned more about the industry and my job. The Oil and Gas industry is booming where we live right now and a few of my friends and family members work in it. It's neat to know and understand what they are talking about. That's one thing I love about the jobs that I have had in my life. I've learned a lot and grown as a person. When I left that job after my husband rejoined the Army, there's one thing I walked away with. I now know how I'll never let any employer treat met in the workplace.
 That's my story now here's your chance to share your story of how you #RiseAboveIt As women we have to share our stories to give each other hope and resolve. We can can do it! Por que las Mujeres No Se Rinden!! I absolutely love this campaign and what it will do for women. I'm proud to be bring you my story so you can enter to win,  from the makers of Pine-Sol®: 
When Life Gets Tough, Women Rise Above It Sweepstakes

HERE'S YOUR CHANCE TO WIN! 
Share your story of the moment you got to #RiseAboveIt in your life for a chance to win one of the following prizes by entering on the PineSol® website HERE you can also enter via the website in Spanish here.
Once a week for 12 weeks, Pine-Sol will award one lucky winner small tokens of appreciation. (Flower bouquet + Pine Sol coupons) ARV: $150
Three first prize winners will receive complimentary house cleaning services for a year ARV: $2,400
One grand prize winner will be awarded an all-inclusive trip to enjoy a peaceful spa experience at a deluxe hotel. ARV: $5,000
NO PURCHASE NECESSARY. Open to legal residents of the 50 United States & D.C. 18 years & older. Ends 1/31/14 at 11:59 PT/ To enter and for Official Rules, including odds, and prize descriptions visit www.womenriseaboveit.com. Void where prohibited.