If you're a kid of the 80's or 90's and you had cable, you know who the man is with the top hat and the match. Oh yes, that 90's Classic is Back with an Update! Are You Afraid of the Dark? I get chills just thinking about it. Thanks to our friends at Click Communications for providing the DVD for review. Are you ready to join the Midnight Society? And Are you Afraid of the Dark?
My Review
I am not normally a horror fan, but the Are You Afraid of the Dark series is just classic and Nickelodeon does a fantastic job of making it scary yet age-appropriate. My youngest is not a fan, but the 14-year-old was definitely into it. We enjoyed the three-part story. Keep your eyes peeled as you will get a couple of jump scares too. I can't say enough how much we enjoyed this and sharing some insider info- there's a season 2 coming!!
If you are a fan of the original episodes, make sure to watch the Special Features. They chose episodes from 1992, 1994, and 1995. Classics! This is perfect for your Halloween slumber parties grab it now!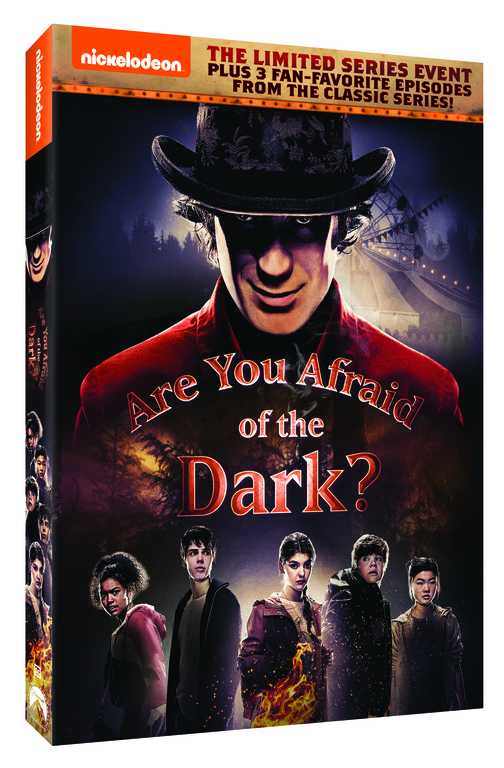 New Generation
Re-imagined for a new generation, Nickelodeon's all-new version of '90's kids' cult classic Are You Afraid of the Dark? is now available to purchase from Paramount Home Entertainment and Nickelodeon Home Entertainment. The three-part limited series follows members of an entirely new Midnight Society, who tell a terrifying tale of the Carnival of Doom and its evil ringmaster Mr. Top Hat, only to witness the shocking story come frightfully to life and prepare for an adventure beyond their wildest nightmares.
A must-own for fans of the classic series, as well as those new to the franchise, the Are You Afraid of the Dark? DVD also includes three fan-favorite episodes from the original series and will be available for the suggested retail price of $13.99.
The new members of the Midnight Society are:
Rachel, played by Lyliana Wray (Top Gun: Maverick, Black-ish);
Gavin, played by Sam Ashe Arnold (Best.Worst.Weekend.Ever.);
Akiko, played by Miya Cech (Rim of the World, Always Be My Maybe);
Graham, played by Jeremy Taylor (IT: Chapter Two, Goosebumps 2: Haunted Halloween);
Louise, played by Tamara Smart (Artemis Fowl, The Worst Witch);
The Carnival of Doom's ringmaster, Mr. Tophat, is played by Rafael Casal (Blindspotting).
Are You Afraid of the Dark? Episodes:
Part One: Submitted For Approval
Part Two: Opening Night
Part Three: Destroy All Tophats
Special Features (US only):
Original Series Season 1, Episode 2: The Tale of Laughing in the Dark (1992)
Original Series Season 4, Episode 8: The Tale of the Ghastly Grinner (1994)
Original Series Season 5, Episode 1: The Tale of the Dead Man's Float (1995)
Official Trailer
Enjoy watching ARE YOU AFRAID OF THE DARK? with these fabulous campfire snacks and craft ideas!
My friends at Geeks Who Eat and Mama's Geeky have come up with the perfect campfire craft and s'mores dessert. Download the instructions for both below or click here.