Watching the films, do you ever think "man if I could ask the lead actor or that character about this scene or that scene?" I had the awesome opportunity to conduct two interviews with some of the cast from The Sleepover coming to Netflix 8/21. Thanks to Boutique Publicity for including me in this awesome opportunity! Let's get to the interview fun!
The Interviews
The interviews were actually split into two groups which I thought was fantastic. It was very fun and intimate.
The Men of The Sleepover
In our first interview, we each got to ask one question to the men in the film, The Sleepover. Actors Ken Marino, Maxwell Simkins, and Lucas Jaye joined us for a fantastically hilarious interview.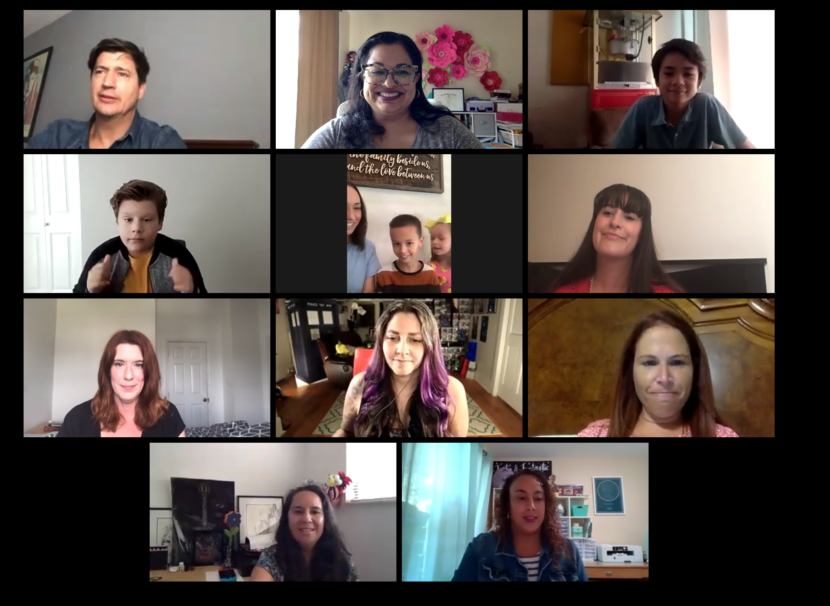 They each shared moments about filming and learning from Ken Marino. One of the first questions by my friend Tessa from Mama'sGeeky asked about the improvisation during the filming of the film. Maxwell stated that Ken really lead the way on it and the film's director Trish Sie, really encouraged them to make it all their own and gave kudos on the comedic work the younger actors brought to the film.
I cannot wait for you to see a funny moment in the film that includes dancing alone by Maxwell. Of course, we had to ask about that scene, here's what he shared with us, "it took 3 weeks for a certain dance scene to choreograph, I listened to a lot of Gin and Juice while I practiced."
My question for the men of the film was about the action. In my review, you'll see that I called it a hilarious mix between Spy-Kids and Don't Tell Mom the Babysitter's Dead (throwback!). I asked them about their favorite scenes and without spoiling anything because you see the laser pen in the trailer that was one of them and another one that will surprise you of the things you can do with a flag. A lot of great moments in the film. Ken shared about one of the takes he does during a scene where he hits a wall that was pretty hilarious. And keep an eye out for a specific spider. My friend Kristi's son asked if any spiders were harmed during filming which was such a cute question. They confirmed that none were harmed. Ken added a funny jape about working with a spider in preproduction but didn't make it on set due to budget. We were all laughing so hard. Our own special moment with the actors.
The Ladies of The Sleepover
The ladies do not disappoint in The Sleepover. Malin Akerman, Sadie Stanley, Cree Cicchino joined us for our interview and also shared some great laughs with them as well.
One of the things that we all agreed on was the bad-ass moves made by the females in the film. Malin Akerman, Sadie Stanley, Cree Cicchino did an excellent job of securing their notoriety in the film. We talked about the stunt work, Malin confirmed that she did a lot of her stunts but she did share some scenes with her stunt double.
You'll hear a nod to Cicchino's Latin heritage as she ad-libbed some Spanish in a couple of scenes. As a Latina that made me proud and I love the director allowed it in the film. She noted hearing some typical Spanish phrases growing up and she was glad it stayed in the film. Cree's character was sassy and smart a fun combination for this film.
Known for her role on The Goldberg's and breakout role from Kim Possible, Sadie Stanely shared that she was similar to her character of Klancy with insecurities and dealing with how to be brave and put herself out there. She has a beautiful moment in the film where she blossoms before our eyes. It's super empowering.
About The Film
In this family adventure-comedy, Clancy (Sadie Stanley) and her kid brother Kevin (Maxwell Simkins) discover that their seemingly normal stay-at-home mom Margot (Malin Åkerman) is actually a former high-end thief in the witness protection program. When both their mom and dad (Ken Marino) are kidnapped and forced to pull one last job with an ex-flame of Margot's (Joe Manganiello), the siblings must team up to rescue their parents over the course of one action-packed night that they'll never forget. The Sleepover is directed by Trish Sie (Pitch Perfect 3).
The Sleepover is NOW AVAILABLE on Netflix!
Cheers,
Candy