This is a Fashionista Event Opportunity, and is hosted by Still Blonde after all these YEARS and Modly Chic.
Are you ready for the holidays? It's time to get festive with fashion! Thanks to Monroe and Main it's going to be a fabulous holiday season for fashion! and as always there's a fun giveaway for you to enter!!
I love getting all dressed up! The holidays are the perfect excuse to add some beautiful color to your wardrobe. If you've been following me for awhile now, you know that I am a basic black dresser. I love dark colors but you know I love red too! When making my choices for this post I fell in love with this Sheer Poncho Lace Top ($69.95 – $79.95) from Monroe and Main. And don't think Monroe and Main won't have your size, check out the website! Monroe and Main is the industry leader in clothing that fits various body types in size 6-24 or S-3X.
I ordered the top in an XL. I probably could have ordered a Large, but I still liked the fit. This top is very roomy and comfortable. You will not feel restricted, but you'll feel super glamorous when wearing it. I paired the Sheer Poncho Lace Top with black leggings and black peep toe heels. Here's a few ways to change up the look:
Instead of black leggings wear jean leggings with riding boots! Or take off the leggings and jeggings and add a skirt. I love the look of a black cotton skirt. Simple yet dressey. You can totally glam it up with the right jewelry too.
MAKE SURE TO LINK UP TO THE MONROE AND MAIN PINTEREST PAGE FOR EVEN MORE INSPIRATION AND FESTIVE IDEAS FOR YOUR WARDROBE.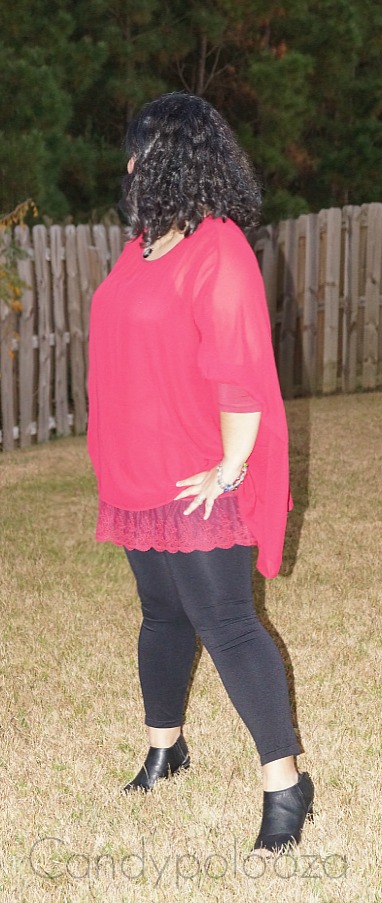 One of the things that I loved about this top is that it's actually two pieces! Yes, the chiffon hi-lo sheer top is separate from the fringed camisole. I absolutely love the scalloped trim of the camisole, it actually goes all the way around the bottom. Check out the close up of the trim. 
Just beautiful right?! I LOVE IT! Also note it is more of a cranberry color than a red. I know the flash can change the color up some. It's a beautiful top.
Wanna know how to Get Festive with Fashion? I've come up with five important tips to help you look and feel your best this holiday season!
Dress for your body – That might sound odd but, you know what looks good. If you don't, ask yourself how you feel when you've got the outfit on. Do you feel restrictive or too loose? Those are things to look for.
Find a color that suits you -I'm lucky that my skin tone works well with my favorite colors, but I know that I don't do well in super bright colors or even white for that matter. Unless I'm rocking a Summer tan, but even then I'm not too overly excited  about wearing white.
Feel Comfortable – If you aren't comfortable it's not a look that's going to work for you. Simple as that. I don't feel comfortable in sleeveless anything. Will I wear it? Sure! With a sweater or shawl. That makes me comfortable so changing up the look works for my comfort level.
Have Fun -There's nothing like looking amazing in an outfit and not having fun with it!
Wear your best accessory, Your Smile! – Sometimes that's all you need to complete a look!
It's time to win!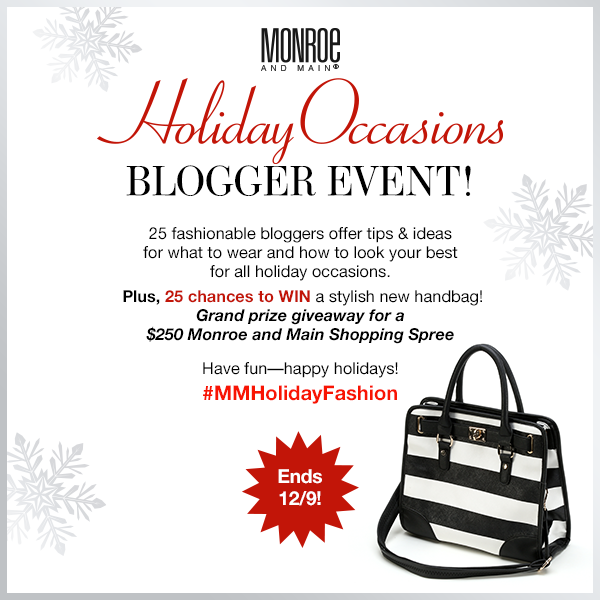 GOOD LUCK!!
Make sure to enter on each blogger's page for the GRAND PRIZE!!
*Still Blonde after all these Years, Modly Chic, and Fashionista Events bloggers are not responsible if prize is not delivered.  We will make every attempt to help you claim your prize.*

GOOD LUCK EVERYONE!!
Candy