Are you in the market for a new refrigerator? There are so many amazing options available and how can you make the determination that it fits your needs? Today it's all about the new Bosch Counter Depth Refrigerator at Best Buy. An amazing option is now available at your local
Best Buy
.
AMAZING FEATURES
The sleekness you want with a Stainless-steel finish: Aligns perfectly with any stylish kitchen design. And touch-sensitive controls: Make operation simple. Organize contents with ease: Includes 5 tempered glass shelves, 4 of which are adjustable and half-width, 3-gallon door bins and 2 humidity-controlled compartments to provide ample space for storing items. All of this yes is pretty amazing, but wait there's more. The appliance has an internal water dispenser with replacement filter: Delivers filtered water with one touch. And don't get me started on the lighting! The LED interior lighting: Bright lights to illuminate the interior. Do you need a reminder of how amazing it is? There's a door alarm: Alerts you when the refrigerator door is accidentally left open to save energy. I have recently woken up in the morning to find my freezer has been left open all night. Having the door alarm prevents this from happening. I'm already sold. Like having ice in your drinks? How about an automatic ice maker: It provides a steady supply of ice without the mess of having to refill ice trays. Say goodbye to the ice trays friends.
SPOIL ME MORE
As if the Bosch isn't already amazing enough. Here's another highlight! One of the things about fresh produce in our area is that it goes bad quickly. Is it the climate or the environment in my house? By having the Bosch refigerator it fixes this issue for me. The revolutionary FarmFresh System™ combines four innovative technologies to keep your food fresh up to 3x longer, for less food wasted.* Disclaimer: *As compared to a Bosch refrigerator without FarmFresh System™. Results may vary among different foods. While results may vary it's a great option to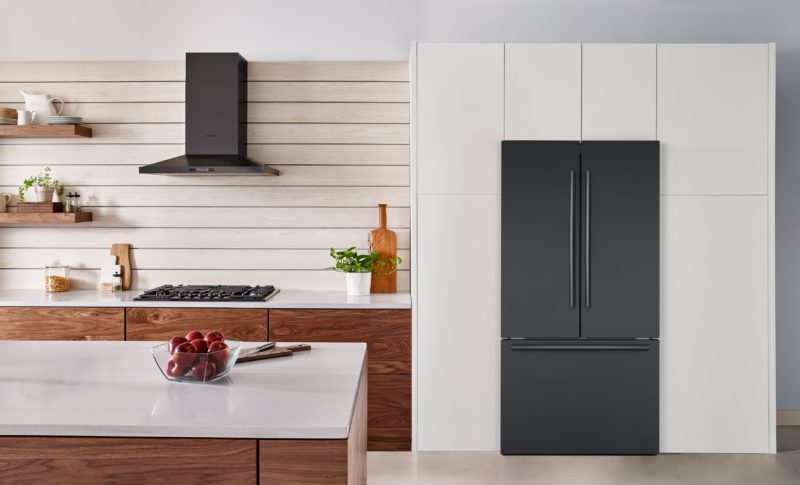 Product Features:
The new FarmFresh System™ uses four innovative freshness technologies to keep your food fresher, longer:
VitaFreshPro™ offers preset settings that automatically balance BOTH temperature and humidity
FreshProtect™absorbs naturally occurring ethylene to slow ripening, so produce stays fresher, longer.
MultiAirFlow™ evenly circulates cool, fresh air to maintain consistent temperatures throughout the entire fridge cavity, from the door bins to back corners.
AirFresh® Filter absorbs even the toughest food odors, keeping your refrigerator and freezer air fresh.
The Bosch UltraClarityPro™ water filter reduces >99.9% of sediments that may be found in your water, including harsh elements like chlorine and chloramine.
Organize your fridge in new ways. FlexBar™ creates extra space in your refrigerator – it's the perfect home for wine bottles, condiment jars, eggs, and more.
True counter-depth refrigeration, this freestanding refrigerator sits flush with the countertop, features hidden hinges, and discreetly tucked away feet, all to give you a truly built-in look and feel.
Dual compressors and dual evaporators offer efficient and precise cooling and humidity control, while significantly limiting odor transfer between the refrigerator and freezer, for the optimal freshness environment.
A generous 21 cu. Ft. capacity is made even more spacious with flexible storage features like FlexBar™, removable shelves, and door bins.
The sleek, internal stainless steel back wall is made from the highest quality materials. Eye-catching and durable, it's a timeless design that's built to last.
Featured on both sets of doors, three wide gallon door bins easily accommodate two large side-by-side gallon containers each.
An ingenious three-tier layered freezer drawer system creates extra storage for frozen items, from pizza boxes to frozen waffles.
Full-width chiller drawer: store oversized platters with ease until you're ready to serve them, or store snacks for quick access and easy visibility.
Master your day, in your own way, with Home Connect™. The Home Connect™ app allows you to remotely monitor and control your Bosch refrigerator from your smartphone or tablet. Control the temperature, adjust lighting, run diagnostics—wherever you are,** for ultimate convenience. Connected refrigerators from Bosch are designed to give you peace of mind, customization, and simplification. Please note: **Connectivity and speed varies based on network and Wi-Fi levels.