You will remember the name Ernesto De La Cruz, a handsome Mexican singer and star of Disney Pixar Coco. When you watch the film on November 22nd, the voice will sound familiar and then you'll realize who it is. Benjamin Bratt is Ernesto De La Cruz in Disney Pixar Coco. Thanks to Disney for inviting me to attend the red carpet event and additional experiences at Disney XD and ABC, the following statements are my own. I'm still in shock of where I was a week ago. I was in LA interviewing some of the cast from Disney Pixar Coco. Mr. Benjamin Bratt was among the group of interviews. See that's me on the left, technically four people away from B. Bratt!
Before the awesome picture that has also been shared on his Benjamin Bratt's Instagram account, we got to ask him a few questions about Coco, Ernesto de la Cruz and life.
THE FINISHED FILM
One of the questions always asked about a final project is the actor's thoughts. Here's what Bratt had to say about what he thought about the finished film:
"There was a lot about it that affected me, but I think I was most struck by the beauty of the artistry. It's such a beautiful film to look at. And then when you add that technical expertise to the emotional depth of the film and what it delivers at the end, there's no other word for it. And powerful. It was a really powerful result."
EMOTIONAL MOMENTS IN THE FILM
You can always expect to have a moment while watching a Disney Pixar film. Even Benjamin Bratt could not escape this my friends!
" There were a handful of moments. One of my favorite scenes in the film…was that scene with Eddie Olmos, who plays Chicharrón, where it really spells out what it is to finally die, the final death. It's expository, but it also-it just punches you right in the heart because you realize, oh, wait a second, if we don't stay connected to where we come from, we don't remember our antepasados, the people who came before us, that's it, we're finally moving on to where? Who knows? But it's probably not a good place because you not supported by people in the land of the living. And then the song that Gael delivers: raw, simple, emotional, truly moving."
INSPIRATION FROM FAMOUS MEXICAN ACTORS
I grew up watching Pedro Infante and Jorge Negrete, it was very cool to see that Ernesto De La Cruz was modeled after two very famous Mexican actors. Here's what Benjamin had to say:
"A lot of Pedro Infante, Vicente Fernandez. You know, the truth is, I had never seen a film with Pedro Infante or Jorge Negrete. I was loosely aware of Vicente Fernandez's music. But after Lee and Adrian shared with me that those are the people in real life that they were drawing on for this character, I went out to YouTube, of course, and studied a lot of it. And what I realized was that there's real star power. You know, they were like the Mexican versions of Frank Sinatra. Someone who is as adored for his musical ability as he was for his movie star magnetism. And that doesn't happen to everyone. Not everyone possesses that set of talent or that particular personal chemistry. You have to create it. And so, I just thought okay, I'll just try to be larger-than-life. And it's an even more difficult trick to do it just vocally. Thank God they draw the guy. That's a good-looking skeleton. His hair was perfect."
 "SEIZE YOUR MOMENT" WHAT DOES THAT MEAN TO HIM?
"Seize your moment" I interpret as a call to action. I'm a little more pensive before I make a decision and I think I've gotten more cautious as I've gotten older. But what I can relate to is, and it's always held particular importance for me, but it is the most important thing in my life right now, and that's my family. My immediate family, my relationship with my wife and my two children. My daughter Sophia and my son Matteo. They take precedence over all else, even at work, and that's how I self-identify. If someone says what are you, I don't even start with man. I say I'm a husband, I'm a father first. And with that kind of clarity, you can really take on any challenge that's presented to you. But as far as seize your moment goes, if you ask me to jump off a 50-foot cliff I might have done that when I was 25. But now I'll take a pause and… Do I do this with my shoes on? My shoes off? Do I wear a life jacket? You want to do it with me? We'll hold hands or should I go solo? For someone like Miguel, it's the perfect motivator because he's young and has all this potential, and he has a dream that is burning inside him."
SINGING IN THE FILM
One of the things you might realize from the trailer and the film is that Benjamin actually sang in the film. We totally had to ask him about that!
"So, here's the deal. You know, I acknowledge that I'm a fairly decent actor but I've always wanted to be a singer. I just admire singers so much and musicians in general because with singing, your voice is your instrument. And it translates across all language, all cultures because a beautiful voice is a beautiful voice. I don't possess one when it comes to singing. And I've always said I'd give my left big toe to be able to be a balladeer like Marc Anthony. He's just a phenomenal, powerful singer, and a friend, but someone whose talent I admire immensely. So, when I was offered the role, I thought it was a bit ironic that I was meant to play the most famous singer and musician in Mexican history. I had a little chuckle for myself. And then, of course, I became immediately terrified because Lee and Darla and Adrian wanted me to attempt it. And (under) what better circumstances could I do that? They provided me with Liz Kaplan, who's the instructor-mentor to the stars in New York. I had several sessions with her. And they just gave me the opportunity to fail. And the first few sessions, I'll tell you, they were horrible. They were really horrible. But they gave me a shot. I was happy to do it and that it's in the movie. I recorded every song that it's in the movie. I'm really proud of it. I chose to seize the moment."
In closing I'll share two more questions that we asked Benjamin that we asked all of the actors:
FROM THE SONG "REMEMBER ME," HOW WOULD YOU LIKE TO BE REMEMBERED?
"If I am to be remembered at all I would hope it would be for my kindness or my generosity, for the love that lives in my heart for people that I hold near and dear. And as someone who tried to live his life with integrity. Nothing too deep. Oh, and he's pretty fun, too. He was a fun guy."
A SPECIAL MESSAGE WOULD HE LIKE TO PASS ON TO HIS CHILDREN?
"To have compassion, to be empathetic, to recognize that wherever you come from, whatever your gender is, whatever your sexual orientation, whatever your religion is, lead with kindness, lead with empathy and lead with love."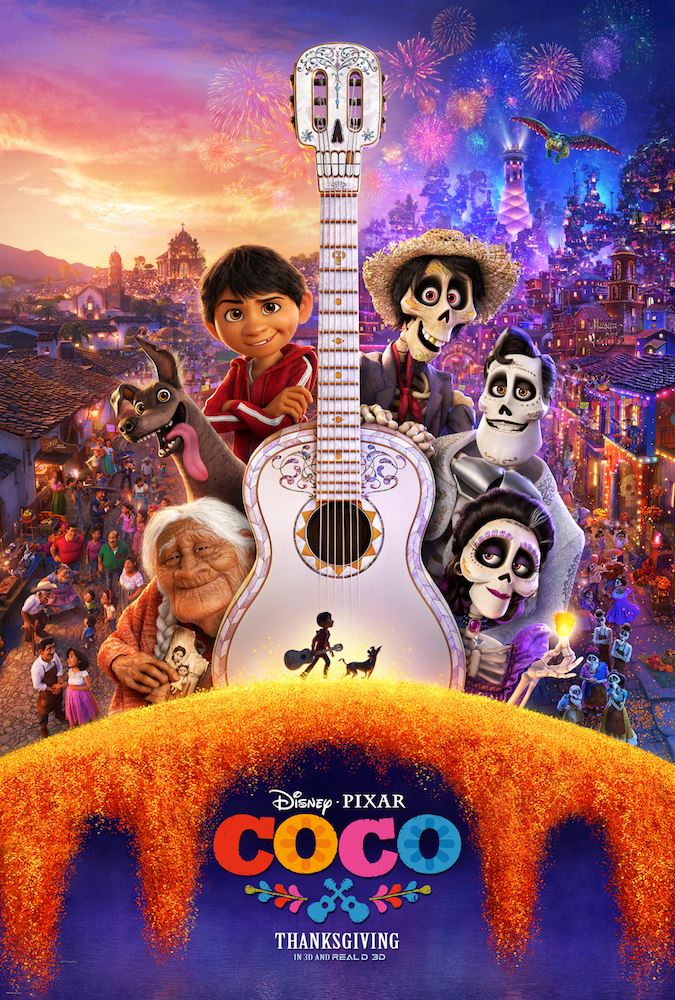 THERE'S ALWAYS REALLY CUTE THINGS BEING SHARED ON SOCIAL. MAKE SURE TO FOLLOW ON SOCIAL!
FOLLOW COCO EVERYWHERE: FACEBOOK, TWITTER & INSTAGRAM AND VISIT THE OFFICIAL COCO WEBSITE HERE! 
SaveSave
SaveSave
SaveSave