It's Big Hero 6 time! One of the boys favorite Disney movie is coming to telelvision and we got to view the made for tv movie coming to Disney XD! Thanks to Disney for inviting me to attend the red carpet event and additional experiences at Disney XD and ABC, the following statements are my own. If you are a fan of the movie, you're going to LOVE the series. Big Hero 6 comes to Disney XD this month and we are so excited!
The gang is back! Ok
The one-hour TV movie "Baymax Returns" premieres on Monday November 20 at 8:00p.m. on Disney XD and Disney Channel.
BIG HERO SIX THE SERIES
Based on Walt Disney Animation Studios' Academy Award-winning feature film, "Big Hero 6 The Series" picks up immediately following the events of the feature film and continues the adventures and friendship of 14-year-old tech genius Hiro and his compassionate, cutting-edge robot Baymax. Along with their friends Wasabi, Honey Lemon, Go Go and Fred, they form the legendary superhero team Big Hero 6 and embark on high-tech adventures as they protect their city from an array of scientifically enhanced villains.
We had a chance to ask a few questions. For the interview we got to speak with in the image below from left to right:  Executive Producers Mark McCorkle, Bob Schooley, voice of Hiro Ryan Potter and Executive Producer Nick Filippi.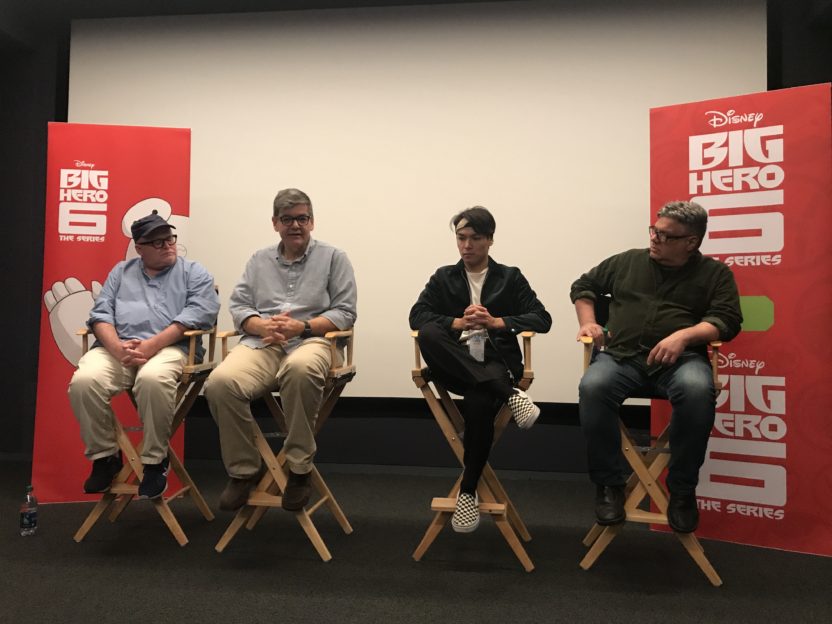 WHY A SERIES AND NOT A SEQUEL TO ORIGINAL FILM
Potter: "With the series, we could just have a lot more fun! Not to say we put less work into this, because that's not true at all, but I would go in for a specific scene for the film four, five, seven, eight times, but with the series I go in once to record an episode, and we get to go in the booth and play around with the entire episode.  Then, we throw ideas back and forth, as opposed to me coming in two months later with brand new ideas. A lot of it is actually coming from, us in the room. Not necessarily me personally because the writers do a lot of work, but there's a lot of synergy for the episodes in the sense that we get to create a lot on the spot, because we still animate post voice, so we don't have to always stay true to the script."
McCorkle: "All the records are very collaborative with the actors, because we always say to people sometimes saying a line the way it was written maybe doesn't feel exactly right.  Or some people are very good at ad-libbing and have ideas for jokes.  You've got Brooks who does Fred, who is always full of ideas which is great."s
Schooley: "We always encourage the actors, and especially when you're adapting a movie, the actors know the characters better than we do coming in. So we let them take the lead on that to a big degree.  I mean, Scott with Baymax, he has a very specific idea of what Baymax would and wouldn't do, what he wouldn't say.  We never mind if an actor is like ah I don't think that feels right for the character. It definitely keeps it with the continuity of the movie where the characters don't feel like they've changed.  They're evolving over the course of the series, but we feel like they're true to the movie."

ANIMATION TECHNIQUE
You'll see in the TV movie, the animation is fantastic and it reminded me a lot of DuckTales. We wanted to know what it was called or what the technique was.
Nick: "It is traditional hand-drawn animation, where the feature was computer generated 3D animation. We chose to go with hand-drawn animation partially because we wanted to create a new world and look for the show.  We wanted everybody to immediately recognize these characters, to embrace these characters that they fell in love with in the movie, but we wanted to have a fresh start on the show, so we choose hand-drawn animation similar to what Disney was doing in the 60's. We were referencing 101 Dalmatians. We wanted something that had a graphic feel that the animators could really latch on to, but also the warmth of the hand-drawn pencil line."
Bob: "We talked to the directors of the feature when we were developing it, and they asked if we were going to do it in CG or in traditional 2D?  And frankly to do CG for television, there's no way we could do what they did.  That movie was so amazing, so it's like, well, let's be the best thing we can be for TV, and the directors were like, what Disney TV Animation is doing right now in traditional 2D is beautiful, so run with that.  We sort of took that as yeah, that's the way to go, just because that's so unique.  It's become this thing where CG is a big features thing and then TV is just doing some amazing things with 2D now, because we've been doing this awhile.When we did Kim Possible, we definitely loved that look and we wanted to do something that sort of felt kind of like that, but had its own identity, but we were really happy with what they're doing with 2D on this show.  I mean, it's very dynamic.  The action scenes in this, I think, are pretty amazing for TV."
Nick: "Between our show, Tangled and DuckTales, I think there's three very good vital contemporary examples of how smart 2D art direction can make something a unique piece of entertainment onto itself."
THE SHOW BACKDROP: SAN FRANSOKYO
Bob: "Well, in this especially, there's little foreshadowing practically to every plot in the first season.  There's little nods to characters you're gonna meet. We fell in love with the idea of this mash-up culture of San Francisco and Tokyo, just because it was such a cool idea.  That sort of informed the animation.  We were like let's make it look like sort of traditional American animation. The stuff in it like noodle burger, which are hamburgers on Ramen bun roll. So there's a lot of that. Then, Muirahara Woods this is a smash up.  It's like Muir Woods and Tokyo's Aokigahara Forest. So it definitely became sort of this fun thing to create that combo world."
Mark: "It was neat to explore the city.  It's a big city, to create neighborhoods from the sort of bad part of town to the lovely part where Hiro in the flashback is learning to ride a bike.  We felt like we wanted to make a real city."
We had a fantastic visit with these gentlemen. They were also very gracious to chit chat with us more after the interview. They were so kind to show up the amazing walls in the Disney Animation studio with some of their earlier works. You can see those pics  on my Instagram account later today! Make sure to check them out and follow my account if you aren't already!
Happy Friday and don't forget to catch Big Hero 6 on Disney XD on 11/20!
Cheers!
Candy
SaveSave