Disclosure: This shop has been compensated by Collective Bias, Inc. and its advertiser. All opinions are mine alone. I am also participating in a contest as an additional aspect of this campaign.
There's nothing like a wonderful cool drink in your hand during the summer season. Thanks to Keurig, I can enjoy the best kcups flavors for summer in the home daily! And I'm not worried about my calorie count either, my favorite flavors of summer for my Keurig are also low calorie drinks! Double win! I can enjoy them guilt-free! Read on know what I'm talking about!
I've got three favorite kcup flavors that are my ultimate favorites and my go-to's for refreshing drinks when it comes to my Keurig. Of course you can never go wrong during the hot summer months with an ice coffee right? I love love love, the Donut Shop Sweet & Creamy iced coffee. When I'm craving iced coffee it is my favorite! If I'm feeling a little fun and fruity, I reach for either of the choices below. Sometimes I'll add some frozen fruit to them too. Give them a little flair and more nutrients too! Antioxidants are so important. Here's a secret tip.. ok maybe not so secret, but did you know you can brew your favorite Brew Over Ice flavors on the 6oz (small) or the 8oz (medium) setting? Oh yeah! It's either a little stronger or a little weaker of the flavor. Try them in both settings to find your favorite way to enjoy them. Me? Well I like them in both settings. It just depends on my size plastic tumbler! 😉
And how can I forget Walmart right?! They have the best selection for Kcups flavors! I'm always excited to check out the end cap to see what new flavors are available for purchase. Sometimes I feel like I go around and around it just to make sure I didn't miss a flavor I've been looking for. Yep, I'm the crazy woman stalking the Keurig end cap. 🙂 But I can't help it! I'm loving the flavors of Kcups.
 Speaking of, I'm off to enjoy a drink or two with the hubs.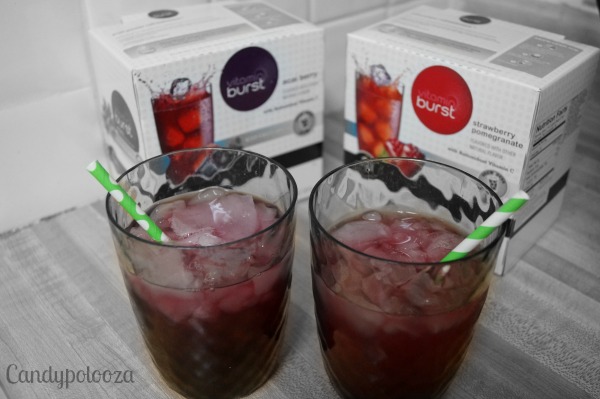 Question:
Which is your favorite Kcup flavor for summer?
Cheers, 
Candy