What's one of the top foods eaten during football games? I would have to say NACHOS! and wings.. but NACHOS is what we enjoy eating while watching our favorite team! Check out my visual recipe for my Big Game Beef Nachos!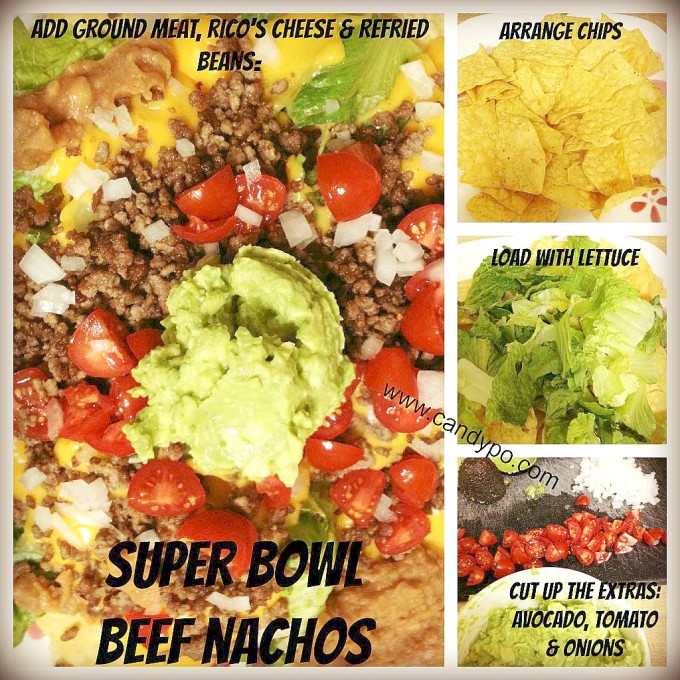 If you follow sports I know what you are thinking.. "Candy the Texans have never been to the Super Bowl," I'm hopeful. Can't keep them down! One day Space City! One day!!
Big Game Beef Nachos
Recipe type:
Snack, Appetizer
Prep time:
Cook time:
Total time:
This is a crowd pleasure! Get a large platter and get busy with all these ingredients!
Ingredients
2 Cans of Rico's Nacho Cheese
15 Cherry Tomatoes
Half a Head of Iceberg Lettuce
2 Avocados
1 can of Re-fried Beans
Half an onion
1 Bag of your favorite Tortilla Chips
1 lb Ground Beef
Instructions
Brown the ground beef. Salt and pepper to taste.
Peel, Slice then mush Avocados.
Half cherry tomatoes.
Finely chop onion.
Rough chop lettuce
Arrange the chips on platter.
Toss on Lettuce.
Top with warm Rico's cheese sauce
Add browned ground beef.
Sprinkle with tomatoes and onions.
Add Smashed Avocado on one end.
Add warm re-fried beans on the other end.