I'm fairly new to blogging, I just really started in January of this year when I started  TheSkepticalSweeper. At that time we were in Florida and I hadn't really gained a perspective on all of the resources such as conferences, blogging groups or any type of support for my new endeavor.
I couldn't really just hop on the next plane out of Tampa and indulge in a blogging conference- I wish I could have!  I'm very happy to be attending Bloggy Boot Camp on Saturday in Dallas. My first official blogging conference and I finally get to meet Shannon, SweepstakesMama in person! Funny right! I'm excited to say the least.
I've heard nothing but great things about this conference! Saturday can't get here fast enough! I hope to attend more conferences in the future. So I can get my learn on!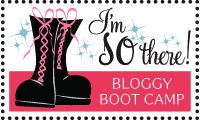 Are you a blogger? What conferences have you been to? Do you have a dream conference you'd love to go to?