Spring time brings new drama and if you saw my post on Sunday – ABC is on a roll! Tonight, make sure to catch new show For The People on ABC! If you love crime drama you are going to enjoy For the People. Fresh attorneys are chomping at the bit to make a name for themselves in New York circut courts. Thanks to Disney for inviting me on the amazing #WrinkleinTimeEvent press junket that included some amazing #ABCTVEvent content as well! You know how much I love television! For the People is one you are going to enjoy!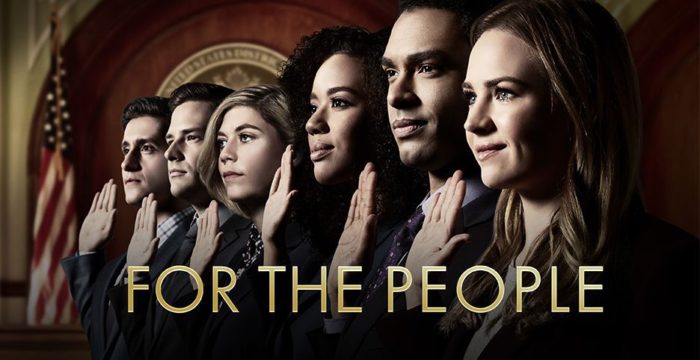 We had a fantastic interview with this fabulous group of individuals. We spoke with Creator/Executive Producer Paul William Davies, Executive Producer Tom Verica and the cast of the show including Jasmin Savoy Brown (Allison Adams), Susannah Flood (Kate Littlejohn), Regé-Jean Page(Leonard Knox), and Wesam Keesh (Jay Simmons).
The Shonda Connection
If Shonda Rhimes is involved, you know it's gonna be good! Davies shared how he pitched it to Shonda:
"I brought this idea to Shonda, I had been kind of playing around with two ideas for a while. One of them was a a show set in the Southern District of New York the Mother Court, which in legal circles is kind of the highest most prestigious trial court in the United States.  And I thought a show set in that court with the kinds of cases that come out of that court and the lawyers that work in that court could be really interesting.  I also wanted to do something that showed the perspective of both sides.  Not like in a formulaic way but in a way that you got a richer sense of how the law works and how justice is made in America.  I thought having that dual perspective could be an interesting new way to approach a legal show.  And so I brought those ideas to Shonda and we talked them through and ended up combining those two ideas into what has become this show."
Show Topics
I know what you are thinking, will this show deal with real world issues? Here's your answer:
Tom Verica shared with us, "It is definitely going to have real world relevance and a lot of the stuff that we do in the first season are real topics in law today.  I think people recognize and hopefully appreciate that."
Crossover Possibility?
If you are an avid TV watcher, you will recognize Tom Verica from How to Get Away with Murder! Of course, I had to ask! Can we expect any of his former co-stars on For the People? Unfortunately he said not this season. But if you think about it, we need to get to know these characters and fall in love with them. I know we will too! Did you see my selfie with Tom on Instagram? Oh no? Here ya go:
About the Show
Set in the United States District Court for the Southern District of New York (a.k.a. "The Mother Court"), the new Shondaland series follows six talented young lawyers working on opposite sides of the law and handling the most high-profile and high-stakes federal cases in the country. These lawyers will be put to the test both personally and professionally as their lives intersect in and out of America's most prestigious trial court, on "For The People," TUESDAY, MARCH 13 (10:00-11:00 p.m. EDT), on The ABC Television Network, streaming and on demand.
ABC's newest drama For The People premieres TONIGHT March 13th, at 10/9c. 
Maybe I'll see you on Twitter tonight!