In her directorial debut Bryce Dallas Howard and the producers of "Parenthood", share the stories of six amazing fathers from all across the globe. The documentary includes the amazing, tiring, and the lovable thing that is parenting through interviews, home-movie footage, viral videos and testimonials from some of Hollywood's funniest celebrity fathers, including Judd Apatow, Jimmy Fallon, Neil Patrick Harris, Ron Howard, Ken Jeong, Jimmy Kimmel, Hasan Minhaj, Conan O'Brien, Patton Oswalt, Will Smith and more. If you are looking for a film to enjoy with your dad or you're missing your dad this Sunday, Father's Day, if you don't already have a subscription to Apple TV+, set up and hit play on the documentary film titled "Dads." Thanks to Boutique Publicity for providing the screener.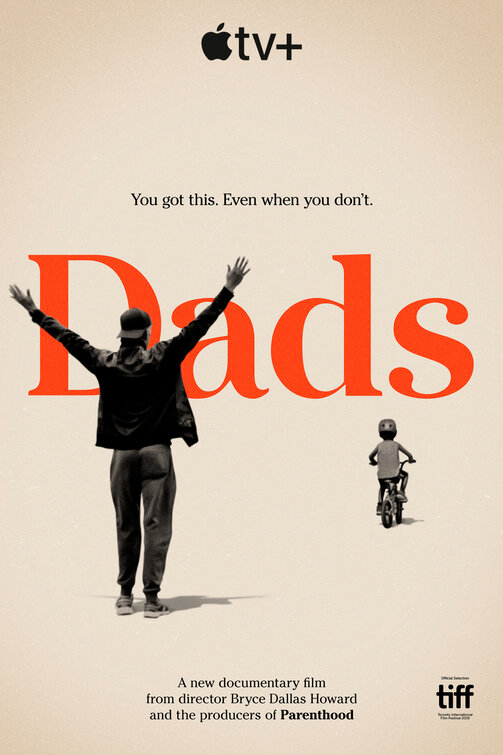 Grab the tissues, because you can bet that you will laugh and you might even cry as the recollections and memories bring back memories of your own childhood as you watch along with your children and they begin to express their best memories so far with you. All of the fathers included in the documentary share amazing stories of fatherhood and being a father of one child or multiple children, dealing with health issues, and understanding how important it is to be an active father in the lives of their children.
I absolutely loved the film and cried my eyes out. I never really considered myself a daddy's girl but I love my dad so much that I am crying as I type this (I'm sure you knew this already LOL). But back to the film, before I'll get sappy about my dad. I will say that it always breaks my heart when my friends lose a parent, I can't imagine mine not being on this earth even though I know they aren't immortal. Anyway- Ok.
I think Bryce Dallas Howard, the producers, and the team did an amazing joy bringing a diverse group of father's in for this documentary. It's not just fathers from the United States, it's fathers from across the globe. I learned from Robert Selby, Chace Elijah's father that they found him by searching "viral dads." Pretty cool right? I also had the opportunity to send some questions to Chace's dad and he was so gracious to answer via email. Click HERE for that post and learn more about Chace, his father and his congenital heart disease.
Each segment was shot within a couple of days with each family and you're really going to enjoy the commentary from the celebrity dads and the viral videos they share in between each of the feature fathers. I can't wait to watch the film on Sunday with my boys and my husband. I plan on having both of the boys tell my husband what they love about him being their father.
Do you celebrate these "hallmark holidays" as they are called, with your families? Here's my two cents on that, my husband and I are raising two boys and those boys are going to grow into men, husbands, and then possibly (hopefully) fathers. I want my boys to celebrate their spouses and their children and acknowledging these holidays is part of that. There's always a reason to celebrate each other, no gift needed just love.
About The Film
"Dads" is a heartfelt and humorous documentary that celebrates the joys and challenges of parenting in today's world. Featuring six extraordinary fathers from across the globe, this film offers a firsthand glimpse into the trials and tribulations of modern-day parenting through revealing interviews, rare home-movie footage, viral videos, and hilarious and thoughtful testimonials from some of Hollywood's funniest celebrities, including Judd Apatow, Jimmy Fallon, Neil Patrick Harris, Ron Howard, Ken Jeong, Jimmy Kimmel, Hasan Minaj, Conan O'Brien, Patton Oswalt, Will Smith and more. Making her feature directorial debut, Bryce Dallas Howard also offers an intimate look at the dads in her own family, including remarkable interviews with her late grandfather Rance, her father Ron and her brother Reed.
"Dads" is part of Apple's exclusive, first-look deal with Imagine Documentaries. The film is produced by Nine Muses Entertainment, in association with Dove Men+Care.
DIRECTED BY: Bryce Dallas Howard (directorial debut)
CAST: Judd Apatow, Jimmy Fallon, Neil Patrick Harris, Ron Howard, Ken Jeong, Jimmy Kimmel, Hasan Minaj, Conan O'Brien, Patton Oswalt, Will Smith, Kenan Thompson, (the late) Rance Howard, Reed Howard, Glen Henry, Robert Selby, Thiago Queiroz, Shuichi Sakuma, Rob Scheer, and Reece Scheer
PRODUCERS: Ron Howard, Brian Grazer, Michael Rosenberg, Justin Wilkes, Walter Matteson, Bryce Dallas Howard
ABOUT APPLE TV+
Apple TV+ is available on the Apple TV app on iPhone, iPad, Apple TV, iPod touch, Mac, select Samsung and LG smart TVs, Amazon Fire TV and Roku devices, as well as at tv.apple.com, for $4.99 per month with a seven-day free trial. The Apple TV app will be available on Sony and VIZIO smart TVs later this year. For a limited time, customers who purchase a new iPhone, iPad, Apple TV, Mac or iPod touch can enjoy one year of Apple TV+ for free. This special offer is good for three months after the first activation of the eligible device.*
*One subscription per Family Sharing group. Plan automatically renews until canceled. Restrictions and other terms apply; visit apple.com/promo for more information.