I have had a truly magical summer. We kicked it off with a wonderful family vacation, visited family and I got to go on a couple dream bucket list press trips thanks to Disney. I'm excited to start the posts from my most recent trip with Disney to San Francisco to Pixar Animation Studios in support of the upcoming film Coco. When you think of Disney you think of Walt Disney World in Orlando or Disneyland in Anaheim. Do you think Disney when you think of San Francisco? You should! During my time in San Francisco we got to visit the Walt Disney Family Museum. I love art and I especially love Disney art, here's a glimpse of Deja View: The Art of Andreas Deja exhibit at The Walt Disney Family Museum.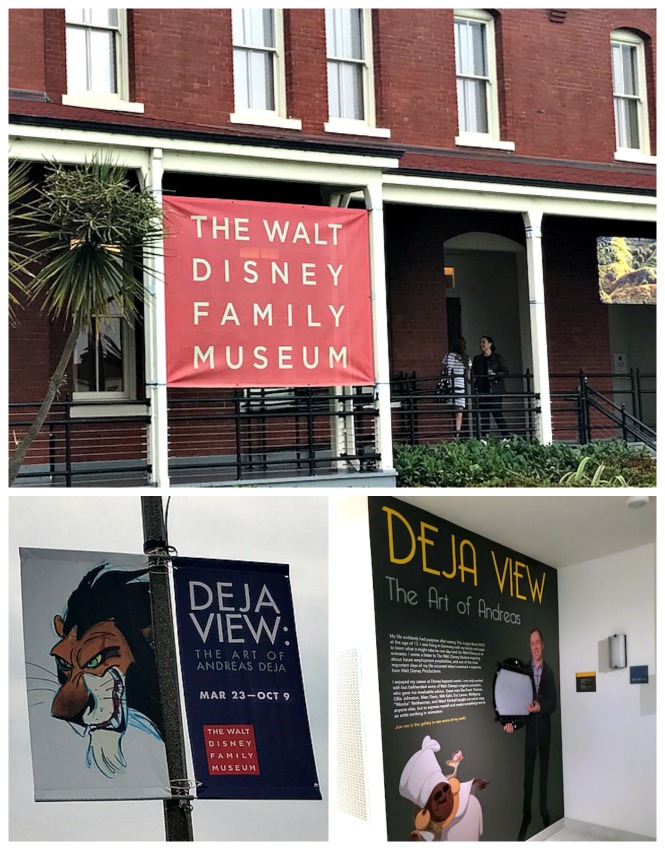 It's only been recently that I've started collecting art. I totally say that loosely too, I picked up a couple sketches from the D23Expo and both times we've been sailing with Disney Cruise Line I've wanted a painting but never went thru with a purchase. Next time I'm getting one! Anyhoo it was a real treat to see the Deja View exhibit by Andreas Deja up close. He's an amazing artist
Here's a little bit of background on Andreas Deja. Andreas Deja is a Polish-born German-American character animator, most noted for his work at Walt Disney Animation Studios. He's worked on many Disney characters and is best known as the supervising animator of some of the most memorable Disney villains: Gaston from Beauty and the Beast, Jafar in Aladdin and Scar from The Lion King. He also animated Roger Rabbit from Who Framed Roger Rabbit, King Triton from The Little Mermaid, Hercules, Lilo from Lilo & Stitch, Queen Narissa from Enchanted, Mama Odie in The Princess and the Frog, and Tigger in Winnie the Pooh. What an amazing career in animation and how many of his characters are your favorites?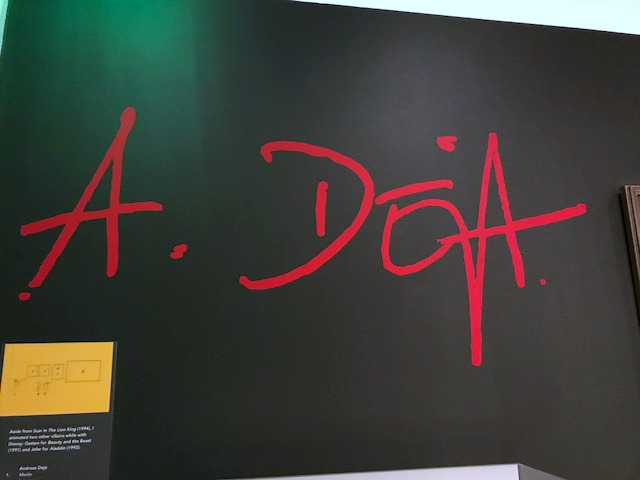 One of my favorite pieces in the exhibit of Andreas Deja was this wire sculpture of Merlin the great. How cool is this?! There were a few more wire sculptures that I should have gotten a picture of but didn't. You know how you are in the moment and really wanted to absorb it? That was totally me here.  And a matter of fact, I for a second thought there was a wire sculpture at D23 Expo in the Archives exhibit but I just looked thru my pictures and didn't see it. Bummer. But I'm glad I got a shot of Merlin. He's simply exquisit!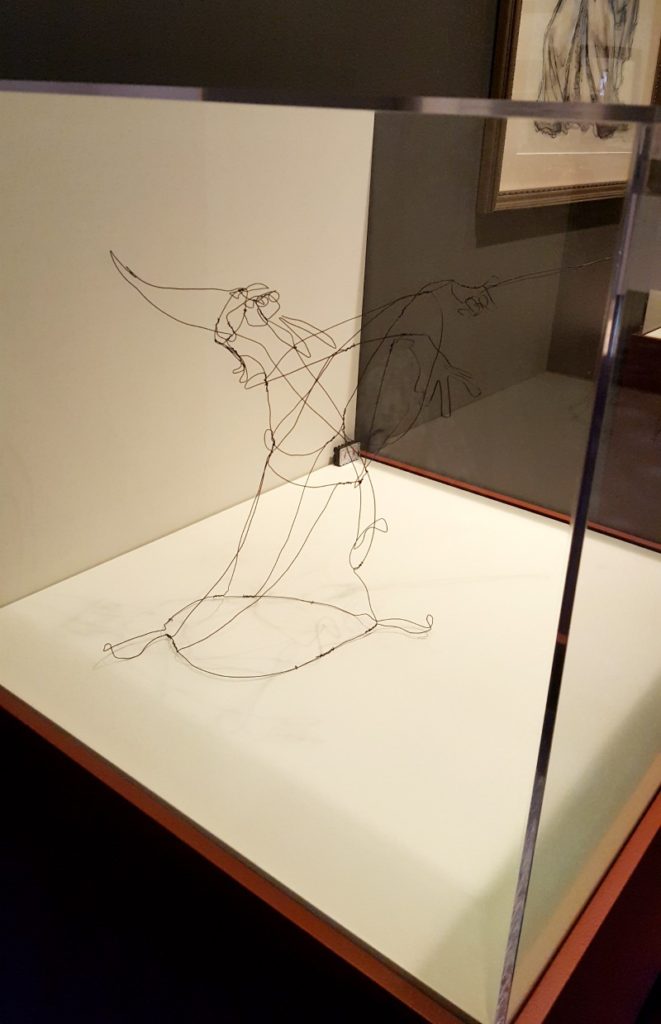 It's always amazing to see bits and pieces of how a character is built and then to see it in the film. Andreas played a key role in developing the character of Scar from The Lion King. As you can see the are clay models built of each character to help see the character in 3d when working with a two dimensional character in the film. You can see in the photo below that the character is drawn from several views so that it is properly illustrated in the movie. All of the motions and movements are considered. Just look at the tail in the sketch. It has various lengths that I'm sure they noted to make sure it wasn't too long or too short in the film.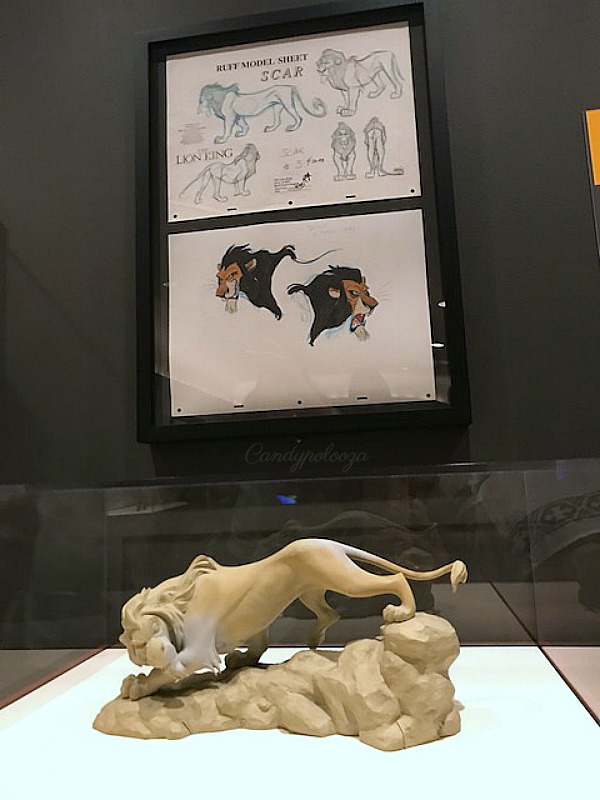 Truly a beautiful mind right?! One of the things that I love about being a part of these trips is the Disney magic we get to see first hand. All of the employees are super creative and artistic, and they are so happy. In my next life, (because I wouldn't trade the one I've got now) I want to create at Disney!
Here's a little movie of a few pieces from the Andreas Deja exhibit as well as a bit from the Eyvind Earle exhibit that was also on display. Sleeping Beauty fans make sure to check it out! I'm going to make another video of the rest of the Walt Disney Family museum so you can see all of the amazing things I got to see during this magical trip.

Question:
Who's your favorite Andreas Deja character?
Cheers!
Candy
SaveSave