You'll experience so many feelings as you watch In & of Itself on Hulu. To be completely honest I had no idea what to expect and I'm glad I gave it a shot. Thanks to our friends at Hulu for pre-screening access. The special is not exactly a documentary, but a show that had been filmed 552 times in a small theater in New York City. The film is extraordinary and as  you can see in the poster that it's won some pretty amazing awards. Again, I can't tell you that I normally don't enjoy this type of entertainment. Derek DelGaudio is absolutely exceptional.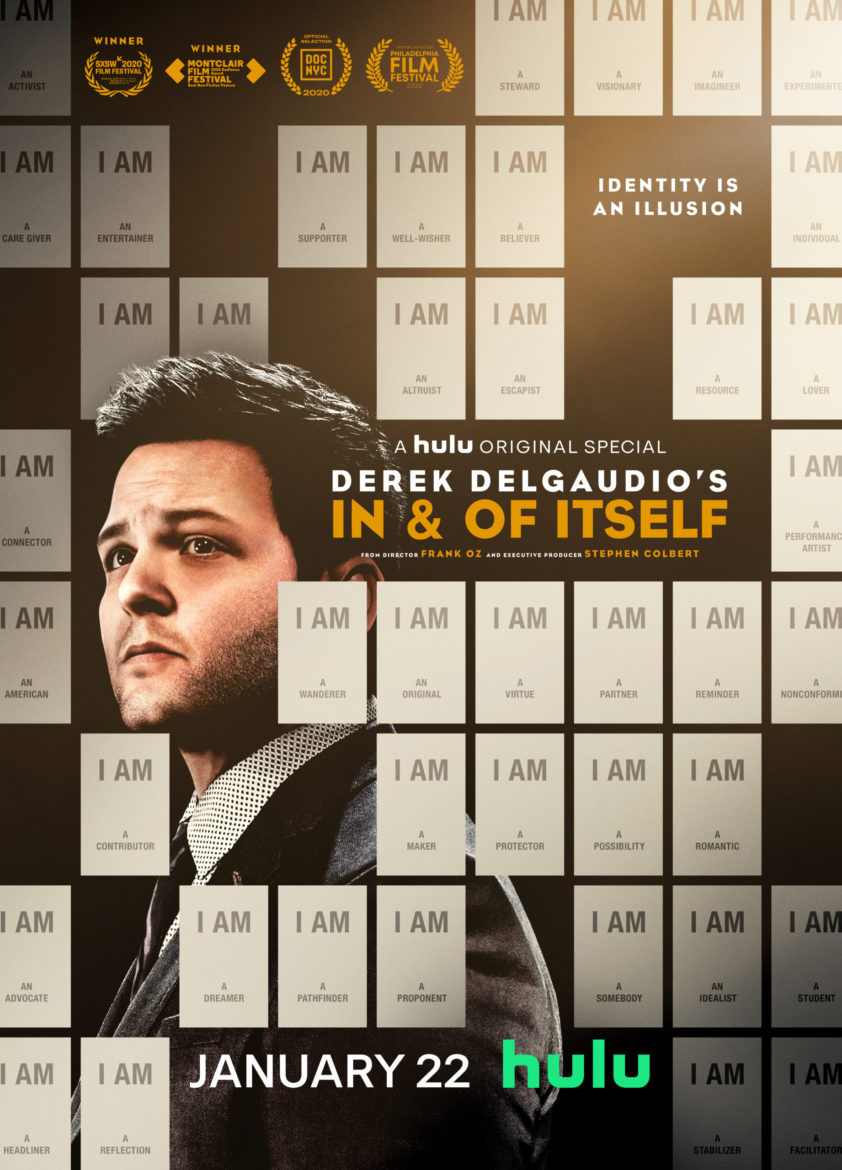 Starts with Derek sharing a personal story about a man he met while on a trip to Spain. This story is pretty much the reason for this show. I actually wasn't paying attention the first time I watched it, (that's how much I wasn't really interested) so after the credits began, I started it over. I should add that I don't normally do that either, but I was that intrigued and taken by the special that I wanted to make sure I completely understood it to share with you.
We've had a lot of downtime due to the pandemic and while I have enjoyed it, it's also given me a lot of time to think on a lot of things. This film added to those thoughts. I will have to write a personal post on this-I can't wait to hear your thoughts on this film.
The I Am Wall
How is a person defined? There are so many ways. At the start of each show, every attendant gets to go by the "I AM" wall and choose what they are. Some choose funny choices, some are able to find their actual career and others choose a deeper card. Without spoiling it for you, because I truly want you to see this- you're not going to believe how this ties into the film, so pay attention. After you watch the film, leave me a comment telling me what card you would choose. I honestly don't know which card, or actually I do. If he had a card that said I AM a Helper, that is the card I would choose.
Set your reminders for Friday, January 22nd and stream it on Hulu! 
Watch the Trailer 
Synopsis
DEREK DELGAUDIO'S IN & OF ITSELF is a new kind of lyric poem. It tells the story of a man fighting to see through the illusion of his own identity, only to discover that identity itself is an illusion. An intimate and powerful exploration of what it means to be and be seen, the film chronicles Derek DelGaudio's attempt to answer one deceptively simple question, "Who am I?" His personal journey expands to a collective experience that forces us to confront the boundaries of our own identities.
Written and Created by Derek DelGaudio. Directed by Frank Oz. The film is produced by Glenn Kaino, Vanessa Lauren, and Jake Friedman. Daryl Roth, Tom Werner, Evelyn Colbert and Stephen Colbert serve as executive producers.