Mickey and the Roadster Racers is a new and fun adventure on Mickey and his friends. Thanks to Click Communications for sending Disney Mickey and the Roadster Racers: Start Your Engines, for us to review. The boys are so excited. The song is so catchy I'm still singing it randomly thru the day! It is definitely a great show for the young and young at heart. Make sure to go purchase Mickey and the Roadster Racers DVD, now available in stores and online. Be sure to check out the bonus episodes for even more laughs! and check out the fun activities on the button at the bottom of the post.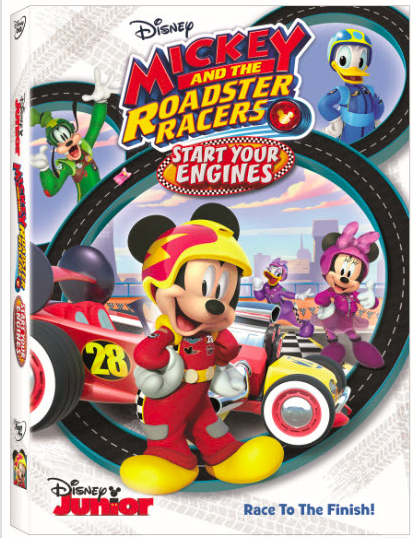 Synopsis: Mickey and the Roadster Racers are back with more fast-paced adventures on wheels!
Join your favorite characters – Mickey, Minnie, Donald, Daisy and Goofy  – and their high-speed transforming Roadsters as they compete in thrilling races stretching from Hot Dog Hills to Hawaii…and all the way to London, England!  You'll meet the world's greatest spy, zoom through the skies in a revved up hot-air balloon race, and even return the Queen's stolen Royal Ruby!  It's all about great friendship, teamwork, a little competition and humorous high-spirited adventures!
Voice Cast: Bret Iwan as Mickey Mouse; Russi Taylor as Minnie Mouse; Bill Farmer as Goofy/Pluto; Daniel Ross as Donald Duck; and Tress MacNeille as Daisy Duck.
Executive Producer: Rob LaDuca
Co-Executive Producer and Supervising Story Editor: Mark Seidenberg
Episodes:            
Agent Double-O-Goof
It's Wiki Wiki Time
Ye Olde Royal Heist
Abra-ka-Goof!
Guru Goofy
Going Upppppppppp!
Bonus Episodes:            
Goof Luck Charm
The Haunted Hot Rod
Bring Home the Wild Adventures on Disney DVD August 15th
Includes a FREE Exclusive Roadster Racers Flag!
Question:
Who will you be purchasing Mickey and the Roadster Racers for?
Cheers! 
Candy