Easy Pico de Gallo Recipe

Easy Pico de Gallo
Here's what' you'll need and how it's going to go down. It's very easy just be careful with the peppers and onions. If you happen to pick some spicy ones you will be crying! Here's an interesting tidbit:
If while cutting an onion you cry, it's said to be because you are a jealous person. 
How about that?!  Celosa/Celoso much? Jealous much?
 To truly have a delicious Pico, make sure you have the freshest ingredients available. My papa (that's what I called my grandfather) always said that in any self respecting Mexican household you would find "La Bandera" chile, cebollas y tomates. LOL Green peppers, white onions and red tomatoes, like the Mexican flag and to make salsa of course! LOL I miss my papa. He was a lot of fun.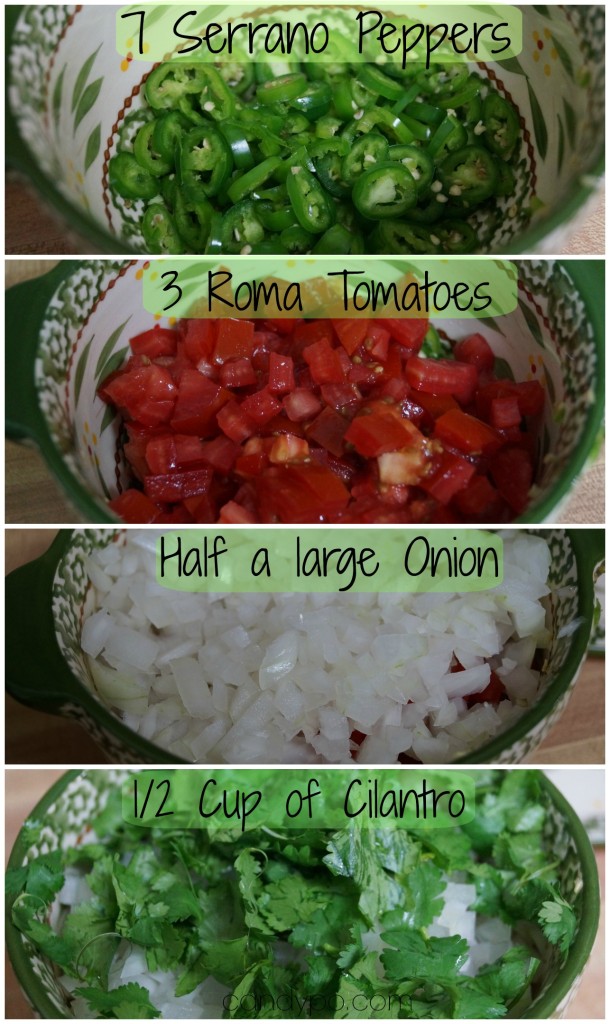 Squeeze the juice of the two lemons into the veggies then stir it up. Careful not to drop seeds into the pico.
Que rico si?
 Here's something about me you probably don't know. I don't like spicy food.. Yeah. I should be kicked out of my culture 🙁  But I just can't. I'll make it for my husband and just watch him enjoy it. He'll be enjoying the heck out of this Pico de Gallo.
I am 1st generation Mexican-American. My mom was born in northern Mexico, then immigrated to east Texas in the 70's. We were raised pretty traditional yet not, if that makes any sense. My mom was always such an independent and progressive person; raised us three girls to be so as well. I guess our dad was on board too, since he would take us hunting and taught us how to use guns.. that's another story!
We all learned to cook Mexican food, the basics and then some. I love being able to make some of the dishes my mom and grandmother made when I was little. One of the side dishes pretty constant in our lives during holidays and cook outs was Pico de Gallo.
Oh and just for fun, here's the Vine I did while I was making the Pico de Gallo… Loud kid in the background and all. Thanks Ezra!
Question:
Do you like spicy?
Candy
SaveSave
SaveSave