As promised from yesterday-
Here's the recipe for the amazing pasta salad  in yesterdays post.  I guess I could call it Kathleen's salad but that would just be blah- let's go with Ensalada de Kathleen. Just sounds sophistacated right!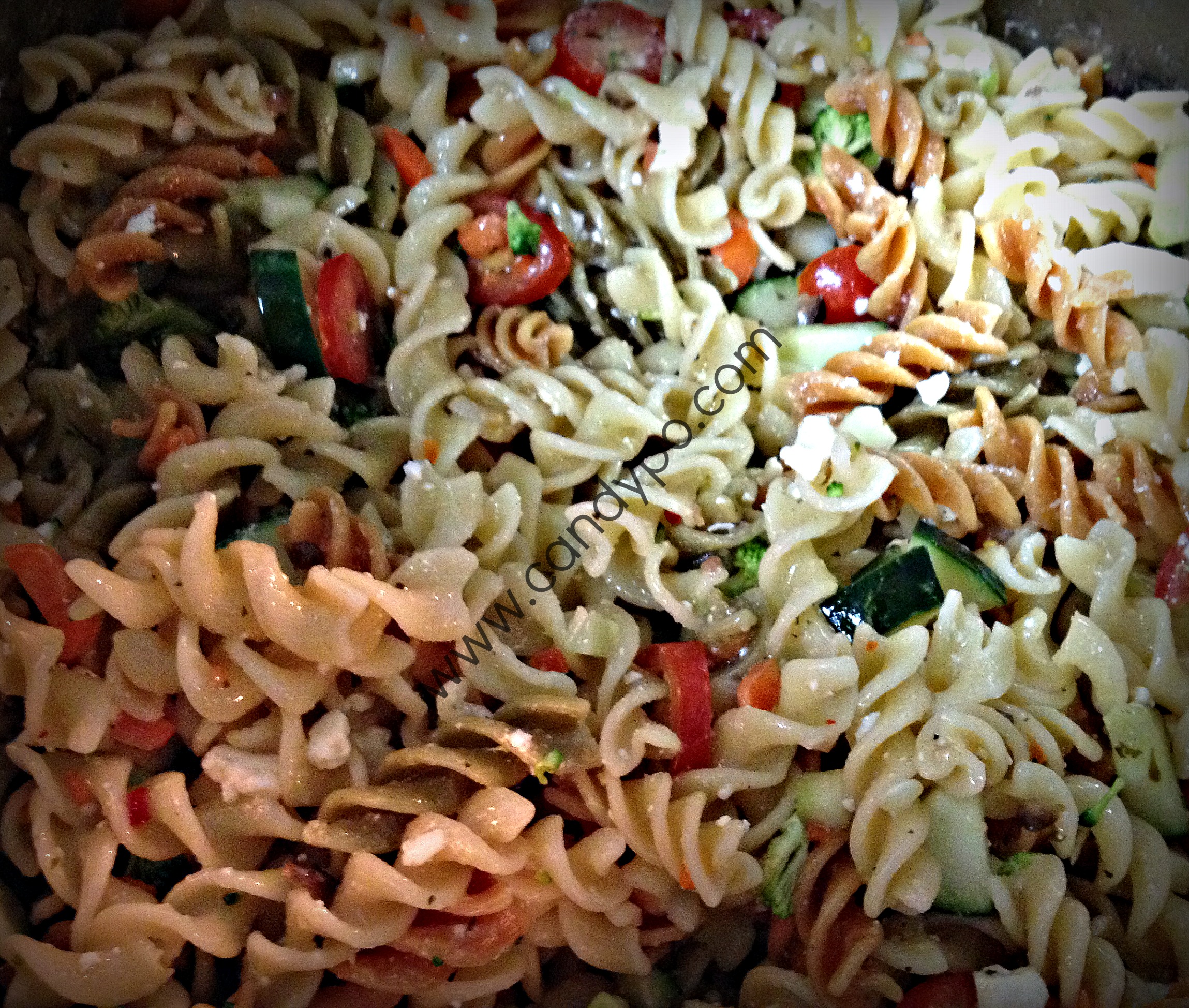 Pasta Salad
Ingredients:
Rotini style pasta- or your choice
Salt – to taste
Italian or Greek dressing (1 bottle)
Can of sliced black olives
1 crown of fresh broccoli
Cherry tomatoes
1 cucumber
2 carrots
Feta cheese
Optional Add- ins
Artichokes in oil ,Red onion, Bell peppers, banana peppers
Directions:
Cook pasta as usual. Salt water before dropping pasta in boiling water. While pasta is boiling begin prep work on all of the veggies for salad. I like to set aside in a large bowl all together after cutting.
Peel and cut carrots into small pieces. I've also used a peeler to make strips of carrot and just cut to desired size with knife.
Wash and cut crown of broccoli. Depending on how much of the trunk of the broccoli you like- personal preference. Cut into bite size pieces.
The black olives are already sliced but I like to chop to even small pieces; again personal preference.
Wash, peel and cut cucumber into bite size or half-moons, work nicely as well.
Wash cherry tomatoes and cut in half.
By this time your pasta should be done. Rinse and drain pasta and begin the mixing. There's no rule on what veggie goes in first. I like to use a wooden spatula to mix once all ingredients have been added so that I just cut up the pasta. I like to add 1 cup of dressing at a time so that I don't drown the pasta but it has a nice tang. The same w/the feta cheese if you choose to add it. You could also use crumbled cheddar in the recipe. The nice thing about this recipe is that you can really personalize it to your taste and it'll be delicious every time. This is my husband's favorite thing to eat.  I've also toyed with the idea of making my old dressing with just lemon juice and olive oil. Simple and delicious!
I hope you enjoy it!
Do you have a recipe that you re-named to make it sound fancy? What pasta would you use rotini or bow tie or just plain ol' elbow?