As a stay at home mom, the weekends are the time we look forward to spending time with daddy and I possibly get a break. (Reality check- Not only am I a stay at home mommy, I'm an Army wife.) No break for mommy or daddy- he got called into work on his birthday. Yep I was mad. But what can you do- the needs of the Army. So off he went and here we stayed. Very uneventful weekend besides the RHNJ marathon that I watched on Sunday b/c he had to go in yet again. I realize I should have rallied and taken the boys out but we actually got some stuff done around the house. Atleast! 🙂
 My weekend spread of pics are the special pics from the birthdays. We did actually have cake for daddy when he got home at almost 9pm. A yummy ice cream cake from Baskin Robbins- per his request.
(The cake that almost didn't happen)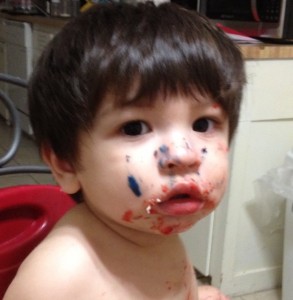 (I don't think he was very impressed w/the cake..)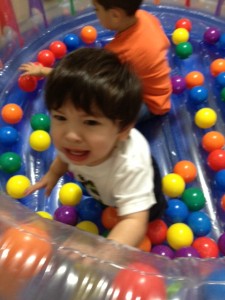 (It's my ball pit and I will cry if I want to!) 
 We celebrated Ezra's 1st birthday on Thursday. Just the four of us, it was really special. It blows not having family close by to help celebrate and it being a weeknight- ah it's happens. He opened err Aramis opened his gifts & blew out his candle (what a big brother right?! lol) and then (we blew up) the compressor blew up his mega jumpolean /ball pit thing! What was I thinking!? It's taking up almost my entire living room! It's for the kids right. .. I keep telling myself that! But he loves it so whatever! 
Then ended our weekend with the RHoNJ. Oh ladies- why can't we just get along and be happy for one another's successes?! Really. Oh and I watched a bit of the Emmys! Love watching award shows! So much fun looking at all the beautiful dresses. I'll have to get back to you on my best dressed when I finish watching- I totally DVR'd it! LOL But so far Hayden Pannetiere is my best dressed although her messy bun could have been a little neater.. eh showbiz!
Question:
What did you do this weekend? Do you watch the RHoNJ? (It's totally my guilty pleasure!) Who was your best dressed at the Emmys??
Are you following me on Twitter and Facebook?? hehehe threw ya off didn't I?! But seriously- follow me and like my page! 🙂  Please!