I love wearing dresses! My collection of dresses is growing and I'm very excited to share my latest addition! I received a garment for review however, all opinions expressed are my own. Insecurities always play a part in how I choose my clothes and I was excited to try the customization available with eShakti! Today I'm sharing great fall dress options from eShakti! I love chambray and it's totally a color/fabric for all seasons in my opinion. I love it for fall in a deeper color like the dress below and I love it in the spring because you can pair with a pop of color in your accessories. The dress I chose for review is the Floral Embellished Cotton Chambray dress.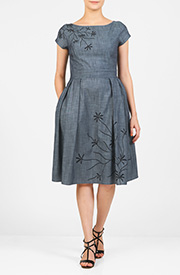 When customizing your garment you enter your height. I'm 5'0 so length is always a concern for me. I went a little shorter than the model above to above the knee for a little more fun in the skirt. And another of my favorite features from eShakti is that most of the dresses have pockets! You have the choice to do away with the pockets, but seriously who would want to do that?! As a mom pockets are always handy to carry snacks, keys, my phone or anything else that I won't have to dig thru my purse.
The customization that I went with and that was most important to me was the 3/4 sleeve. I'm not a fan of showing off my arms so I was very excited to see the sleeve options for this cute dress. I was worried that the dress could look a little odd with the longer sleeve but I absolutely LOVE how it turned out. The feel of the material has a little give on it. There is a long zipper in the back with a hook for the top. This dress also features another one of my favorites, the wide neck. Almost boat neck style. You can opt for a thin necklace or choker for this design.
Don't worry about how you will take care of your garment. Each piece comes labeled with a Wash & Care card. This dress is pretty easy to care for as well, simply wash and tumble dry. I will most likely hang it to avoid it fading. See the beautiful embroidery on the top and along the bottom of the skirt. here's a close up. I would say they are branches with skinny flowers. T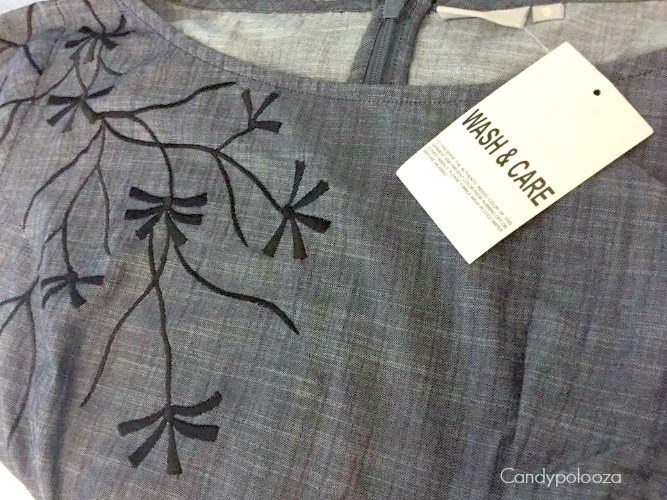 If you are interested in seeing what other styles available head over to the site and plan to stay a bit because they have a lot of options and the customizing is always so exciting!
Head over to eShakti and tell me which dress you'd choose to customize! 
Cheers, 
Candy