Disclosure: This is a sponsored post. AT&T has provided items as compensation and provided for giveaway, however all opinions are my own.
 On Friday, May 9th it's time  to celebrate Military Spouses. In 1984 President Ronald Reagan, declared the first Military Spouse Appreciation Day. Military Spouse Appreciation Day, is celebrated the Friday before Mother's Day each year. So very excited to bring you Five Ways to Appreciate a Military Spouse and Giveaway thanks to AT&T.
Do you have a Military Spouse near and dear to your heart? If you do, here's five ways to appreciate a Military Spouse in your life.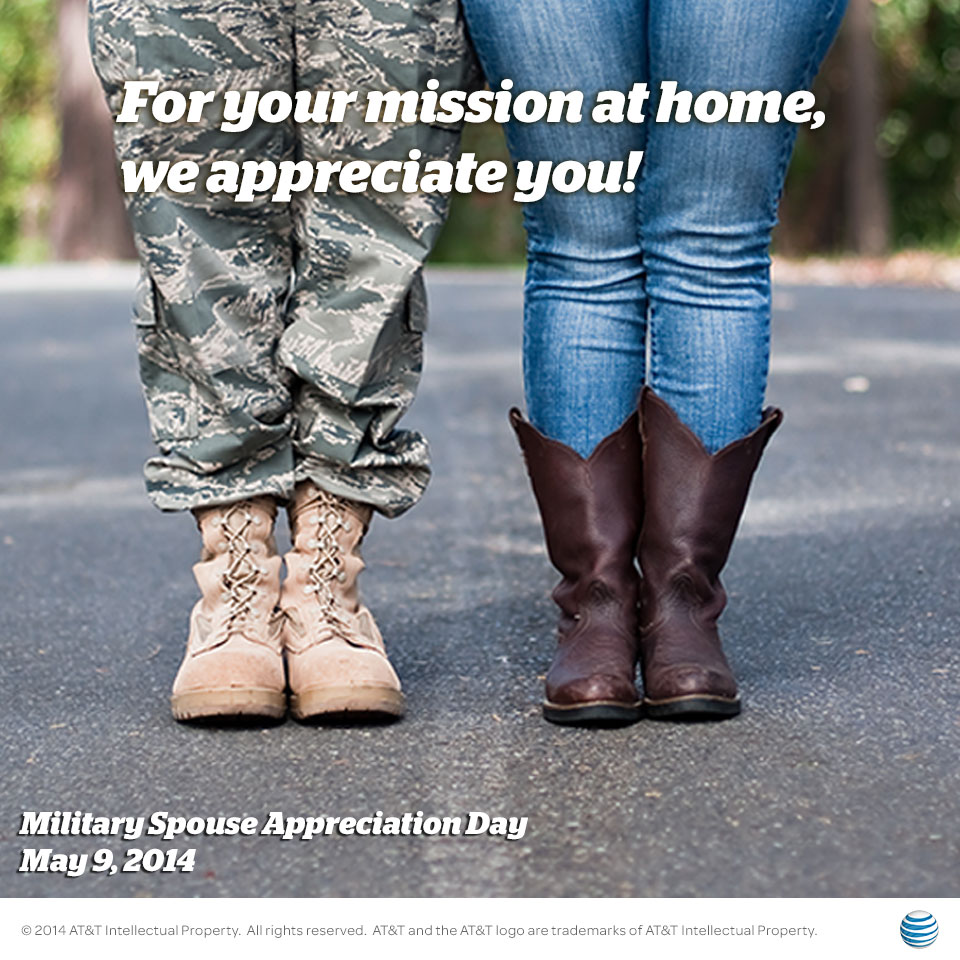 Five Ways to Appreciate a Military Spouse
Be There
Being there for a Military Spouse isn't just being in their presence. It's just letting them know you are there for them. Doing something nice for a Military Spouse might be just what brightens their day. Pick them up a coffee on the way over for a play date or something you know they enjoy. I have a friend that her husband is currently deployed and if I don't see her I'll text her to check on her. I want her to know that I'm there for her in any way. There's so many ways to be there.
Listen
There are times when we just need a friend to listen to us. Whether it's about our family, missing our spouse if during a deployment or TDY. It's nice to be able to have friends that we can rely on to listen to us. We promise we won't be too much of a downer 😉 Or sometimes it's nice to hear how you are doing to help us have a temporary break on whats on our mind. I love having long conversations with my friends, in person or on the phone.
Laugh
Sometimes we just need a good laugh. If there is one thing that brightens a grey day is a great laugh. You can give a good laugh in person or over the phone, via an email or just by sharing a funny over Facebook. How many times have you shared a Facebook post because it literally made you laugh out loud? I do it all the time. Makes me happy and I hope that by sharing it makes someone else happy and LOL. Get a good laugh with your Spouse friends, they will appreciate you too.
Have Fun
Get out and plan an amazing Spouses Night Out or a fun activity you can do with the kids too. It's so important to have enjoyable moments with friends. One of the things I'm looking forward to this Summer is visiting a couple Military Spouses I haven't seen since 2009 or three duty stations ago. I love going to events together with friends and the kids. It's a nice change from the normal hustle and bustle and everyone has a good time.
Be a Friend
Being a friend can mean so much more than just, "Oh hey- he/she's 'my friend." I have become friends with some very amazing people thanks to the Military. There's not a day goes by that don't I think about how they have touched my heart with their friendship. And yes, you are totally being a friend for doing all of the above, but it's an amazing thing when you can make a wonderful memory with someone that you would not have ever met had it not been for the Military. I have learned so much about different cultures, religions, customs. Be open to becoming friends with a Military Spouse. 

And now for the
Giveaway
 AT&T loves Military Spouses and truly wants to appreciate them by offering this fabulous giveaway of an AT&T Prize pack valued at over $500 that includes an Apple iPad Mini, AT&T iPad Mini Cover, Awesome Military inspired Hat ( I LOVE mine!) and bedazzled AT&T shirt (I LOVE it!!). All of this will go to one lucky winner!
GOOD LUCK YA'LL!!