There's something to be said about a film that touches you in a special way. The film COCO tells a very special story about my culture and our traditions that honor the departed. I'm very excited to share today's post with you. Many thanks to Disney for inviting me on this amazing trip to learn more about COCO at PIXAR in San Francisco. Get ready for Disney Pixar COCO everyone! You're going to learn about the special events that happen in Mexico and in some Mexican-American homes starting the day of Halloween thru November 2nd. I'm sharing the small press conference we were a part of during the #PixarCocoEvent with Co-Director Adrian Molina, Producer Darla K Anderson and Director Lee Unkrich. They answered some great questions in regards to the film, what we can expect and what they learned while in development.
Get Ready for Disney PIXAR COCO
I decided to title this post Get Ready for Disney PIXAR COCO, because my hopes is that this post will do just that. For anyone that has seen the trailer and isn't sure about the story of even if they are considering going to see the film, make sure you see the film on November 22nd! First off if you are thinking, it's going to be like Book of Life, it won't be. We got to see the first 35 minutes of the film and I've been thinking about it almost everyday since. It's going to be a good on ya'll! The creators of this film truly put their hearts into, no detail was spared. I can't wait to share even more with you. The colors, the feelings it will evoke I feel it will connect with everyone. The story is centered on Day of the Dead, but it also has that character struggle we can all relate to when it comes to family and doing what we want in life. One of the things that I loved so far was that the Disney audience will learn about another culture and Día de Muertos won't just be sugar skulls and Catrina make up for everyone anymore. You'll learn the meaning and understand the beautiful Mexican culture even more.
The Original Pitch
One of the first questions asked was about the original pitch. Any film idea has to be pitched to Chief Creative Officer of Pixar Animation, John Lasseter. The original movie idea was pitched back in September of 2011. Director Lee Unkrich said, "It was a film that I had been developing before Toy Story 3 happened and then another new original idea and then this notion of doing a story set against the Dia De Los Muertos and immediately John sparked to the Dia De Los Muertos idea." Lee was asked to pitch three different story ideas. The method behind this was so he could explore the ideas and not be fixed on just one. Unkrich also mentioned that the first story developed was completely different from what they ended up doing with Coco, but John was really excited about the notion of setting a story in this world. It felt unique to him.
Unkrich also added, "It was different than anything we'd done at the studio and so I wouldn't say he greenlit the film because we didn't have a story yet but he wanted us to forge ahead and develop that idea and so within a couple of weeks we were all on a plane and heading down to Mexico to start our research because it happened. You know, that was in September and Dia De Los Muertos is right at the beginning of November so we headed right down to Mexico to go on our first research trip." Thus the story of Coco began. Great beginning right?!
What Makes Coco Special
I want to share what each of the directors and producers told us that made Coco special. And if you are wondering why the name Coco, it's a secret. Well the name of the person (Miguel's great-grandmother is Coco) will be revealed in the movie and I'm sure Coco will play a special part in bringing the two worlds together.
Adrian Molina: "Well it's definitely about family, almost first and foremost the idea of family and tradition is gonna be infused in the film but it's also very much a film about following your passions and making choices in life and pursuing dreams versus, you know, just saying what your family wants for you or what they think is best for you and I think that's something that a lot of people can relate to."
Lee Unkrich: "Being able to chart your own path in the context of wanting to be connected to your family is something that is very universal across cultures, across experiences and following your passion. I think that's something that everyone can kind of lean into and relate to and understand."
Darla K. Anderson: "And then just lastly this film like all of our films we want to just so entertain and bring audiences, immerse them in this other world and immerse them in a grand adventure and I think that's very universal too. Go into a film and escape into a whole new world and go along this journey with our protagonist and his companion. So I think this film has those universal qualities as well."
Mexican Premiere
One of the things that was shared during the trip was that COCO would be premiered in Mexico City first. Since Dia de Muertos is celebrated wide spread in Mexico it was important to premiere the film there first. The United States will wait to see the film until November 22nd.
My question to the panel was about the language. Coco Director Lee Unkrich confirmed that COCO would be translated to Spanish for the showings in Mexico. Very cool right?! I wanted to ask about the soundtrack too but I didn't want to make it a two part question. But if my first question was yes, I'm assuming the soundtrack will be made in Spanish as well! Oh yeah baby! Benjamin Bratt singing in Spanish.. oh yeah! Oh we also got to speak to the panel of creatives from the musical side of the film. I can't wait to share that with you! So much goodness coming your way!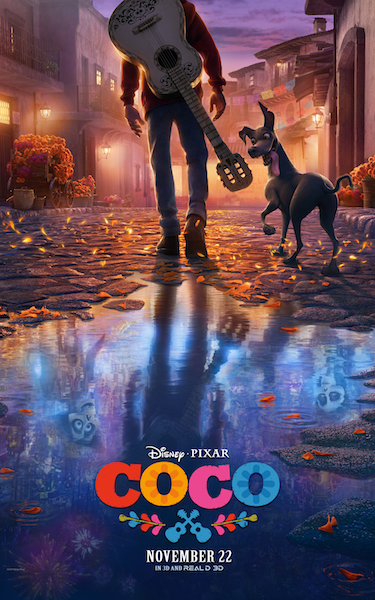 Are you officially excited to see Coco?!! I cannot wait to see the full film and take the boys and the hubs! Here's the trailer to get you even more excited! 
Make sure to follow COCO on all the social channels for more great information!
Like COCO on Facebook: https://www.facebook.com/PixarCoco
Follow COCO on Twitter: https://twitter.com/pixarcoco
Follow COCO on Instagram: https://www.instagram.com/pixarcoco/
Visit the official COCO website here: http://movies.disney.com/coco
Head to theaters to see COCO on November 22nd! 
Cheers!
Candy
SaveSave
SaveSave
SaveSave
SaveSave
SaveSave
SaveSave
SaveSave