It's been a fun, full and hectic week, boy am I ready for the weekend. Granted there will be even more running around but I feel it's more on my terms. I am the master of ceremonies so I decide what and when, per say. Do you ever feel as a parent that you can't detach from the constant event planning for your children? I guess the hubs doesn't call me "The Fun Coordinator" for nothing right? LOL
This past week a couple firsts happened.
I had the opportunity to speak to a small group of Military Spouses that have businesses on post. I had an amazing time and received such wonderful feedback. I don't want to get a big  head or ahead of myself, but we are planning a mini-workshop on blogging. I would love to be a mentor to new bloggers. I have had amazing mentors since before even starting my blog, so I'm just over joyed to help. I'm no expert, but I love to keep learning. Specially about blogging!
I don't speak much of my faith here, I'm born and raised a Roman Catholic. I completed all of my sacraments and was married in the church as well. And you know what? I don't have a fun wedding picture to add here either.. I got married in 2000, before we got crazy with the selfies etc.. I'll have to find my wedding photos.. anyhoo- back to what I was going to tell you.
Aramis has been attending religious classes in preparation for his First Holy Communion. Next year he will receive his First Holy Communion, we are so happy and excited. This week is Holy Week, The Holy Triduum, began on Holy Thursday with the washing of the feet during mass. It was my first time to ever attend this mass. I know, bad little Catholic girl- but I am fixing the error of my ways. I took both boys with me since the hubs was working late. We sat on the front row with my friend, I was very excited and anxious Ezra would be too rowdy. He totally was, but our parish is so welcoming and patient that no one made a face or said anything about my boy. Thank God for that! The time came during mass when our Priest invited everyone to get their feet washed like Jesus did for the disciples. Everyone!! I had never heard of this happening back home, I was very excited. Aramis went first and then I had mine. The Altar Server asked to wash Ezra's feet, so he too participated in the washing of the feet. Truly a beautiful experience for us all.  If you've never been, I highly recommend it. We look towards Sunday for Easter.
Ok sorry for this break in my post but.. I just saw a commercial for a dating site for farmers.. I guess we all need love? 😉  Just kidding.. it's  a little odd, but whatev!
I want to wish you all a very Happy Weekend and we'll have some fun next week! Keep an eye out tonight for a way to win on Facebook!!
I leave you with a throw back picture of my favorite kids, my two boys and my beautiful niece from our last Easter in Tampa.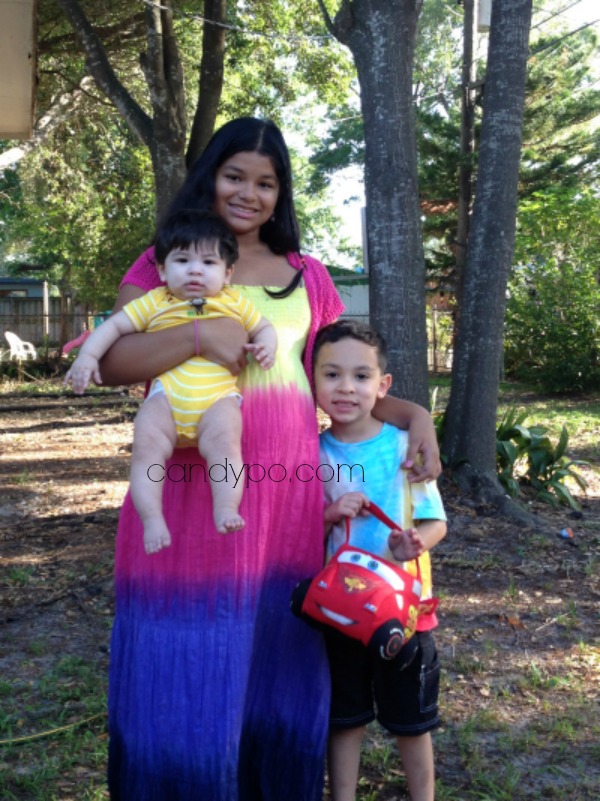 Question:
What are you doing this weekend??