Disclosure: This is part of a product review campaign with Latina Mom Bloggers and Hasbro; complimentary products were provided.  However, all opinions expressed are my own.
We have been anxiously awaiting the return of Spider-Man in movie theaters at our house. Thanks to Hasbro, we are ready for the thrill of Spider-Man 2 with Hasbro's Spider-Strike technology too!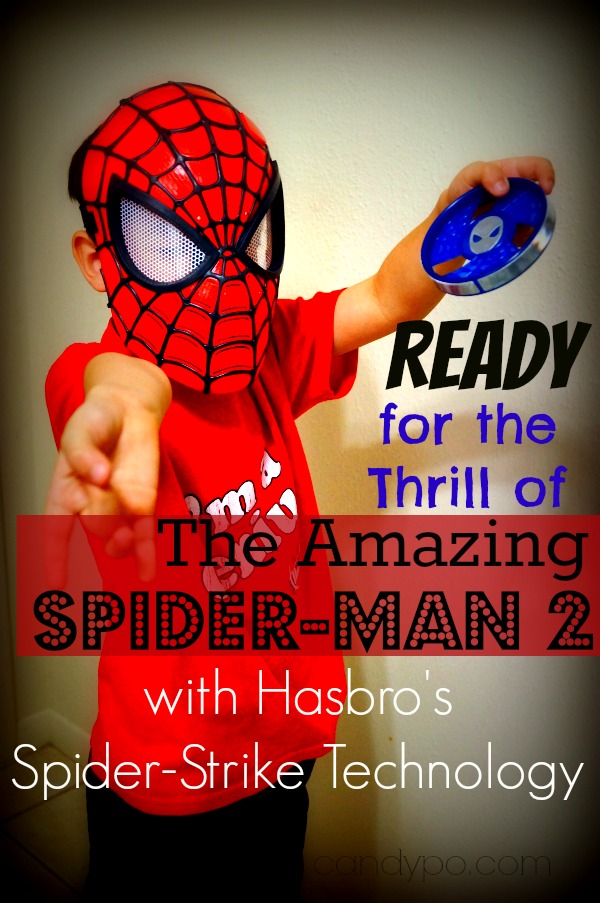 The boys were Super excited to receive Hasbro's Spider Strike set! Have you seen the amazing toys that Hasbro has put out for the Amazing Spider-man 2 movie? Your super heroes will love the new gear! We received The Amazing Spider-Man 2 Spider Vision Electronic Mask and Marvel Amazing Spider-Man 2 Spider Strike Blitz Board Spider-Man Figure, I can't even describe how over the moon excited the boys were when I received the box. I couldn't get the box opened up fast enough.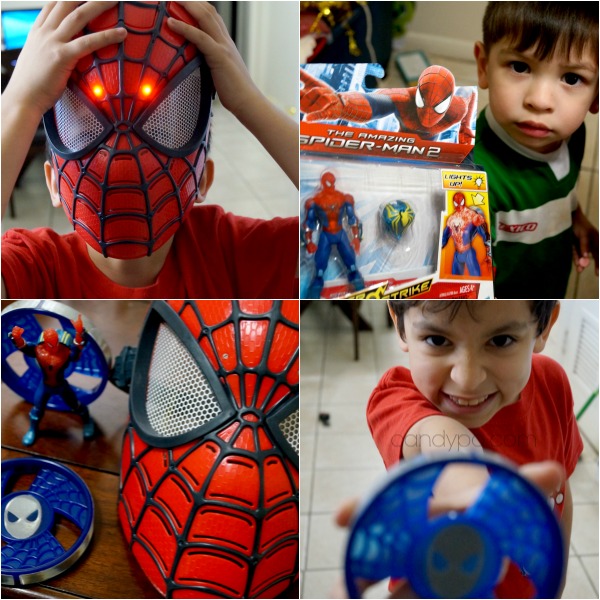 That little one is a man of few words.. and facial expressions. He was jumping around like a jumping bean with Spider-Man after I took him out of the box. Defending freedom is always the name of the game in our house! Since Daddy does it on a daily basis, you know.  There has been a lot of web slinging in this house! Aramis actually wanted to me to pull out the Halloween spider webs so he could sling those.. Silly boys. But he does have an amazing imagination.  The great thing about the new electronic mask and the disks is how they light up with the red lights from the mask. In the dark it's truly amazing! I couldn't catch it on the camera very well and for the record I'm still trying!!   
"The Amazing Spider-Man 2 Spider Vision Electronic Mask lets kids pretend to have SPIDER-MAN'S SPIDEY SENSE, and spot villains using innovative Mircoprism FIRE VISION technology. Includes two discs which illuminate once activated by the SPIDER VISION Mask. Requires two AAA batteries. Demo batteries included."  What ages are appropriate for use? 5 & up  and the Approx. Retail Price is $19.99. Get yours before the movie premieres on May 2nd. We are so excited!

We are huge Marvel fans in our house! Anytime there is a new super hero movie, if we can't watch it in theaters we make sure to have a special movie night at home. Aramis has deemed Friday nights, Family Movie Night. Hoping to take big man to the movies so he can experience The Amazing Spider-Man 2 with mommy May 2nd! 
Question:
Are you ready to sling some webs and watch The Amazing Spider-Man 2 on May 2nd?