Disclosure: This is a sponsored post as part of the Shaklee Corporation blogger program. I have received free products, online support and incentives for participating in the Shaklee Corporation blogger program. My opinions are my own. I am also a Shaklee Independent Distributor.
Holding It Down
I have completed my second month on Shaklee 180 program and while I am excited- well you know what I'll just be happy and excited. Back in March I dropped 7 lbs the first month. I am down to the dreaded 190 number that I can't seem to ever get past. Hopefully this will be the last month we both see these digits..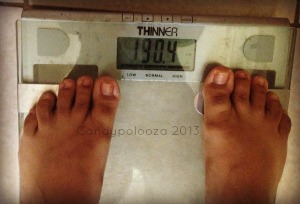 Someone needs a pedicure…
Although I'm still holding it down at 7 lbs- I'm happy that I haven't gained, but bummed that I haven't been able to break past that damn 190. Did I follow the plan 100%? Almost. Did I exercise more? Yes, I actually did. I think my number one problem is sleep. I am conflicted about how many hours of sleep I should get and do get. I don't think my body needs more than 6-7 hours. I always feel that if I get 7.5-8 or more I am so groggy I can barely get up and drag myself out of bed. And vice versa if I don't get enough, I'm chugging coffee like it's nobody's business to get thru the day. I realize that along with proper eating habits if my body is getting enough rest as well as exercise the weight should start going down. Something is not working for me and I think it's the rest part. So this next month my goal is to make a change on my sleeping habits and hope that I will be able to breakthrough the plateau and really start loosing. I've got a ball I've got to slim down for in June. My goal atleast 10lbs. We will see!
I said I was going to start adding my favorite Shaklee smoothie concoctions. Here's the Berry Delicious Shake. I couldn't think of a movie it reminded me of.. it's a fail.. but I'm working on it.. but the shake is def one of my favorites!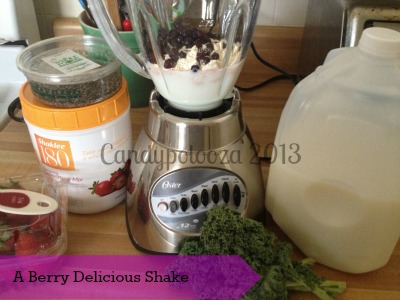 Berry Delicious Shake
Prep time:
Cook time:
Total time:
Ingredients
2 scoops of Strawberry Shaklee 180 powder
3 leaves of kale
¼ cup of Blueberry
3 strawberries
1 cup of skim milk
1 tablespoon of chia seeds
Instructions
I like to put the skim milk in the blender first then add the scoops of powder so it doesn't stick to the side of the blender. Then add the rest of the items and blend until smooth.
Also wanted to share that I am now a Shaklee Distributor! Click on my link  
http://candypo.myshaklee180.com/us/en/
 and learn more about Shaklee and purchase products to get started on your 180 Turnaround! We can do this together!
Question:
Do you have any questions about Shaklee 180? Have you ever used a program like this?