The CaptainAmericaEvent coverage continues on the blog today! Happy Friday! Thanks to Disney I was invited to the #CaptainAmericaEvent however all opinions stated are my own. As you can imagine a groupof 25 mommy bloggers/influencers can keep a conversation going. We had such a great chat with Jeremy Renner aka Hawkeye and Elizabeth Olsen aka Scarlet Witch from Captain America: Civil War. We talked toys, characters, and I even asked Renner about his archery skills!
Even though they came in as themselves, Jeremy Renner and Elizabeth Olsen; I love that Scarlet Witch automatically noticed the divide among the group. She very coyly said, "A lot of Stark shirts in the audience" and Jeremy added "We're gonna have a problem." As you know they both are with #TeamCap! It was such a great ice breaker!
 First off they noticed we had placed some of their toy figures on the table. You've seen the amazing action figures for the Avengers right? Awesome likeness to their counterparts. Elizabeth spoke to us about her LEGO figure!
"I love it.  I think it's the weirdest thing, and I think it's awesome. My friend one- walked by the Lego Store in New York and took a photo of Scarlet Witch. No, this is a Lego.  She's such a weird Lego. She has the snap-on hair. Yeah, it was so funny to look at; the weirdest facial expression, yeah."

Renner added that his "the boy band facial haired thing going on. But I like it!"
One of the questions was in regards to the difference between the comic book and the movie line. I didn't realize but in the comic book series, Hawkeye is deaf. Here's what Renner had to say, "I keep hearing about that, you know. It isn't really kinda played out at this point, and not unless we say he's got an amazing hearing aid or something. It wasn't- that really wasn't kind of part of the conversation.  We were focused much more on the alternate sort version of not the big purple mask sort of guy.  So he's much of the, the utility sort of guy. They talked about that, but there's- it doesn't- I don't think it's gonna play anytime- things are a little late."
The question I asked was about any special training for the bow as Hawkeye. "I didn't do any extra training, the quiver was different and different tips could be snapped on the bottom. I really do get a full extension when pulling the arrows," he said. "It's the same gear. Different tips." and I also asked if he happened to be a bow hunter, with his great skills using the bow as Hawkeye. He said he was not a hunter. I think he'd be a bow hunting company's dream come true  if he were.
We all love Hawkeye. I know I really started to fall in love with the character during Age of Ultron, while he's a human with mad bow skills the scene where he almost died to save a child just melted my heart. That's a true super hero in my eyes. We really see more of that in Civil War. His bond grows with Scarlet Witch too.
Elizabeth Olsen gave us insight on her joy of being cast as Scarlet Witch back in Age of Ultron.
"I was already a fan of Ironman and, Avengers.  I remember I saw it with my dad when I working in Serbia; it was about the second time seeing it, and it just came to Serbia, and I loved it.  I told my older brother who loves comics and knows everything about them. He's the person who can guess where everything's going, and he's right, somehow. I told him I was taking- meeting with Joss, but I didn't know what character it was gonna be, and Joss started explaining to me who the Scarlet Witch was, and it- he also said, when you look at the comics, just know you will not look like that. I will not put you in a leotard, and cape, and a head cast. Then I started reading more about her journey, and I found the fact that her mind, is the only thing that limits her and the ever possibility of this kind of insanity and being able to manipulate reality- that it even throws- that she can manipulate her own reality, those kinds of things, to me, really cool. I didn't know when they would come into play, um, or if they will, and I still hope we play around more with that part of her. I just think she's a really cool character, and it's a lot of opportunity for storytelling."

We couldn't agree more Elizabeth! She's an amazing character on screen!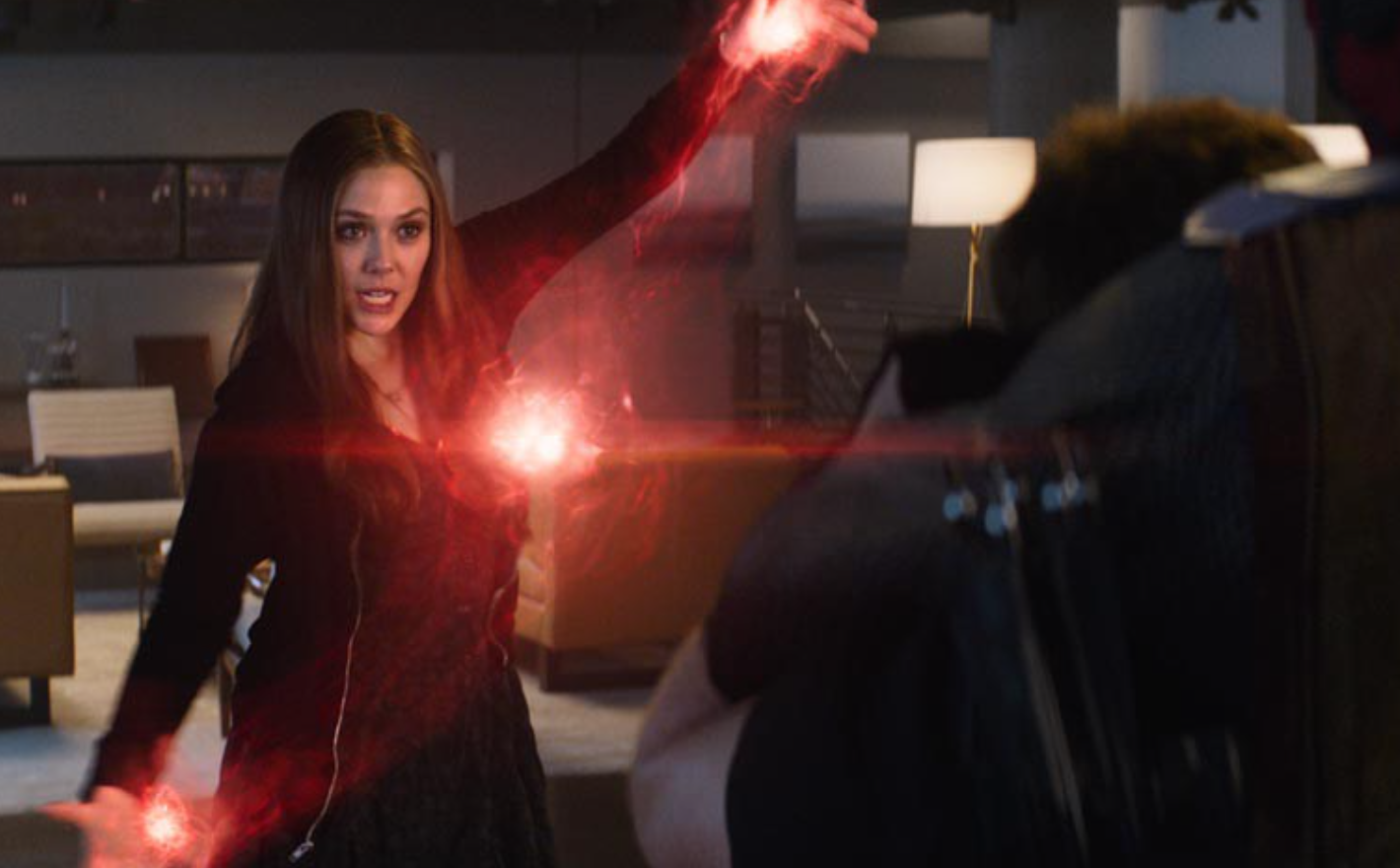 Catch Hawkeye and Scarlet Witch in action when Captain America: Civil War premieres May 6th!
What a fantastic conversation we had with Elizabeth Olsen and Jeremy Renner. We got to take a group picture with them and off they went for more interviews. Guess who got to stand near Hawkeye!? This girl! LOL
May 6th can't get here soon enough! I can't wait for you to see the film! 
ABOUT CAPTAIN AMERICA: CIVIL WAR
Action-adventure movie cast: starring Chris Evans, Robert Downey Jr., Scarlett Johansson, Sebastian Stan, Anthony Mackie, Don Cheadle, Jeremy Renner, Chadwick Boseman, Paul Bettany, Elizabeth Olsen, Paul Rudd, Emily VanCamp, Frank Grillo, Martin Freeman, with William Hurt and Daniel Brühl.
Marvel's "Captain America: Civil War" finds Steve Rogers leading the newly formed team of Avengers in their continued efforts to safeguard humanity. But after another incident involving the Avengers results in collateral damage, political pressure mounts to install a system of accountability, headed by a governing body to oversee and direct the team. The new status quo fractures the Avengers, resulting in twocamps—one led by Steve Rogers and his desire for the Avengers to remain free to defend humanity without government interference, and the other following Tony Stark's surprising decision to support government oversight and accountability. Opens May 6th.
Follow the buzz on social media!
Like CAPTAIN AMERICA on Facebook
Follow CAPTAIN AMERICA on Twitter
Visit the official CAPTAIN AMERICA website