How was your holiday weekend? Did you get out any? I'm hoping you got some shopping done and you swung by the theaters to see Disney Pixar Coco! We took the boys on Tuesday night and they absolutely loved it. The songs are now branded into their heads and even the hubby is walking around humming, 'Remember Me.' I love it! This week I'm sharing more insight into the film with our final interviews. Thanks to Disney for inviting me to attend the red carpet event and additional experiences at Disney XD and ABC, the following statements are my own. I was very happy to hear we'd be interviewing the voices of Miguel and Mama Imelda Anthony Gonzalez and Alanna Ubach.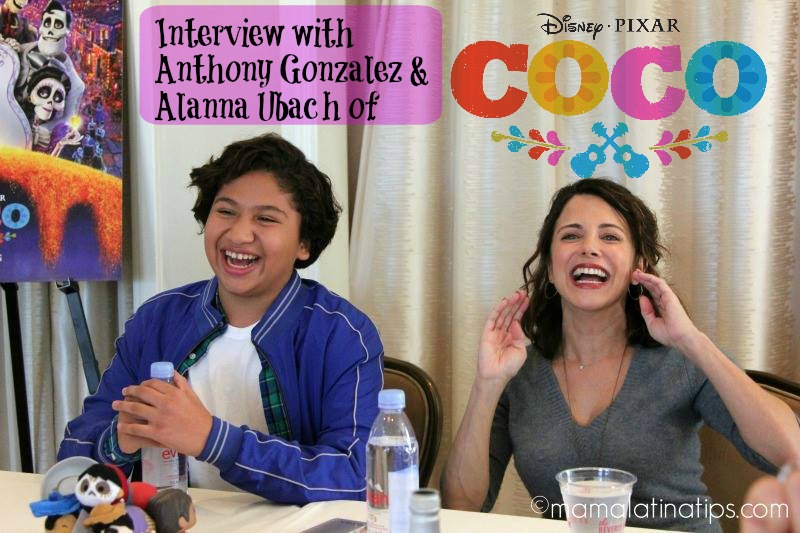 Miguel is a new comer to the film industry but has been in entertainment since the age of four. This kid has it, you guys. He's going to do big things! Ms. Alanna Ubach is unlike any other and I cannot believe she's never branched out to singing. She has an incredible voice. Yes, you get to hear it in the film and in this article!
MAMA IMELDA
Ubach told us that the character of Mamá Imelda reminded her of her tia Flora. She described her as ornate and grand, she could walk into a room and own it with a full face of make up and high heels. "And she had such passion. She was the DNA of my family, and she was very passionate and had this stoicism that was so admirable when I was a kid, growing up. I never forgot her inflections. Her – to me, she was very sing-song-y, and she spoke the way she spoke Spanish when she spoke English, and so I thought, ah, I'm going to make this character. I'm going to base her after my tia Flora." That had to have been so amazing for Ubach to bring her aunt to life for this character. You'll see in the film how passionate and beautiful she portrayed Mama Imelda.
We asked her what she hoped that the audience would get from watching the movie. Her answer was two fold. If you have a secret passion then you should share it with the world. The second was that she wants others to know more about the wonderful Mexican culture and the wonderful celebration of the Day of the Dead. "Who knows, maybe they will start celebrating, because it's a universal celebration."
If you've not seen the film you haven't heard the amazing voice that is inside this tiny body! She has the voice of a raspy jazz singer, I'm totally into it! Her new baby son gets serenaded by her every night. She was kind enough to sing the sweet song to us.
MIGUEL
Anthony he felt that he could relate to Miguel's desire to pursue his dreams.  "I'm very similar to Miguel because we both just love the music." He also felt a connection to the fact that they both care about their families and know how important the celebration of Dia de Los Muertos is. He also shared with us that the first time he saw Miguel drawn, he was surprised that the character actually looked like him. Anthony also shared who he thought about when playing the role of Miguel. His late grandfather, "We had a very good bond together and that's why I just love celebrating the Day of the Dead. And he was very special to me, because he was always there for me, and he would just be so funny, and he was always there to support me in what I loved to do, which was sing. " We asked him if there was another character, besides Miguel, that he would have liked to play and he said he would have loved to have been Dante.
When asked what part of him was in Miguel, he told us: "I feel like me and Miguel just both want to pursue our dreams. Miguel looks at his idol, like he wants to be just like him. That's the quote he says, "I want to be just like him." I have a lot of singing idols and acting idols. I want to be just like them, too. So I'm very similar to Miguel, because we both just love the music. We both care about of our families, a lot, and we know how important that celebration of Dia de Los Muertos is. That's what I love most about really doing the voice of this awesome character."
Anthony Gonzalez is Miguel from Disney Pixar Coco from Candy on Vimeo.
Of course we asked him to sing for us and he very happily obliged and he sang a bit of Remember Me. What an absolute joy, I get goosebumps everytime I hear it.
Oh yes, if you thought they got out of showing off their grito skills – they totally made our day! I'll be sharing their gritos (or yells) on social! Make sure to like or RT it when you see it!
Here's our awesome group photo with the dynamic duo. They were so wonderful to chat with!