Back in August I told you a little bit about three people that have put their heart and soul into Disney Pixar Coco for the past six years. It was an honor to see them again during the press junket for Coco and ask them a few more questions now that the film has been completed and premiered in Mexico and in the United States. Thanks to Disney for inviting me to attend the red carpet event and additional experiences at Disney XD and ABC, the following statements are my own. To say this event has been an absolute labor of love for Directors Lee Unkrich, Adrian Molina and Producer Darla K. Anderson, I think they would say is an understatement. I believe it's even changed them. My final interview with the trio behind Disney Pixar Coco.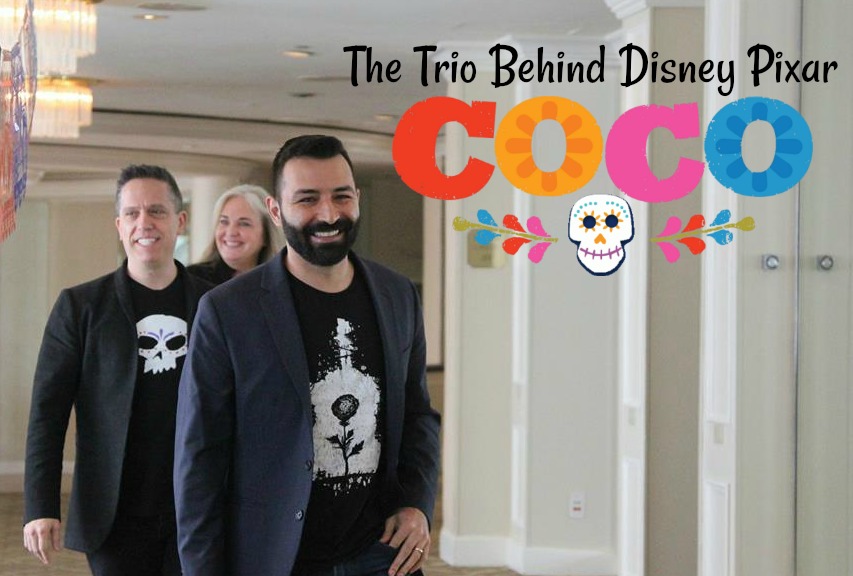 I'd like to share a few highlights from each of them so you get to know them a little more and what they put into Coco.
DIRECTOR LEE UNKRICH
Lee Unkrich is no stranger to Pixar. He's worked at Pixar since 1994 and has a slew of films that have rocked our heart strings and brought us to tears. It was only fitting that the first question asked was about the sentimental quality of his films. My friend Amy from AsTheBunnyHops asked him, "Why do you have to make us cry?" "I don't know that I like making you cry, but I like making you feel something. I know that when I go and see movies, they're very few and far between where I actually feel genuine emotion, or a movie really sticks with me after I've seen it. When we make our movies we try to do that. There's no guarantee that we'll be able to, but I think, that's the most satisfying for us if we can have the audience feel something personal to themselves and, we know we're on the right track when we have those feelings ourselves."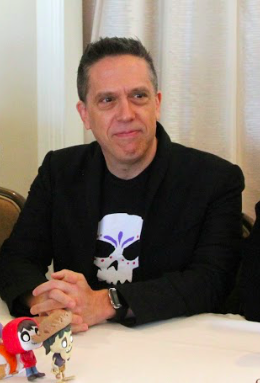 Mexican Celebrities in the Film 
"We tried to fill the film with as many kind of famous Mexican celebrities as we could. Some of which we knew would be recognizable for general audiences, but some we knew would only be, you know, only people who grew up in Mexico would know. People like, Pedro Infante and Jorge Negrete and Cantinflas, Maria Felix, El Santo of course, Esquivel… I made, Juan Carlos Esquivel is the guy who's playing the glass harmonica before the talent show. You know, he's the glasses. He's a quirky, kind of semi-well known Mexican musician, so was there anybody else? Of course Diego Rivera and Frida Khalo."
On Getting It Right
"We were always striving to make a film that felt kind of timeless," Unkrich told us.
CO-DIRECTOR & WRITER ADRIAN MOLINA
Adrian Molina has been at Pixar since 2007, where he started as a 2D animator on Ratatouille. Initially he came on as the screenplay writer then went on to co-direct and a lyricist for Coco. He spoke to us about the research trips and how they used their time, "We were meeting these families and we were making these friends, and we were collaborating with artists all over Mexico. It was "the least we could do to pay homage to the beauty of the tradition avian d the place where they came from." He also told us that Coco has broken all of the box office records in Mexico and has become the top grossing film of all time. WOW!
Miguel
"So much of that was inspired by the fact that we've got this once in a lifetime opportunity to, to have, you know, characters literally go into history, and, and Miguel is this kid who wants so much to use his music to connect, but he doesn't have the, the role models to be able to help him on that path, so what a, what a wonderful opportunity to lean on these Mexican icons who used their art to change the world, and, and let them be the, the kind of characters that kind of inspire him and push him."
Mexican Cinema Inspiration
"People see the film and they'll see de la Cruz, and they'll be like, he's Infante. Infante's in the movie and we imagine he's a contemporary, and Cantinflas is, is in the film, but you, you get a sense from Hector, he's got that vest and, and the low-riding pants. But, yeah, it's, it's we just wanted to, we wanted to have these characters exist in the film, but, you know, I think it's a compliment that people the characters of the film themselves, and, you know, it feels like it harkens back to, to this age of Mexican cinema."
PRODUCER DARLA K. ANDERSON
On Getting it Right
Darla K. Anderson has been with Pixar since 1994 and has some amazing accolades attached to her name. She is the Executive producer of Coco, and explained how there are many layers to achieving this film. "To feel all those feelings you've had to go on a journey with all of our characters, and you've had to laugh with them and be on big adventure with them, and become completely invested with them. We have to earn all of that emotion," she explained. I think they got it right too guys!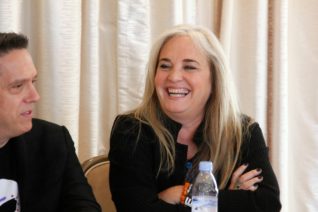 How She'd Like to Be Remembered
"I think especially as a woman who had courage to learn how to find my voice, and to set an example for other- I'm always conscious of that in the world. If you're in any kind of a public figure t- to set an example to find your voice and speak out loud about things that matter." Truly an extraordinary lady.
If you didn't know their names already, remember these names my friends. They made magic in Coco and I know they will make it again on their next film. They didn't tell us if anything else was next for them, because when they are working on a project, they work on only it until it's done.
Make sure to head to theaters to see the magic and marvel that is Disney Pixar Coco! Now in theaters everywhere! Oh and if you'd like to see it in Spanish, make sure to check your local listings as there are showings in Spanish with English subtitles. So awesome! I can't wait to see it in Spanish.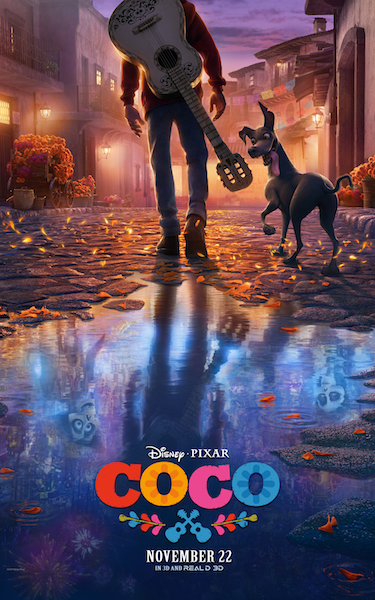 THERE'S ALWAYS REALLY CUTE THINGS BEING SHARED ON SOCIAL. MAKE SURE TO FOLLOW ON SOCIAL!
FOLLOW COCO EVERYWHERE: FACEBOOK, TWITTER & INSTAGRAM AND VISIT THE OFFICIAL COCO WEBSITE HERE!