Disclosure: This is a sponsored post. I received product in exchange for review and information, however all opinions are my own.
 I'm so excited to share with you the latest product from PediaCare®! Introducing PediaCare Smooth Melts! I absolutely dread giving medicine to the boys. A is such a baby when it comes to taking "not so yummy" tasting medicinal syrup. Can we say picky? Totally!  Thanks to PediaCare the fights are over!
Cold and flu season is upon us, are you ready to treat a fever? For you children ages 4-11, the latest product from PediaCare is going to be your go-to medication. I've spilled numerous mLs of liquid because I was half asleep , with the urgency of getting a fever reducer in my child as soon as possible. With the new Smooth Melts, it's pop them out and into their mouths! Thankfully the great taste of Cheer-Up Cherry , makes it an easy dose to administer too.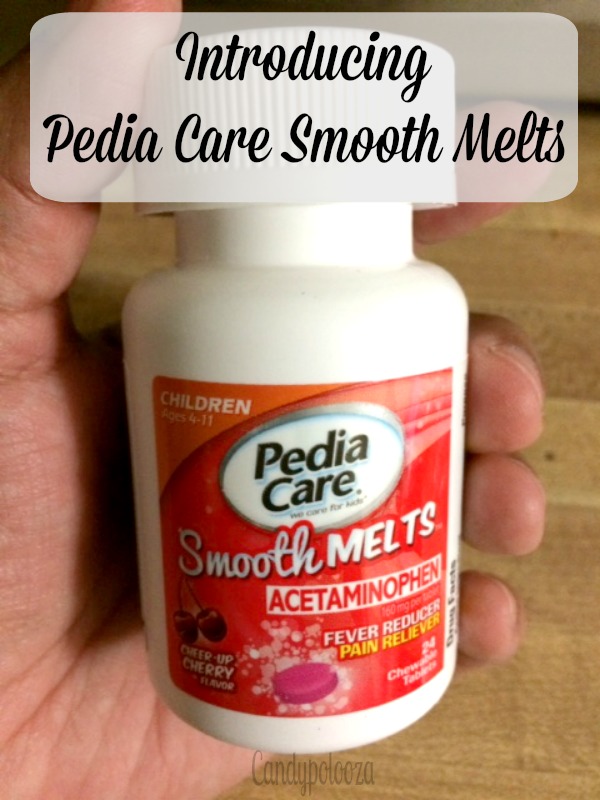 Two pills are the perfect dose for my 8 yr old. Easy-peasy! And best of all there's not complaining and I know that he'll be feeling better in no time. The first time he was feeling a little warm , I reached for the bottle of Smooth Melts and popped them in his mouth. He didn't even make a face. That made me so happy!!
Want to get your hands on some? PediaCare® Smooth Melts™ Fever Reducer/Pain Reliever is currently available at Rite Aid and Amazon.com and it retails for $5.99, each bottle contains 24 chewable tablets.
Have questions of your own? Follow PediaCare on Facebook and @PediaCare on Twitter!  Interesting facts about PediaCare:
PediaCare® is celebrating its 30th anniversary of developing effective and great-tasting medicines for infants and children.
PediaCare is 100% dedicated to kids™, PediaCare's® sole focus is creating products that help make it easier for kids to get better.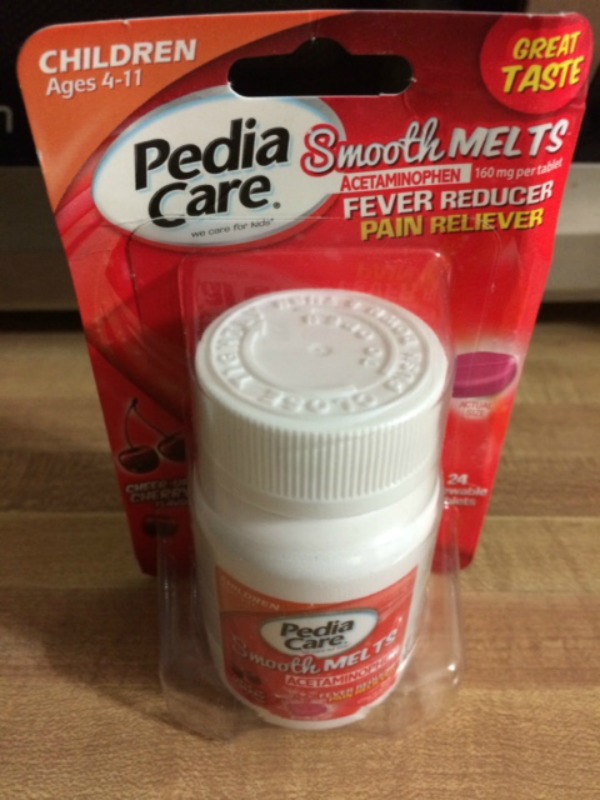 I had the opportunity to listen into a webinar to learn more about the Pedia Care Smooth Melts and get insights from Pediatrician Dr. David Hill. I absolutely loved that Dr. Hill addressed the issues faced with parents of picky kids. One of the focuses of the webinar was dealing with the fact that if kids don't like the taste of something, it's not happening. "Taste is the #1 reason children don't take medicine – for this reason, PediaCare® has dedicated scientists working on making fast-acting and safe formulas that also have the best tasting ingredients. PediaCare's® newest innovation is their Smooth Melts™ Fever Reducer/Pain Reliever: chewable tablets are much easier for children to take and feature an unbeatable cherry taste kids love," per PediaCare. He gave awesome tips for treating a sick child to administering meds too a great learning experience. Check out the video below featuring Dr. Hill.
Question:
Do you use PediaCare products already? Make sure to get the PediaCare Smooth Melts! 
Candy