Disclosure: This is a sponsored post. Information regarding this campaign was provided by sponsor, however all opinions are my very own.
 There's nothing like a military man with a fresh haircut. I love it when the hubs gets his weekly haircut, yes.. weekly. He looks so handsome and it's nice to just sit there and rub his head. I can imagine that when he retires it will take him some time to stop the weekly routine of getting a hair cut or maybe he will keep it up. Who knows! I can imagine that there are many Veterans that prefer to keep their hair short and possibly many still follow their hair cut routine? Old habits are hard to break! I absolutely LOVE the wonderful promotion Share-A-Haircut by the Hair Cuttery's ! The process of the campaign is a "one for one" type promotion! I'm very happy to share this program with you so you can either share the word or if you are not a Veteran you can do your part in supporting our veterans by getting a hair cut. I love when companies do for our veterans! I'm not just talking a military discount, but how special will that veteran feel when the barber says, "Thanks for serving our country, someone took the tab on your haircut!" Let's spread the word and get as many hair cuts as we can donated!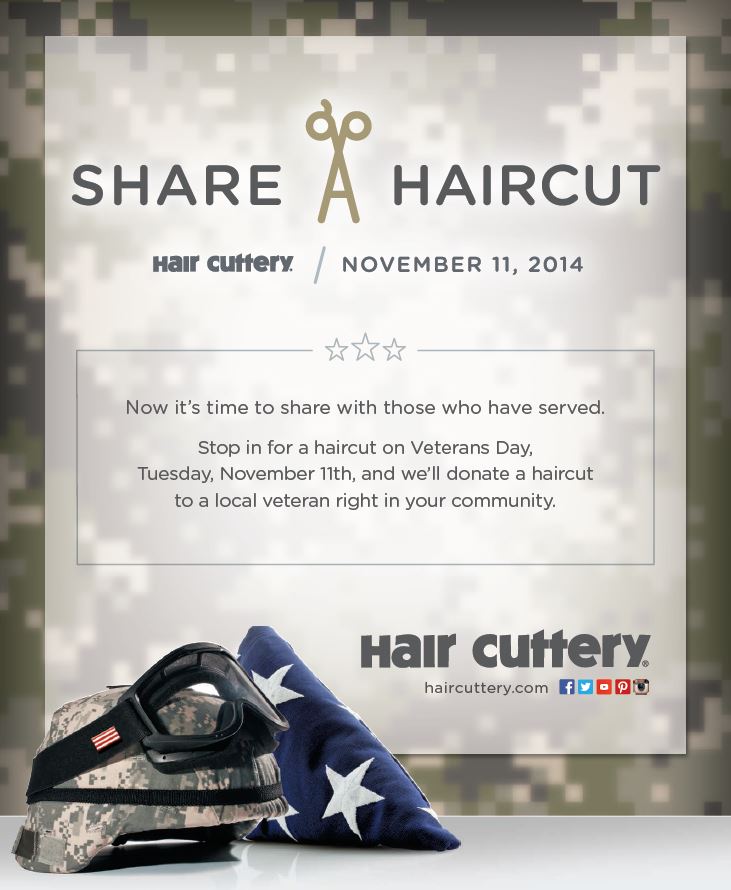 Here's more information regarding the Hair Cuttery's Veteran's Day program:
What is the Share-A-Haircut program? –The Share-a-Haircut program was created by Hair Cuttery to give free haircuts to under privileged community members, specifically kids in need during back-to-school. Since then, they've expanded the program to touch people of all ages. In its 15th year, Hair Cuttery is proud to say that the program has reached more than 1,000,000 children and adults in need through haircut certificate donations, valued at more than $13.5million!"
How does the Share-A-Haircut program work this Veterans Day? For every adult haircut purchased on Tuesday, Nov.11, a free haircut certificate will be donated back to a veteran in need, right there in communities local to Hair Cuttery's almost 900 locations. 
How will the Veterans receive their free haircuts? –In each market, Hair Cuttery will partner with local veterans' organizations to reach those in need through the donation of haircut certificates.
How  many Veterans does Hair Cuttery hope to reach this year?- Hair Cuttery hopes to reach 25,000 veterans this year!
Where can I find the closest Hair Cuttery? –By using the salon locator, click !
Happy Veteran's Day!
Candy