Ok have you made plans yet? Tonight is the night and tomorrow, everyone can see Marvel Studios Ant-Man and The Wasp! I am super excited!!! The addition of the amazing Laurence Fishburne as Dr. Bill Foster was fantastic! He's amazing in the film and there's a little twist you won't see. I don't want to spoil his part in the film, so I'll keep it general. Thanks to Marvel Studios and Disney for inviting me on this amazing press junket trip. All of my opinions are my own. Now let's get to Goliath aka Dr. Bill Foster – Mr. Laurence Fishburne's interview.
First of I have to share a pretty interesting fact about Laurence Fishburne. He is totally into comics and he was stoked to be a part of this film. If you didn't know he was in one of the Fantastic Four films, so the MCU is totally familiar to him. He woldn't divulge if he was more into DC or Marvel, but he was very pleased to be a part of this film. And he's fantastic in it too!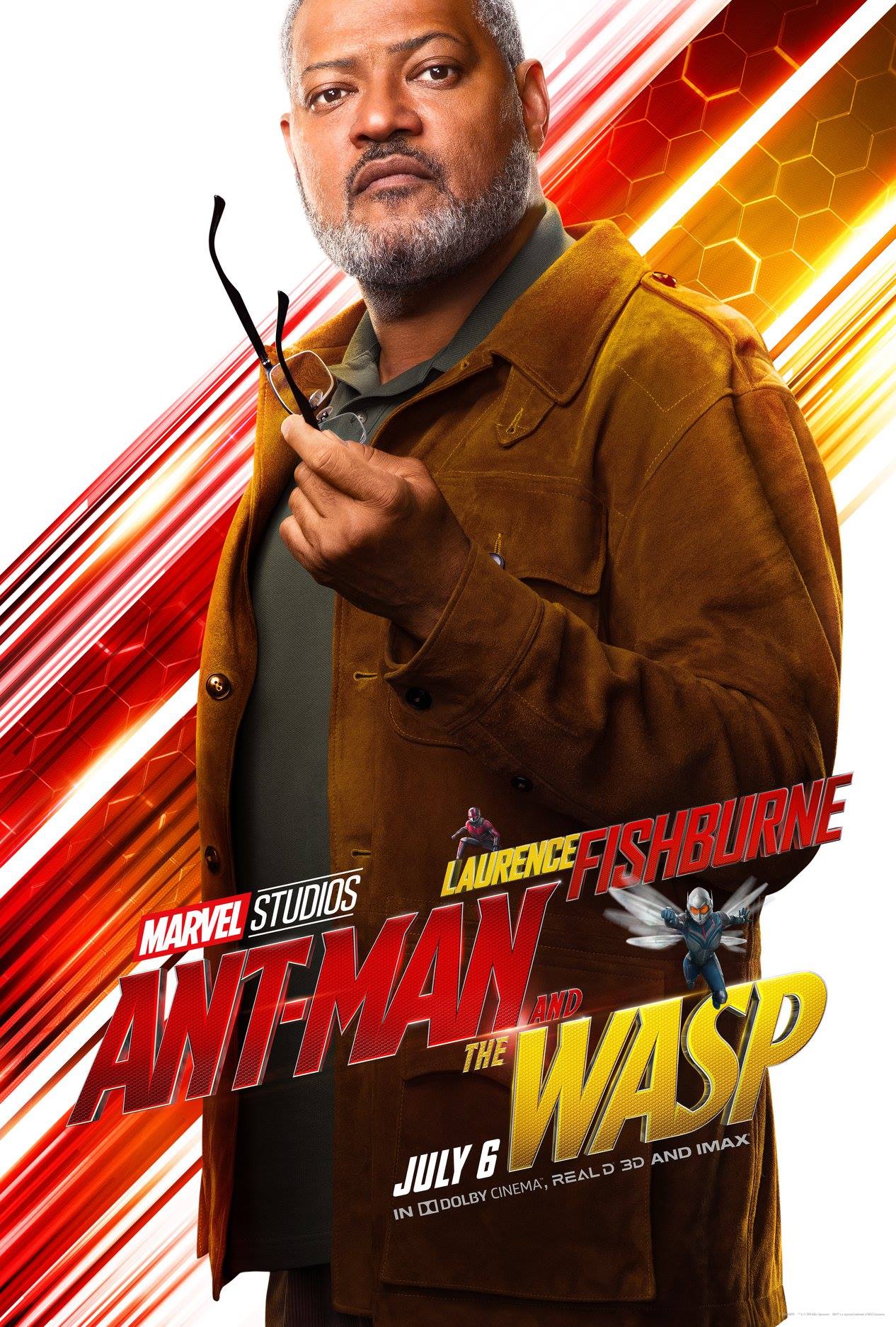 We talked Goliath to Fishburne and here's what he had to say. Of course we tried to get little hints of future movies. As you know Dr. Foster's alter ego Goliath is mentioned during the film. During our interview he was reluctant to get too far ahead of himself. "I haven't seen a suit, and I hope I don't see a suit too soon, because I'm gonna have to lose some weight to get into it." Putting it out in the universe! We need to see Goliath!
We talked about his trajectory and the types of character's he's portrayed on film. Being a villain isn't an issue for Fishburne. "Villainy is great… I did a lot of villainy coming up." He mentioned the role in Death Wish 2 as the only role that was true villainy. "After Apocalypse Now, the only kind of roles that I could get were thugs and pimps." To Fishburne, it's about finding their humanity. "Heroes, villains, whatever it is, as long as you can make them human then it's fun. Pimps are people too!" That made us all laugh out loud. The hubs wanted me to ask him about his character as Jimmy Jump, but I didn't get a chance to. Fisburne was very soft spoken and felt very comfortable speaking with us. Definitely a change from the characters he plays on screen.
Fishburn had seen the film the night before we saw it on Sunday. The picture above is how he reacted to the film. I can't wait for you to see it! Make sure to stay thru all of the credits. It could mean all the difference for the next film coming in the MCU.
I'm so excited for you to see it and I can't wait to take the boys! Here's the trailer to get you more excited!
Get your tickets NOW! 
Question:
What's your favorite Laurence Fishburn film?
Cheers! 
Candy
SaveSave
SaveSave