When we first became acquainted with Ant-Man via the comics, we knew him as Hank Pym. In the film by Marvel Studios, Ant-Man we see an older Pym played by Michael Douglas, and learn how he brings in Scott Lang. Now that Paul Rudd aka Scott Lang has taken over the role of Ant-Man, Hank Pym has taken a new role in the Ant-Man franchise. Thanks to Disney and Marvel Studios for inviting me on this epic press junket, all opinions are my own. So let's learn about the original Ant-Man, Michael Douglas from our fantastic interview during the #AntManandTheWaspEvent junket.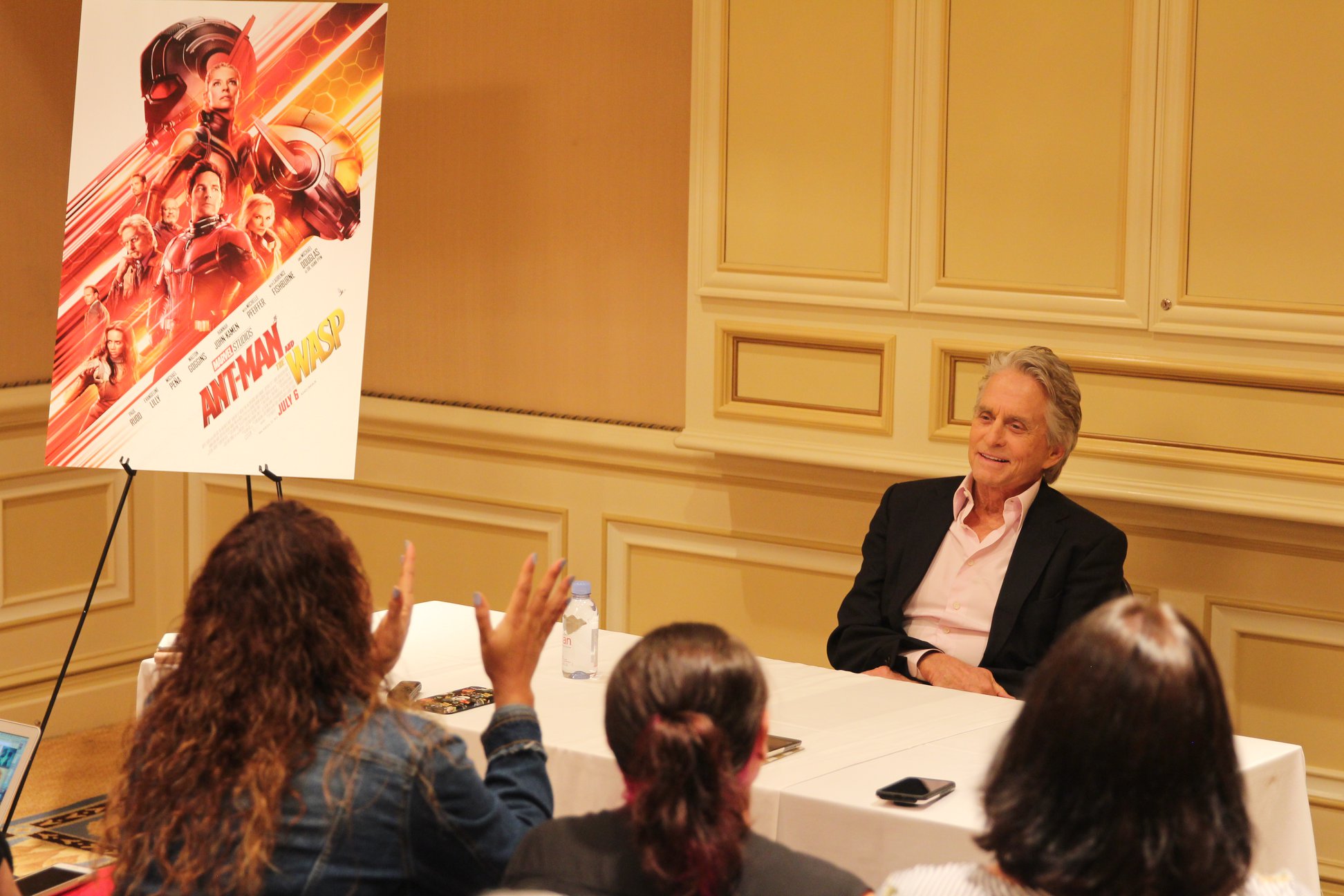 The State of The World Today
I LOVE watching movies so I can imagine that making a film is an extraordinary experience for actors. Here's what Mr. Douglas shared with us about this franchise and film making in general. "The thing that struck me about Ant-Man and now Ant-Man the Wasp in just the response that we're getting, it's such a divisive world right now, both in our country and just around the world and what's happening. Everything seems to be getting fractionalized. One of the joys of this business is you make a movie like this, it's a worldwide success. And the audiences from every continent go to see this movie and they laugh like we laugh."
Ant-Man and the Wasp NOW IN THEATERS!
Back in the Saddle
Just a tab bit of  a spoiler, but you will see Douglas in an Ant-Man suit! Here's what he had to share with us about being back in the saddle of Ant-Man. "I kind of reluctantly looked whimsically at how good everybody looked, Paul looked great.  So, yeah, I got my old suit back up so if this continues, my feeling is, if you get big or small they make you young, I mean, I might as well get back in there again.". 
Will he be in the next Avengers film?? We tried- here's what he said. "If I open my mouth, a blowgun–.It's a marvel blowgun–. [Micheal Douglas acts out a dart hitting his neck] I have learned my lesson.You have nothing.KGB has nothing on me…The quantum realm is getting popular.". So here's my think on his response- think Jim Carrey in Dumb and Dumber says, "So you're saying there's a chance" LOL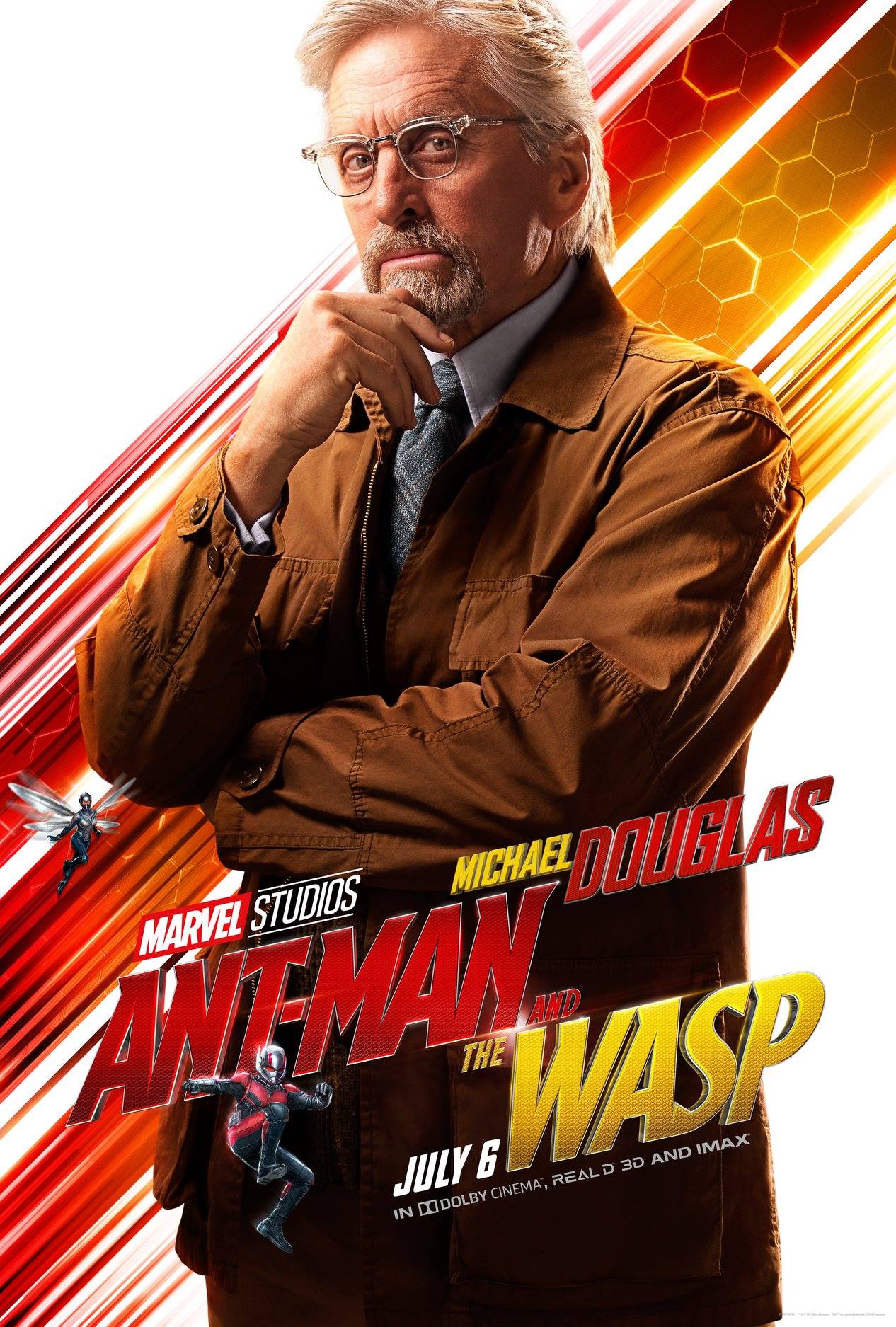 Memorable Moments on Set
He also shared with us the moment from the last film that was shown during the credits. If you saw the film, you saw the reveal of The Wasp suit, here's what he saw and felt first hand with Evangeline Lilly.  "I was excited for Evangeline because I remember, if you remember the end the first one, I don't know if it was the tease after the credits or whatever but I show her Janet's suit and there's this look in her eye as Hope when she sees her mother's suit.But what I was looking at her when she was doing the scene, I saw Evangeline going I'm going to be a superhero."  What a moment to witness right?! I was really happy to hear this moment, glad he shared it with us.
Trajectory of Work 
If you know who Michael Douglas is, you know his amazing trajectory of work. He was very excited at the new audience he would be reaching as Hank Pym. Being a part of the Marvel Cinematic Universe  he shared how his son told him it'd be good for his career. 'This is going to be very good for your career.' I said, 'Oh?' He goes, 'Dad, you don't understand! This is going to bring a new audience for you.' I said, 'This will be very good.' He just got a kick out of it. It was a picture he could kind of see, and it is true. I must say, I never anticipated, I'll be talking sometimes, and I'll feel something pulling on my coat, and I'll look down, and there will be a little 5-year-old kid and go 'Ant-Man.' And so, it does, it introduces you to a whole bunch of people who didn't see a lot of my movies."
It was a fantastic interview that I'll share more tidbits about on Twitter, so keep an eye out on my tweets ya'll!
Question:
What's your favorite Michael Douglas film?
Cheers!  
SaveSave
SaveSave