Disclosure: This is a sponsored post. I received access to program for review, however all opinions are truly my own.
There's nothing I love more than seeing my kids thrive. I love seeing how they learn everyday at home and what they learn at school. E attends a Mother's Day pre-school program at a local church and I love the education he's getting there. But you know how they say when a child is so young they are always learning, they are like sponges. It's so true! We were offered the opportunity to review Brainzy.com and I'm so excited to tell you how E is learning with Brainzy.com and I've got an amazing giveaway for ten of my readers! That's right!! 10 of you will win one year subscription to Brainzy.com!!! More on that below!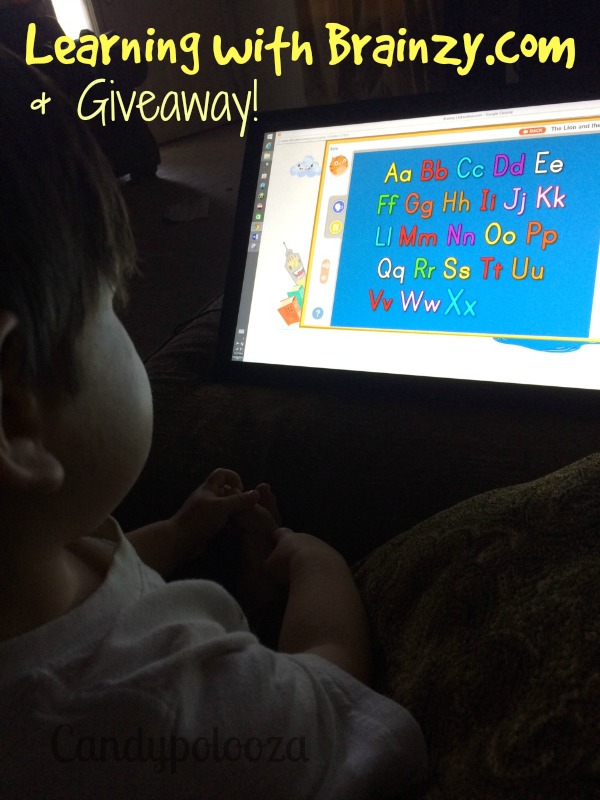 Have you been looking for a learning tool to work with your child online? If there is one thing you can be sure of is that technology is the way of the future. I love being able to teach E using online tools. We are loving the online time together using Education.com's Brainzy.com. We try to get online together about 20 minutes a few times a week. He is really enjoying the program online, I love that my computer is touch screen so he can use his fingers on the screen and click on the answers. Keeping track of his learning is very easy too.
 This is what the progress page looks like. This is a shot before we started working. E has only worked on the Reading section. Hope to start on the Math next week.
Once you click on the green arrow you can choose what age range and program you want to work in. From the site, "Education.com, the nation's leading destination for parents and teachers seeking supplemental learning materials, today announced the launch of Brainzy, a new kind of online learning program designed to build reading and math skills in children ages 3–7." Perfect for my little munchkin! We quickly dove into Reading Pre-K! 
 Once you choose which section you'll be going into there's a great map to show you what you'll be working on. I love that there are separate screens for Reading and Math. We will eventually work on both sections, but I want to start out with Reading. E had a speech delay and it's so important to grow his vocabulary right now.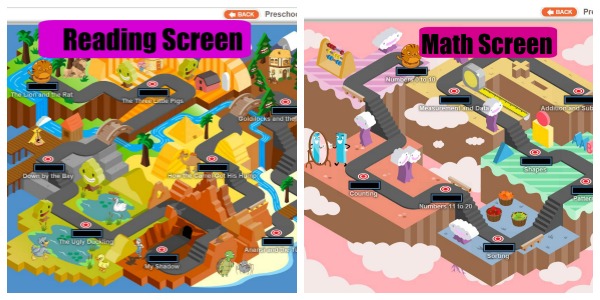 Another thing I love about this program is the simplicity of it. I've tried other programs and there are so many screens and options it's exhausting to figure out what we should do that day or so and so. What do we want to do? Let's work on Reading, ok click on Reading! Now follow your animated avatar (introducing Roly, Floyd, Tutu, Officer Ice Cream, Birdee, Cuz-Cuz, Muggo, and Penelope Pegacorn) along the map and enjoy! Along with fabulous on screen learning activity with your subscription you'll also have access to printables! If you enjoy also having pages to color on and work on the Education.com program also has great printables and learning tools you can print off. Here's E working on another part of the Brainzy site.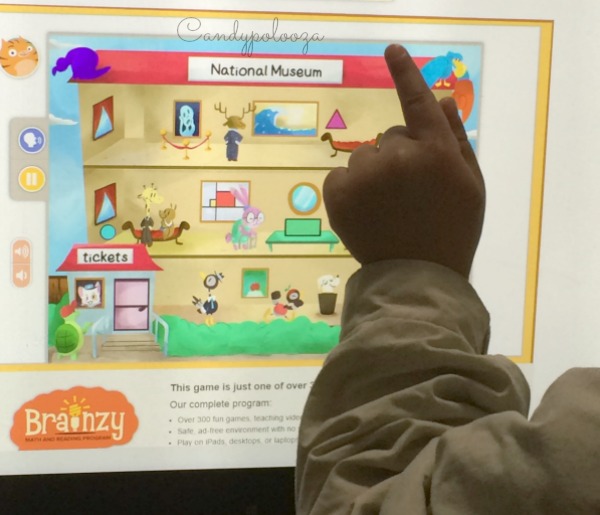 What an awesome program right?! Are you wondering how much this is going to cost yet?  From the site: "Brainzy is available by monthly subscription ($6.99 per month) or annual subscription ($3.99 per month), and provides an ad-free environment safe for kids to explore on a tablet, desktop, or laptop computer. Visit Brainzy.com for more information and to sign up for a free 7-day trial." But for ten that's right, ten lucky readers they will each win a twelve month subscription! I"m so excited about this! And a huge bonus to my friends that are teachers, "Brainzy also offers a classroom version for teachers that can accommodate up to 35 students!"
 Here's more information about Brainzy.com!
Brainzy transports kids to the Land of Knowhere, where they play and learn with new friends named Roly, Floyd, Tutu, Officer Ice Cream, Birdee, Cuz-Cuz, Muggo, and Penelope Pegacorn. Designed for children at Pre-K, Kindergarten, and First Grade levels with additional levels planned up to Fifth Grade, Brainzy's collection of original games and videos is constantly expanding and improving. Reading games include alphabet games, phonics games, and sight word games and videos like "Alphabet Demolition Bingo" and "Short E Rap." Math games build skills in counting, number recognition, shapes, and addition/subtraction through games and videos like "Subtraction Ski Race" and "Stacking Up the Ice Cream."
GOOD LUCK! 
Candy 
ABOUT EDUCATION.COM
With nearly five million members and millions of visitors each month, Education.com is the leading one-stop destination for parents and teachers to find the guidance, inspiration, and materials they need to help kids succeed. From printable workbooks to Brainzy learning games to insightful articles and everything in between, Education.com delivers content kids love and resources educators rely on.Education.com is based in Redwood City, California, and was founded in 2007 by a group of parents dedicated to making learning fun inside and outside the classroom. Learn more at www.education.com.