It's a movie release Tuesday here today. Head to stores and pick up Maleficent: Mistress of Evil is now available to purchase on Blu-ray, DVD, or grab it on digital release! I missed it in theaters, I was very excited to finally watch the sequel to the original 2014 Maleficent at home. Sharing my thoughts and review on Maleficent: Misteress of Evil. Thanks to our friends at Disney for providing product for review, all opinions are my own. And I've got a tasty popcorn recipe at the end, so keep reading til the end.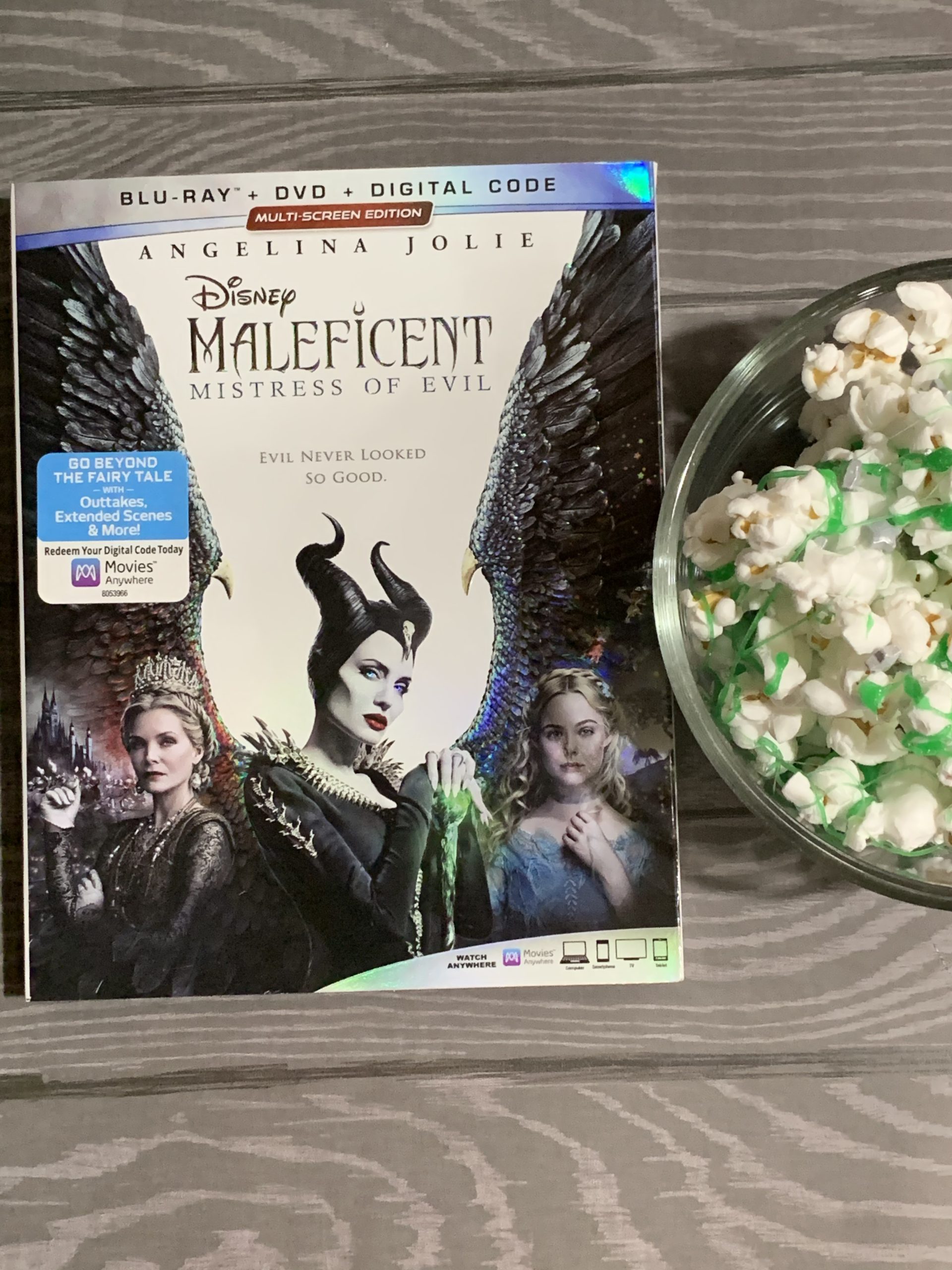 Review
Initially, I was very excited about another Maleficent film. It's not considered a sequel just another separate film, hence why there's no 2 in the title. Overall my thoughts kept going to the original and comparing it as most often do to a follow-up film. The plot while it was a little obvious, does take a turn you don't expect. It wasn't my favorite, but I won't call it the worst film of 2019 either.
A lot of things kept it from being amazing, but if you are a lover of fairy tales, (aren't we all?!) I enjoyed the deeper look at the Fae. When you pick up the DVD, you'll also have access to the behind the scenes. I really loved seeing how the film director talked about the Fae and how they came up with the shots of them in the air. There was a lot of green screen or CGI (computer-generated imagery) work in the film.
Angelina Jolie is pretty fantastic as Maleficent and I'd honestly watch the third film if Disney so chose to develop it. Maleficent is notoriously a villain but in this film, she is a mother scorned and pushed aside in the name of love. I think Jolie truly became Maleficent and is very striking in the action scenes.
Ok For Kids?
Initially, I would say yes, but I'd be careful on the age range. There's a lot of deep messages in the film and acts of bigotry. Your child might have some questions if they are sensitive to those topics or scares easy I would recommend this film for tweens and up.
Final Thoughts
While it was not my favorite, Maleficent is one of my favorite Disney characters and Angelina Jolie did an amazing job of bringing her to life once more. The storyline could have used more depth, but the visuals were stunning.
ABOUT MALEFICENT: MISTRESS OF EVIL
In Disney's Maleficent: Mistress of Evil, a sequel to the 2014 global box office hit, Maleficent and her goddaughter Aurora begin to question the complex family ties that bind them as they are pulled in different directions by impending nuptials, unexpected allies and dark new forces at play.
Now for the Popcorn Recipe
It's super easy friends!
Here's what you need: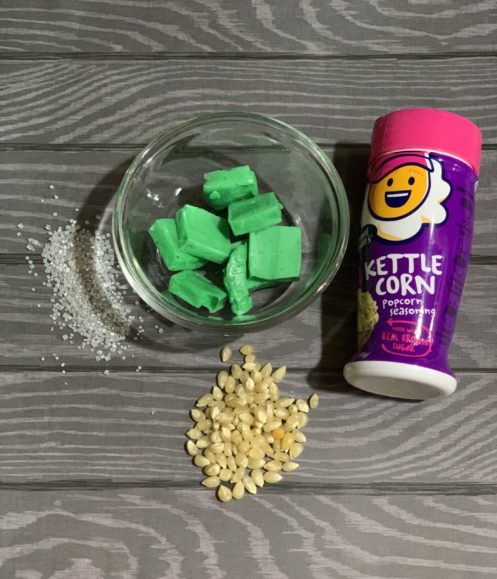 Kernels
Sprinkles
Green Hard Candy
Kettle Corn Dust
Using our trusty popcorn maker, make about half a cup of white kernals. But if you only have yellow- use those too!
While the popcorn is popping grab your green candies and place them in a microwaveable safe bowl. I used a glass bowl bc it's easier to clean out afterwards.
Unwrap each candy and place them in the bowl and warm in the microwave for 20 seconds at a time until the hard candy has turned into liquid.
After you popcorn is done and you now have green gooey candy, the process begins.
Please note the liquid candy will be VERY HOT, so BE CAREFUL! *I'm not liable for any injuries that might occur while making or enjoying this recipe.* Disclaimer
Make this candied popcorn inspired by @Maleficent! #Maleficent AD pic.twitter.com/sIxJvRk36m

— Candy Olivares (@Candypo) January 16, 2020
Add in your favorite sprinkles and you are good to enjoy!
It's really beautiful too.