Marvel Studios Captain Marvel Now Available on Blu-Ray and DVD + Digital everywhere! Did you see the Marvel Studios film in theaters? It's time to grab it and enjoy it in the privacy of your home. This is one that you're going to have all the feelings. The girl power is ripe and we are all here for the ultimate superhero Carol Danvers aka Captain Marvel. The level of hype is through the roof, my friends! Thanks to Click Communications for sending the film for review as always, all opinions are my own. This has to be one of my favorite films of 2019.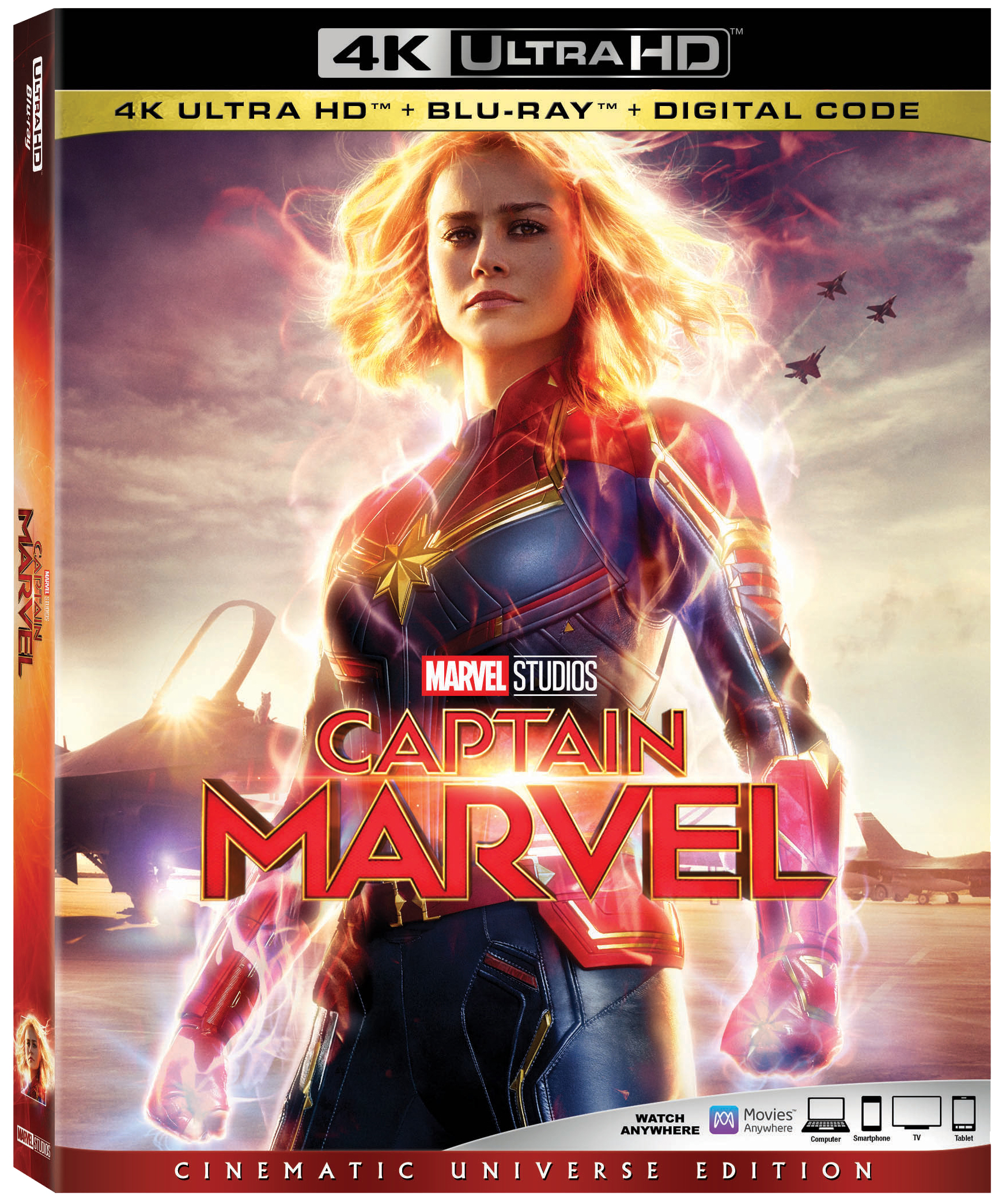 BECOMING CAPTAIN MARVEL
If you know the comic book of Captain Marvel, you know it's a male role. It was huge for Marvel Studios to cast Brie Larson as Carol Danvers aka Captain Marvel. She really took on a huge role as the first female hero with a self-titled film in the MCU. This is huge! Antman and The Wasp still had a guy in the name, so for Carol Danvers to be named in the title of the film is AWESOME! Little girls, as well as women, see the power and strength of Captain Marvel and Brie Larson did an amazing job in exuding this powerful female. You really get a good in depth look at how Carol Danvers becomes Captain Marvel.
WHAT I LIKED
There wasn't much I didn't like. One of the things I did like was a furry new character named Goose! She definitely stole a few scenes. If you are a cat lover, you will love this little flerken. You'll get it! I also loved seeing a young Samuel L. Jackson as Nick Fury. The relationship that grows between Fury and Carol is fantastic.
MY ISSUES WITH CAPTAIN MARVEL
Honestly, I didn't have many, there were a few moments when Carol seemed almost bot-like but those were when she wasn't sure who she was. But on another hand, my thoughts are if she shows too much emotion she's not strong enough or couldn't get the job done. Know what I mean? She's not your smiley-cutesy superhuman hero, she's a woman on a mission. So full on issues? I'd say none. It's one of my favorite films of 2019.
OKAY FOR KIDS?
Yes, my kids are ages 7 and 12. While Ezra did squirm some in his seat after a while, he was able to keep it together. All of the fight scenes kept him engaged but when it came to scenes with more dialogue he wasn't as into it. Would I take a child that is younger than 7, probably not? There was some language in the film, but for the most part, it was probably one of the most kid-friendly films in the Marvel Cinematic Universe.
END CREDIT EXTRAS
Please watch the end credits. As you know Marvel films have little sneaks during the end credits and being that you'll be home and can fast forward the credits- you'll be able to analyze the end credits. This has to be my most favorite about owning a Marvel film. As you can imagine the end credits help connect the Marvel films.
About The Blu-Ray DVD Extras
Blu-ray & Digital:
Alternate Movie Versions
Movie with Intro– An introduction by directors/screenwriters Anna Boden & Ryan Fleck.
Movie with Commentary– Commentary by directors/screenwriters Anna Boden & Ryan Fleck.
Featurettes:
Becoming a Super Hero– Follow Brie Larson's journey as she joins the MCU, and see what it takes to be a Marvel Super Hero in every sense of the word.
Big Hero Moment– Explore how impactful Captain Marvel's entrance into the MCU is, and how she inspires audiences around the world.
The Origin of Nick Fury– Witness some of the MCU's most significant events through Nick Fury's eyes, and see how his influence helped shape the MCU.
The Dream Team– Discover why Anna Boden & Ryan Fleck are the perfect pair to direct Marvel Studios' most powerful hero.
The Skrulls and the Kree– Take a deeper look into the Skrulls and the Kree, their ongoing conflict, and the importance of shifting perspectives in the film.
Hiss-sterical Cat-titude– The cast and crew dish on working with Goose and the raw talent it takes to portray such a complex character on-screen.
Deleted Scenes
"Who Do You Admire Above All Others?"– Kree Commander Yon-Rogg must answer to the Supreme Intelligence, who questions his leadership ability.
Starforce Recruits– Yon-Rogg lectures a roomful of students on the Kree's mission to defend all nations from the scourge of the Skrulls.
Heading to Torfa– Vers (Danvers) and her fellow Starforce members banter as they prepare for their rescue mission to Torfa.
"What, No Smile?"– In this alternate version of a scene from the movie, Vers is consulting a map when she receives a dubious offer of assistance.
Black Box– Keller attempts to track Vers and Fury after their escape in a quadjet from the Joint USAFA Facility.
Rookie Mistake– Novice S.H.I.E.L.D. agent Phil Coulson helps Director Keller out of an embarrassing situation.
Gag Reel– The fate of the universe hangs in the balance as the cast battles props, flubs and Flerkens in these outtakes from the set.
Digital Exclusives:
o Journey into Visual Effects with Victoria Alonso – Experience how filmmakers' visions of the MCU come to life on-screen through the skill of the Visual Effects team.
What Makes a Memory: Inside the "Mind Frack"– What does it take to craft an action-packed sequence for a Marvel Studios film? Nothing short of an epic team effort!
Concept Art– Explore artwork from "Captain Marvel" and trace the visual development of characters.
On-Set Images– Uncover a trove of behind-the-scenes and production photography.
Set in the 1990s, "Captain Marvel" is an all-new adventure from a previously unseen period in the history of the Marvel Cinematic Universe that introduces the MCU's first stand-alone, female-franchise title character—Carol Danvers aka Captain Marvel. When we first meet Danvers, she already possesses her superhero powers, having left her earthly life behind and become a member of an intergalactic elite Kree military team called Starforce, led by their enigmatic commander, Yon-Rogg. But after Danvers has trained and worked with the Starforce team, and become a valued member­, she finds herself back on Earth with new questions about her past. While on Earth she quickly lands on the radar of Nick Fury, and they must work together against a formidable enemy in the form of the Skrulls—the notorious Marvel bad guys made even more dangerous by their shape-shifting abilities—and their leader, Talos, who is spearheading a Skrull invasion of Earth.
Based on the beloved Marvel comic-book series, first published in 1967, "Captain Marvel" stars Academy Award® winner Brie Larson ("Room," "Kong: Skull Island") as Carol Danvers/Captain Marvel, Samuel L. Jackson (Marvel Studios' "Avengers: Age of Ultron," "The Hateful Eight") as Nick Fury, Ben Mendelsohn ("Rogue One: A Star Wars Story," "Mississippi Grind") as Talos, with Annette Bening ("American Beauty," "20th Century Women") as Supreme Intelligence, with Clark Gregg ("Marvel's The Avengers," "Agents of S.H.I.E.L.D.") as Agent Coulson and Jude Law ("Sherlock Holmes," "Fantastic Beasts: The Crimes of Grindelwald") as Yon-Rogg.
The film also includes a talented supporting cast that features Djimon Hounsou ("Blood Diamond," "Guardians of the Galaxy") as Korath, Lee Pace ("The Hobbit: An Unexpected Journey," "Guardians of the Galaxy") as Ronan, Lashana Lynch ("Bulletproof," "Brotherhood") as Maria Rambeau, Gemma Chan ("Crazy Rich Asians," "Humans") as Minn-Erva, Rune Temte ("Eddie the Eagle," "The Last Kingdom") as Bron-Char, Algenis Perez Soto ("Sugar," "Isolated Victim") as Att-Lass, Mckenna Grace ("Gifted," "I, Tonya") as Young Carol Danvers and Akira Akbar ("Grey's Anatomy") as Monica Rambeau.
Marvel Studios' "Captain Marvel" is produced by Kevin Feige and directed by Anna Boden & Ryan Fleck ("Half Nelson," "Sugar," "Mississippi Grind"). Louis D'Esposito, Victoria Alonso, Jonathan Schwartz, Patricia Whitcher and Stan Lee are the executive producers. The story is by Nicole Perlman & Meg LeFauve and Anna Boden & Ryan Fleck & Geneva Robertson-Dworet, and the screenplay is by Anna Boden & Ryan Fleck & Geneva Robertson-Dworet.
Directors Boden and Fleck's creative team also includes director of photography Ben Davis ("Three Billboards Outside Ebbing, Missouri," Marvel Studios' "Doctor Strange"), production designer Andy Nicholson ("Gravity," "Jurassic World: Fallen Kingdom"), costume designer Sanja Hays ("The Fate of the Furious," "Star Trek Beyond"), editors Elliot Graham ("Steve Jobs," "Molly's Game") and Debbie Berman (Marvel Studios' "Black Panther," "Spider-Man: Homecoming"), visual effects supervisor Christopher Townsend (Marvel Studios' "Avengers: Age of Ultron," "Guardians of the Galaxy Vol. 2"), special effects supervisor Dan Sudick (Marvel Studios' "Avengers: Infinity War," "Black Panther") and composer Pinar Toprak ("The Angel," "The Challenger").