Is she or isn't she the villian in Ant-Man and The Wasp? You're going to be surprised. Meet Hannah John-Kamen the Ghost in Ant-Man and The Wasp. I'm hoping you have made it to the theater to see for yourselves. Thanks to Disney and Marvel for inviting me on this awesome press junket for the #AntmanAndTheWaspEvent, all opinions are my own. What an amazing actor John-Kamen is.
Joining the Marvel Cinematic Universe
If you are a comic book reader, you know that Ghost is a male in the books. I'm super pumped with Marvel Studios decision to make Ghost a female and I feel adding Hannah was fantastic. Yes, she's beautiful but she's hella strong in the role. The women in the Marvel Cinematic Universe all are, so adding John-Kamen was perfect. One of the first questions to her was about joining the MCU and what her thoughts were on the character going from male to female.
"It's a huge responsibility to take this amazing character off the comic book page and be the first person to introduce it into an incredible movie with incredible cast members. Marvel does that genius job with the villainous characters to really not make it black and white. They make it gray. I wanted her to make her a strong, badass woman. They make it kind of like you kinda feel sorry for them. You're kind of on their side. You kind of confuse yourself as an audience member and go, hold on a minute. Why am I rooting for this person. I approached the character as if she's the good guy. And, through my eyes, she's the good guy. And through the protagonist side, yes, okay, like she's the bad guy."
The Suit
Every superhero has a bad ass suit am I right? Ant-Man got an upgrade for this film and The Wasp's suit was pretty stunning. Make sure to check out my Instagram for the two up close on the top part of the suits from the press junket.
Hannah shares about getting suited up: "It's like 40 pieces. By the end of the movie we kind of had it down to around seven minutes to get the costume on and off, though. It's a three-man job."
Here's our group pic with Hannah. She was such a pleasure to speak with.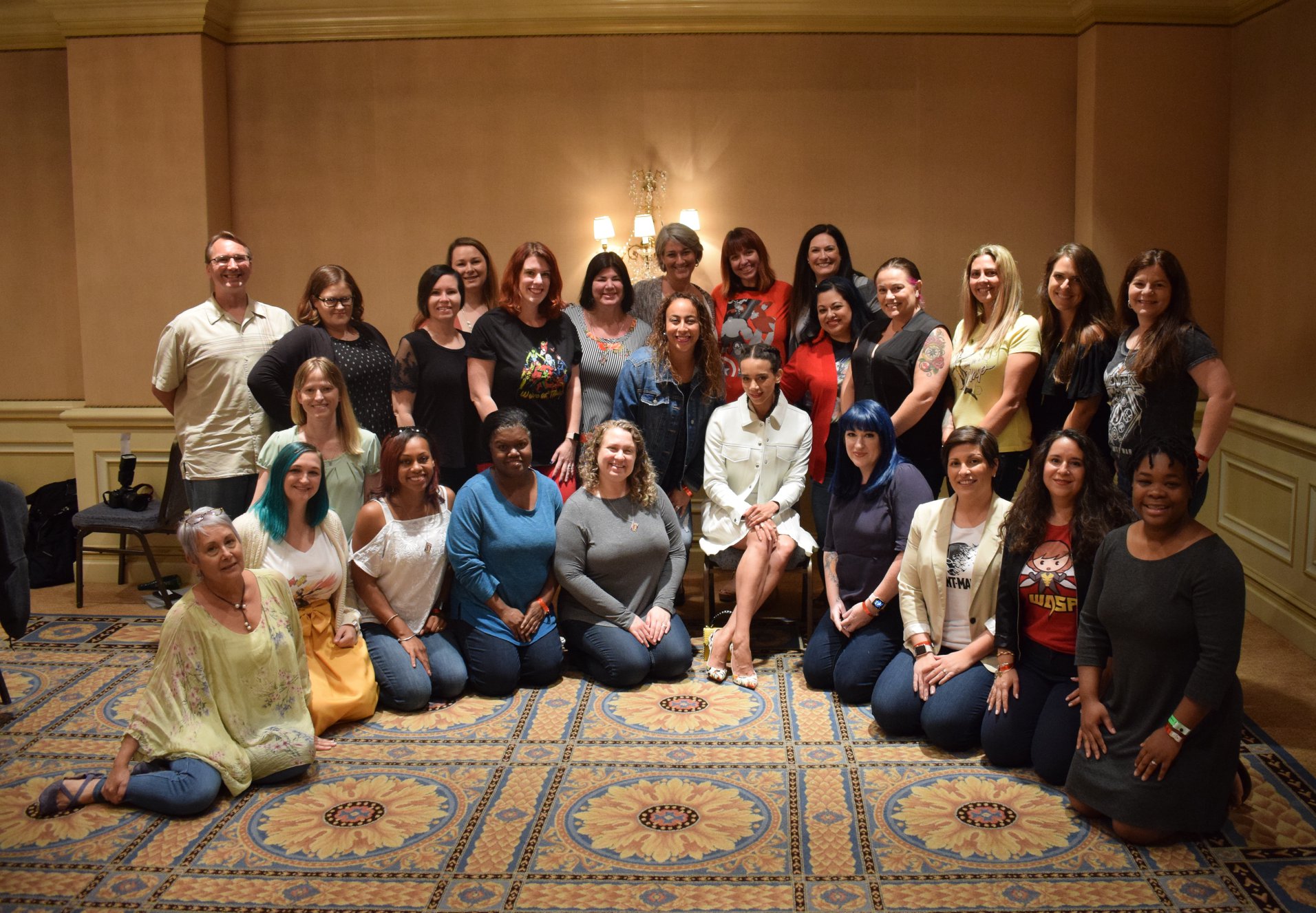 If you haven't gone yet, make  plans to see Ant-Man and The Wasp soon! It'll blow your mind! 
Are you a comic book reader and what do you think of Ghost being female in this film?
Cheers! 
Candy
SaveSave