Yes, military spouses can attain an education and career path with Medcerts. This is a sponsored post, thanks to Sofluential and Medcerts, all opinions expressed are my own. As a seasoned military spouse, I know that we as spouses can often feel like we have no options when it comes to having a job and/or getting our education as we support our service members. Thanks to Medcerts you can and do have options to put yourself out there and start a fulfilling career. Keep reading to learn more!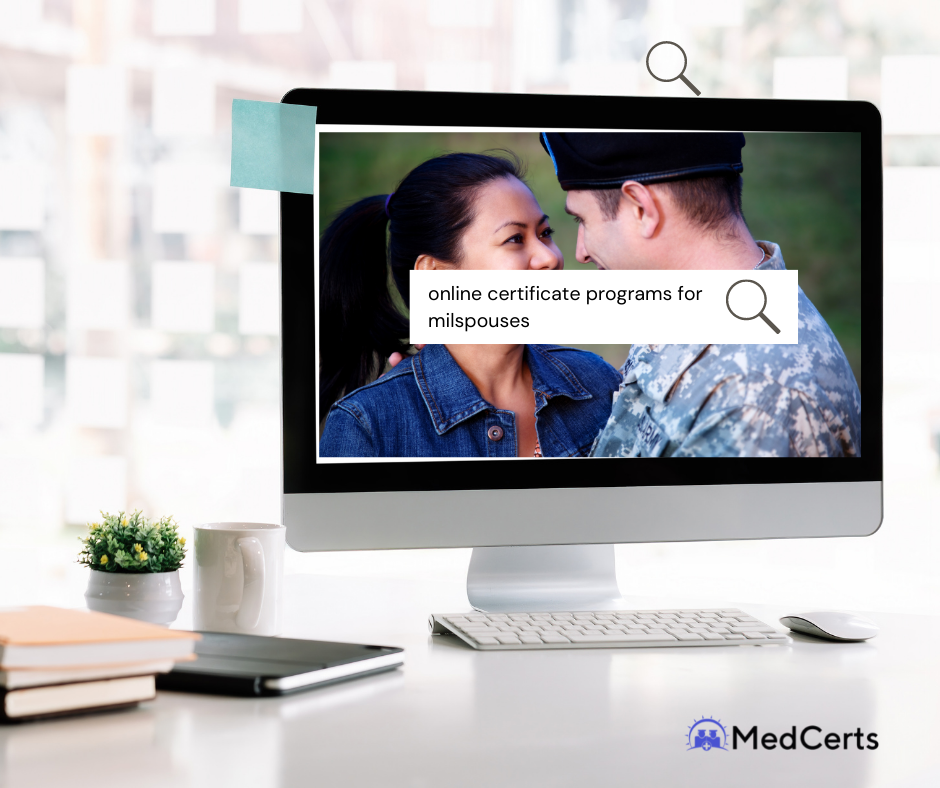 Being a Military Spouse
When it comes to being a military spouse we often end up choosing jobs/careers that are easy to transfer as we manage the life of constantly moving around with our service members. The things we do for love right? I recall after my husband came back into the Army thinking, what am I going to do? Even though parenting takes up a lot of our day, we are still our own person and having a career outside of the home for ourselves is great for our self worth.
As you may know, I'm currently finishing my education and working. While it can be overwhelming at times when you add in a family and pcsing with my service member, it's made me realize that I can do and handle so much more than I give myself credit for. (Now that I think about it, since I started back to college we have PCS'd twice. WILD!) Having the opportunity to further my education has been really great for me, so I know that if not you, maybe another fellow milspouse can take this information and find a career that will fulfill them as well.
Introducing Medcerts
Have you ever heard of Medcerts? Let me tell you how Medcerts is providing milspouses fantastic portable career opportunities.
MedCerts is pioneering the way students learn and employers hire. Medcerts created a system that provides debt-free, specialized training to students and connects them with employers looking for those exact skills." One of the things that keeps people from doing certification programs is that they are worried about finding an actual job after they finish. Depending on the certification program you choose- there's always an option to go into business for yourself. But if you aren't interested in taking on also being a small business, Medcerts will connect you with employers! That in itself is gold— in my opinion.
If you're thinking that Medcerts only has certification programs for medical positions, think again. Focused on certifications in high-demand areas such as Allied Healthcare, IT and Professional Development, the eLearning school serves individuals from all backgrounds, including military and their families. IT is a huge market and we all know that the medical field and IT pay well. The nice thing about completing a certification program via Medcerts is that you know coming in that "MedCerts has been helping military spouses create new career opportunities for over 10 years. They have trained and up-skilled more than 30,000 individuals across the country and partnered with over 1,000 organizations to build talent pipelines.
And guess what? The programs through Medcerts are completely online! This means they are accessible no matter where you move, and most of their programs only take 4-6 months to complete. We all know that in 4-6 months a lot can happen. Uncle Sam has taught us that! So, being that the programs are online, that enables you to finish the program, and not have to start over somewhere just because you moved. Like I mentioned above, I've had to move while in school twice so it's been challenging, but it can definitely be done. Don't let having to move disway you from starting your certification process. You are important and this matters.
Using MyCAA
As military spouses, we've all seen an ad, a post in a FB group, or heard about MyCAA through word of mouth. I can tell you personally that it's a great program and we should all take advantage of the opportunities it offers. I'm not just telling you about MyCAA because it's awesome, but also because most of the Medcerts programs can be paid for with MyCAA which means no money out of pocket for you. Our finances can sometimes hold us back on things, but don't let it stop you from choosing a career path for yourself. In the end your entire family will benefit from you bringing in additional income from your chosen career path.
I am all about championing others. We, as military spouses, should take advantage of programs like Medcerts that help us help ourselves. When I first learned about Medcerts I got online and looked at all of the fantastic programs available. Have I ever mentioned that I low key want to do everything? Yes, I'm that person. I'm going to finish what I'm working on now, and probably look into some of the IT certifications later.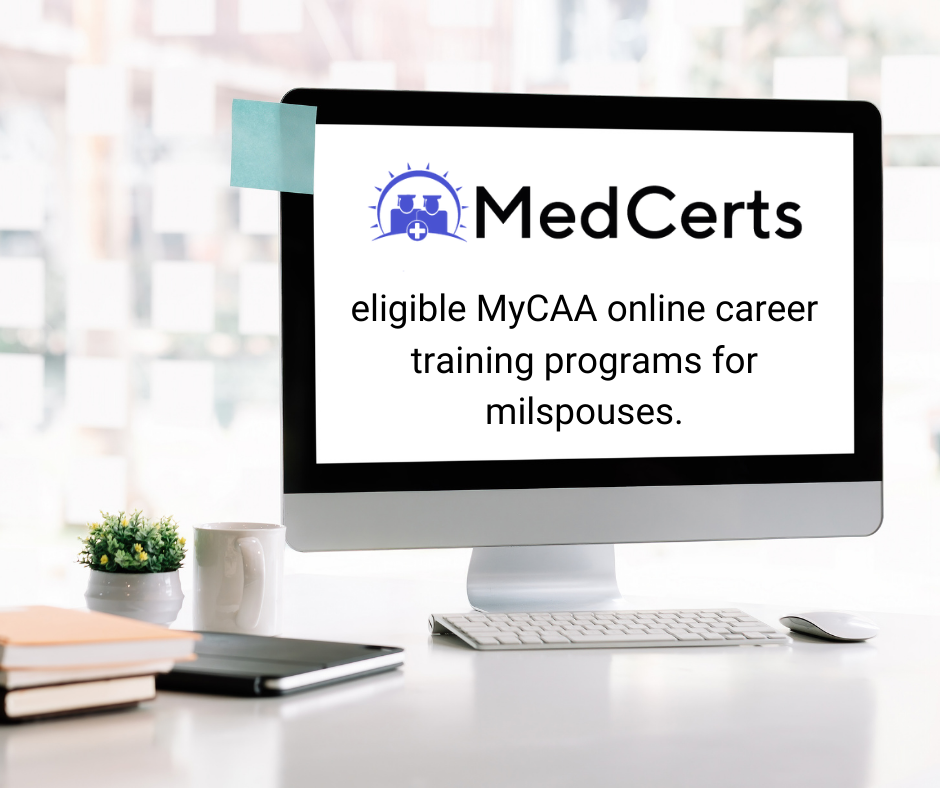 Let me know in the comments if you've checked out Medcerts and if you'll be using MyCAA!
In the meantime if you're a milspouse check out more information on their programs here.
Cheers!
Candy