My Boston Marathon Connection
I have written about the training program I joined to train for the Iron Girl Half Marathon in 2012. I'm so glad I did that, because not only did I grow as a person but also as a runner. And I did something I never thought I'd ever do. I mean who does that? Run 13.1 miles.. Thanks to Tammie I did! Tammie is my Boston Marathon connection.
Yesterday over 23,000 people ran double that and some were unable to finish due to the tragic events that occurred  at the Boston Marathon. One of the participants was my friend Tammie. She was one of the coaches from the Iron Girl training program. She did something for me that I'll never forget- she finished the half and then came back and looked for me to run in with me! Yep, she sure did. An amazing woman I'll always have a special place in my heart for.
Let me tell you about Tammie. She blogs over at TamsGotIron Wondering why she's "Got Iron." Tammie is an amazing athlete. She's a Tri-Athlete and Ultra Runner. Ultra Runners run distances of 50 miles and even 100 miles during a race. She recently participated in a 100 mile race. I know right- she's awesome! Get this she actually won a 100 mile race a couple months ago! She's simply amazing!
So of course she would be one of the thousands of runners participating in the 117th Boston Marathon. From updates to her Facebook page I learned that she was actually in a medical tent when the explosion happened not far from the finish line. Her mother was also there and was near the explosion. By the grace of God they were both unharmed and safe.
You never realize how small the world really is until something like this happens. Seeing the videos and live coverage you feel for all involved and you wonder how could something like this happen. For myself, knowing Tammie was there just made it that much closer to home for me.
My heart is with everyone in Boston and I'll be wearing a race shirt in solidarity. If you have a race shirt, you should wear it too!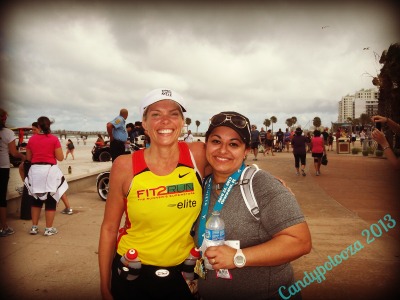 Here's a pic of myself and Tammie after I finished my first half marathon last year! 
Question:
Will you be wearing a race shirt or bib? What was the last race you ran?